Drawing for all ages (with professional cartoonists!) at New York Comic Con
On Kids Day at this year's NYCC, Colleen AF Venable, John Gallagher, Liz Montague, Matthew Holm, and Mark Siegel
While New York Comic Con 2022 offered fun for all ages throughout the weekend, Sundays at NYCC have been 'Kids' Day' for years, with extra programming specifically geared towards young fans of comics, graphic novels, and adjacent pop culture. The Javits Center even has a designated Family HQ just for families with small children, with panels and activities for the younger set. A highlight this year was "The "Drawsomest Illustrators: An Interactive Draw-Off for All Ages," which ranks among the most adorable things this reporter has ever witnessed. The event was full of creative kids, most of whom were under 10, often in cute cosplay, accompanied by their encouraging parents, as the future of the comic book industry got their first tastes of collaborating with professional artists.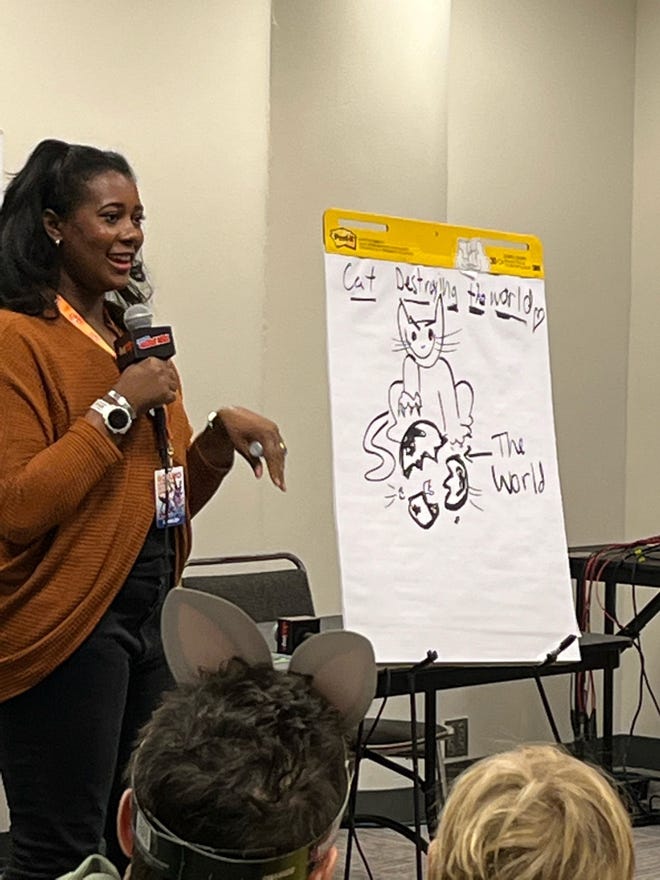 Despite the vaguely confrontational connotation of a "draw-off," the event, moderated by Katie the Catsitter writer Colleen AF Venable, was not at all competitive. The real stars of the show were the kids, many of whom were seated at small tables with paper and colored pencils, as they, with Venable's guidance, helped the professional comic artists in attendance put together a comic book story. John Gallagher (Max Meow), Liz Montague (Maybe An Artist: A Graphic Memoir), Matthew Holm (Babymouse), and Mark Siegel (5 Worlds), all of whom have drawn acclaimed graphic novels for kids, were given big drawing boards to bring the eager aspiring cartoonists' ideas to life.
Venable kicked off the "draw-off" by having each artist do a warmup. After explaining the concept of a drawing warmup, she took suggestions from the audience for what the artists should draw to warm up with.
"Cats!" shouted one little girl, unsurprisingly. To determine what the cats would be doing in each artist's picture, Venable took more suggestions from the audience. As the pros drew their cats, the kids were encouraged to draw their own.
"It's not a contest, we all win!" said Venable.
While everyone waited for the cats to be complete, Venable engaged with the audience, asking kids about their favorite comics and getting at least one response for her own book, Katie the Catsitter. "I think I've heard of that one!" she said.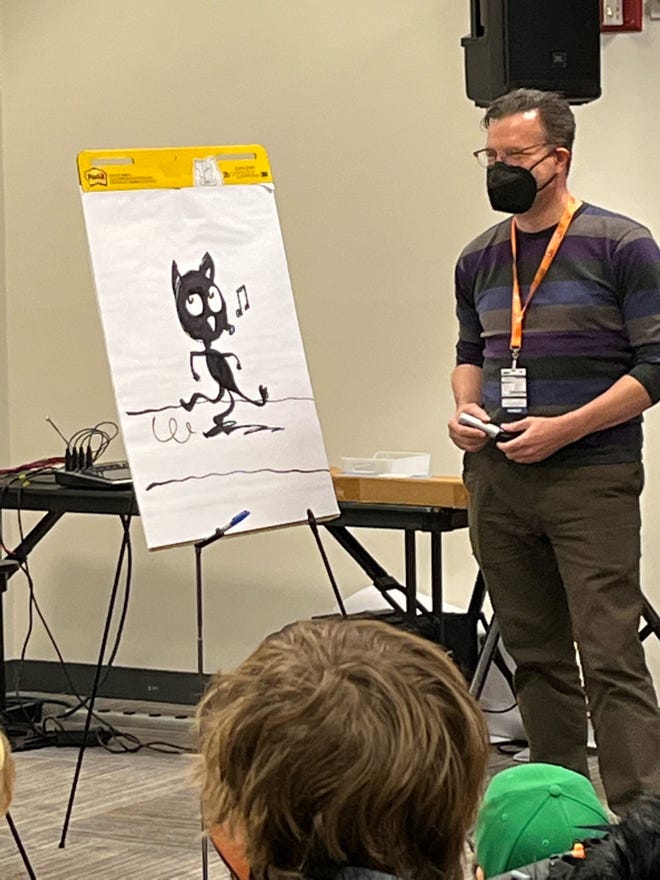 Venable also emphasized the importance of finding your own voice as an artist. "Look at all these cats. These are all professional artists! Professional cats. Every single one of them looks different, because there are so many different ways to draw. Every single one of these artists, they weren't born with the ability to draw cats… they all worked towards it. So if your cat looks different, that's awesome. You're coming up with your art style."
With each prompt for the young audience, Venable highlighted a different building block of storytelling that gave the kid cartoonists a peek into the kind of thinking that goes into creating a comic book, including its main characters, settings, and conflicts. Of course, since the suggestions were coming from the kids in the audience, this particular story was full of things children love like cats, giant monsters, spaceships, donuts, and other goodies. Granted, we're using 'story' in the loosest sense here, as it's rather impossible to tell a coherent narrative with five adult cartoonists and dozens of small children all drawing on their own paper.
None of those particulars seemed to matter to the kids, though, nor their parents or the panelists. Ultimately, this "Draw-Off" wasn't about being a writing class or a drawing class, but showing kids that making comics can be as much fun to make as they are to read.
---
Preeti Chhibber, Samira Ahmed, and Swapna Krishna share the joy of writing their favorite Marvel characters
---
Did you miss New York Comic Con?
Catch up on everything from streaming panels to panel writeups and news by checking out Popverse's NYCC roundup.