These are the droids you're looking for-- Lego droids, that is, at Emerald City Comic Con
Lara and Shawn Steele build working droids out of Lego
Just across the way from the main Brick Nation display is a smaller (though more beep-y) display of four droids from Star Wars. If you're a fan of the Droid Builders, you probably wouldn't be surprised to see life sized, beeping droids on a con floor, but as you get a little closer, you'll notice that these droids are a bit different from the other ones you might have seen at other conventions. These droids are made of Lego.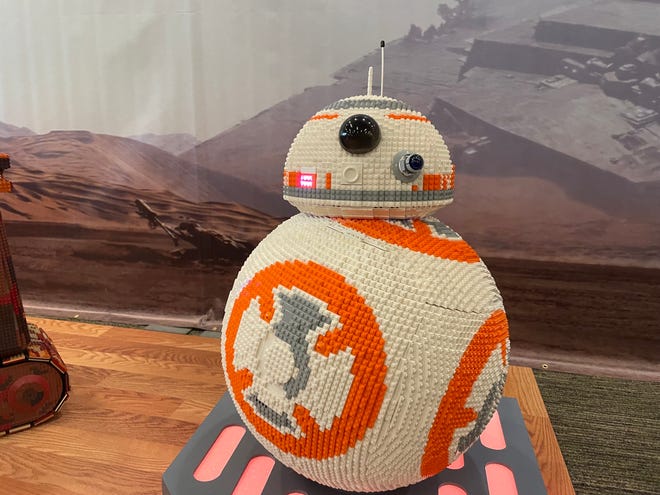 For the past seven to eight years, Lara and Shawn Steele have been using Lego to build life sized moving droids from Star Wars. Their four droids on display include R2-D2, BB-8, a MSE droid, and a droid that only made a short appearance in The Force Awakens. Interestingly enough, the MSE droid (which the Droid Builders told me was the cheapest and easiest droid to for beginners to build), was actually quite difficult for the Steeles to build because of the steep angles of the walls of the droid. They had to cut some of the Lego sheets to pull the look off. From time to time, they would also use glue on their builds, especially when it came to the moving pieces like tank treads or parts of the droids that inquisitive children would try to pull off.
R2-D2 was the pair's first build, and overall it cost them somewhere around $5000 and a whopping nine months to put together. R2 almost didn't make the trip this year, as he's had a rough year (being attacked by the Steele's dog and cat), but Lara felt like it wouldn't be a show without R2, so she and her sister in law Laurel Lee rushed to put him back together in time for Emerald City where he is ready to take photos with any passing Star Wars fans.
To read more about Lara and Shawn's adventures building R2-D2, check out their blog about the process.
---
Want to check out more cool stuff at ECCC? Check out Popverse's coverage roundup of this year's Emerald City Comic Con!