Jim Zub shares the secrets behind Rick & Morty vs. Dungeons & Dragons at ECCC '22
"We're ripping on your IP and we're tearing apart your rules, and you're okay with it?" Zub remembers asking Wizards of the Coast at one point.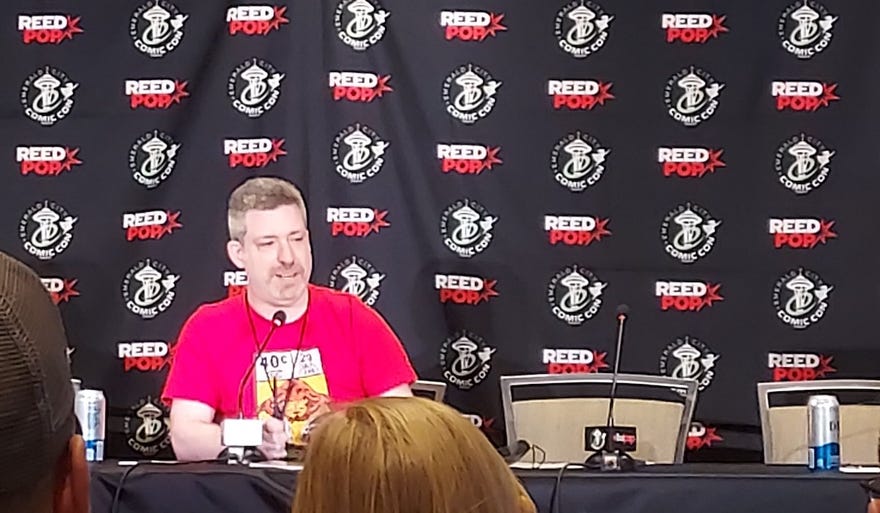 It is, I'll admit, hard to properly describe the atmosphere inside Friday evening's Rick and Morty vs. Dungeons & Dragons at Emerald City Comic Con for those who weren't there. The packed room at the Seattle Conference Center was in good spirits as Jim Zub – who co-created the original comic book miniseries that combined the two franchises, and has been helming the pairing ever since as it's headed into a second miniseries and a game in its own right – held court in front of a packed room eager to hear what he had to say about what he himself described as "this very, very bizarre project."
Zub opened the panel by giving some background to the crossover between two properties that he admits appear to be in direct opposition to each other. A lifelong Dungeons & Dragons player, he said that the game is intrinsic to why I am who I am," explaining, "it taught me to entertain people, be spontaneous, [and] it made me good at teamwork. Rick & Morty is none of those things."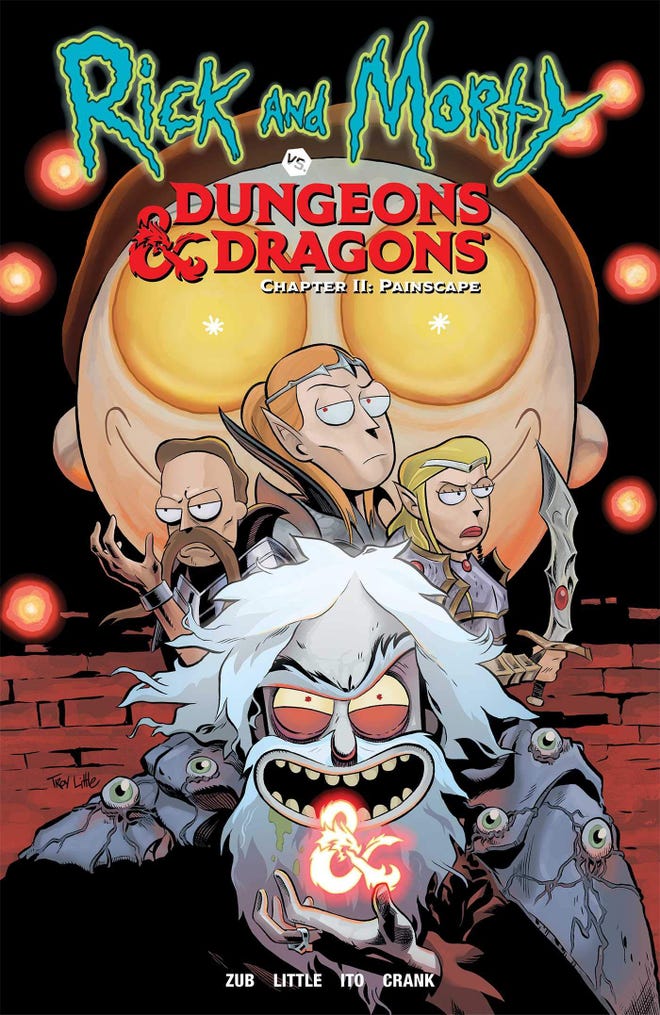 Battle of the Crown Jewels
Indeed, the original version of the crossover was a joke about two properties that just wouldn't fit together. The way Zub described it, the idea first arose when staff from Oni Press and IDW went for dinner together during a convention and threw around ways in which the two companies could work together on a project. Rick & Morty vs. Dungeons & Dragons was a suggestion that someone made as an example that wouldn't work, but it was the suggestion that everyone kept returning to in the days after the meal, even as Zub tried to convince everyone that it would never happen. "You're talking about the crown jewel of Adult Swim destroying the crown jewel of Wizards of the Coast," he reasoned. And yet, both companies went for it, and Zub got the call to make it work.
Well, him and author Patrick Rothfuss, with whom he co-wrote the first four-issue miniseries. "We had so much fun putting this together, with the in-jokes and the easter eggs," Zub remembered, sharing with the crowd that the original plot was that Morty was trying to learn D&D to impress a "hot gamer girl," but he was forced to learn it from Rick… who only remembered the first edition of the game. As Zub put it, he and Rothfuss planned for a frosty reception at the parent companies of both properties, overloading the script with so many jokes because they were convinced that they'd be told to remove at least half of them… only for almost everything to get through untouched. "We're ripping on your IP and we're tearing apart your rules, and you're okay with it?" he remembers thinking, before saying that the jokes survived because of Wizards of the Coast's confidence in the underlying strength of D&D.
"Pat and I tore a hole in D&D because we love it," he admitted. "Your best friends can insult you better than anyone else because they know how to make it hurt." One of the in-jokes that Zub didn't expect to survive was the fact that, in the series, Rick leads Morty through the first three editions of the game, and then ignores the controversial 4th edition, saying "We don't talk about fourth edition. If you bring it up, trolls will come." It's a line that Zub jokes is a rorschach test for D&D fans, with some claiming that it's proof that Zub and Rothfuss hate the 4th edition (they don't) or that Wizards wouldn't let them use it (also untrue); it's simply there as a joke, as much as some people don't want to believe it.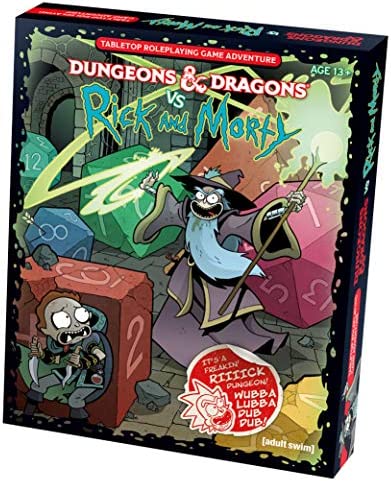 The first miniseries was a success – more so than anyone involved had anticipated, with Zub saying that his favorite reviews had been those that admitted that everyone had expected a cynical cashgrab but found a love letter to both franchises. "We wanted it to be a good Rick & Morty episode as well as a good D&D story," Zub said. In fact, the miniseries was such a success that Wizards made an unexpected decision.
And Then, The Game
"The response was ridiculously good, and then Wizards of the Coast contacted me and said, we're thinking of doing a game set," he remembered, even though the Rick & Morty take on the game goes against the pillars of D&D, and runs counterintuitive to the way the game works – all of which made it impossible for him to refuse; he ended up writing the game set.
"If you get a chance to run Rick & Morty vs. D&D the starter set, my first recommendation is to take the things that D&D is based on and unwind them," Zub told the crowd, suggesting that potential DMs punish players for exploring, but also give them hell if they don't explore, and make every social encounter excruciating. If there was a running rule for playing Rick as DM, he suggested, it's to ask for things from players that are not consistent with the rules, so they cannot get a handle on getting ahead of their DM. "When you run a Rick encounter, it's meant to be as obtuse as possible," he explained. "Essentially undoing all the things I love about Dungeons & Dragons, but with a wink, was a lot of fun."
Again, he got to do things with the starter set that he didn't think he'd be able to get away with, including the fact that the rulebook ends with "Rick" telling the reader that they should stop buying any new D&D product because they could run games better themselves. Instead of being told to take that joke out, he shared – still seemingly a little surprised – Wizards of the Coast asked him to do more of that. "That is the sign of a very confident market position, let me tell you," he joked.
At one point in the panel, he walked the audience through playing Rick & Morty vs. Dungeons & Dragons, which he likened to a particularly awkward game of 1st Edition D&D where everything is "a Gong Show of stupidity." "The key in a Rick & Morty encounter is that Rick is constantly on edge and doesn't want to run the game," he shared. "You want to make your players hate you. It's the opposite of true D&D." That includes the fact that, if players want to ignore the dungeon in front of them and explore the wider world, they'll automatically die. "The social pillar is not happening tonight, it's just pure deathtrap dungeon," he joked.
A fan asked if it was even possible to win a game of the Rick & Morty set, which prompted him to share that, while the answer is yes, that wasn't originally the case. Originally Zub had written it so that the game would end unfinished when Rick had gotten tired of being DM, only for that to playtest very poorly. "It's not hilarious," he admitted. "It's only funny when you're writing it. 'That's the joke, see? Incomplete product that you spent your hard-earned money on! Oh, we should fix it.' That was a terrible idea."
The Love Story
Even the game set isn't the end, however; Zub has co-written a second Rick & Morty vs. Dungeons & Dragons comic book series with Sarah Stern (both minis were illustrated by Troy Little), in which Rick discovers a dimension where all the character's he's rolled up in previous games are real, and they all hate him. Moreover, he wants to write one final series, he teased, to complete the trilogy.
A running theme throughout the panel was that, even though Rick & Morty vs. Dungeons & Dragons might be a comedy concept that makes fun of D&D, it's something that has only made him love the game more. As he told the crowd, "It's been a really really cool journey for me, and has taught me a lot about gaming, and why we do these really cool ridiculous things together."
---
This wasn't the only panel that Jim Zub appeared on at this year's Emerald City Comic Con. If you're looking for more, why not check out the How to Write Comics Workshop panel that he led, appearing alongside Zack Kaplan, Amy Chu, and Jim Krueger? He also showed up on this year's Breaking Into Comics the Marvel Way panel, as well.