Fallout TV Show: The release date, cast, location, and more behind Amazon Prime Video's upcoming game adaptation
The much-anticipated Bethesda video game adaptation Fallout is headed to Prime Video in 2024
You never thought you'd be looking forward to the end of the world, but if you're a Fallout fan you kinda sorta do. And now, the apocalypse will be televised.
Bethesda's mega-popular Fallout game series is expanding to the world of live-action with a new TV series on Amazon Prime Video. Walton Coggins will lead an ensemble cast into the wastelands and the vaults with Fallout, coming in 2024.
But don't get too excited; we still don't know a ton about the series. Though we assume it will take place in a post-nuclear war world and hope it will feature the snappy dark humor of the games, no specific plot details came with today's announcement.
What we do know is that Westworld co-creators Lisa Joy and Jonathan Nolan will helm the series, and that actors Walton Goggins (Invincible) and Ella Purnell (Yellowjackets) have been cast in unspecified roles. Our bet is that they'll both have survived the American/Chinese nuclear war that sparks the games by living in the famous underground bunkers called Vaults in the series, because each of the Fallout games has put players in the shoes of one of the Vault dwellers.
What year is Amazon Prime Video's Fallout set in?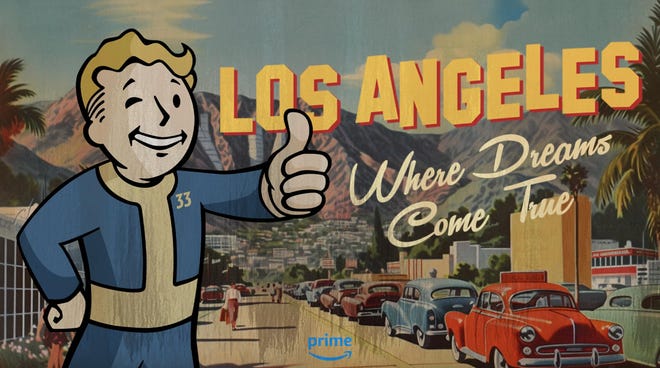 To date, that's a bit unclear - but given the fact that there will be a Vault and there's Ghouls, it would be on/after the year 2077 - the year the nuclear war takes place when turns Earth into the apocalyptic place we all know and love of Fallout.
Will the Fallout TV show be canon with the Fallout games?
Yes. Resoundingly. Bethesda director Todd Howard, on the Lex Friddman podcast, said that "it exists in the same world, but it's its own unique thing, so it adds to it."
When is Amazon Prime Video's Fallout release date?
Amazon has stated the live-action Fallout TV show will debut in 2024 - although a specific date (or even month) hasn't been said.
How is it able to work with the strikes? That's because Fallout began filming in June 2022, with filming wrapped before the writers strike and the actors strike.
How many Fallout episodes will there be?
Amazon has announced that Fallout season one will be 10 episodes.
Who is in Amazon Prime Video's Fallout cast?
What a cast. Here's who to expect (and in cases where we know it, their roles):
Walton Goggins as an as-yet-unnamed Ghoul
Ella Purnell
Kyle MacLachlan
Xelia Mendes-Jones
Aaron Moten
Mike Doyle
Moisés Arias
Johnny Pemberton
Cherien Dabis
Dale Dickey
Matty Cardarople
Where can I find the Fallout trailer (or trailers)?
You'll have to wait on this one. A teaser trailer for Fallout was released at Gamescon in August 2023, but Amazon has yet to make it available online.
---
Playing Fallout can be a stressful experience, and not just because of the whole "end of the world" thing. If you feel that way, we've got a list of cozy video games to help you relax.