DC's The Flash movie is silly, slightly muddled summer fun
The Flash stumbles a bit, but has heart and a lot of fun and excitement at its core
Barry Allen is the Fastest Man Alive, and yet he can't run away from his tragic past. But maybe he can run into it. After struggling for years over the fact that his father has been wrongly imprisoned for killing his mother, Barry Allen realizes, on the eve of his father's appeal, that he can run fast enough to travel through time. Of course, his first notion is to go back to his childhood to save his mother and subsequently his father as well. But of course, things are never so simple, leading to The Flash getting stuck back in time and teaming up with a younger version of himself and an alternate universe Batman with a familiar face.
From director Andy Muschietti (It) and screenwriter Christina Hodson (Birds of Prey), The Flash holds its own as two-and-a-half hours of fun entertainment rooted in a fairly traumatic story. The humor, which is front and center for most of the movie, mostly works, but what really holds the film together is Ezra Miller's nuanced performance as Barry Allen and… Barry Allen. Miller adds a lot of pathos in their performance of two very different Barrys, and those performances tell us a lot about the nature of Barry Allen's life and character.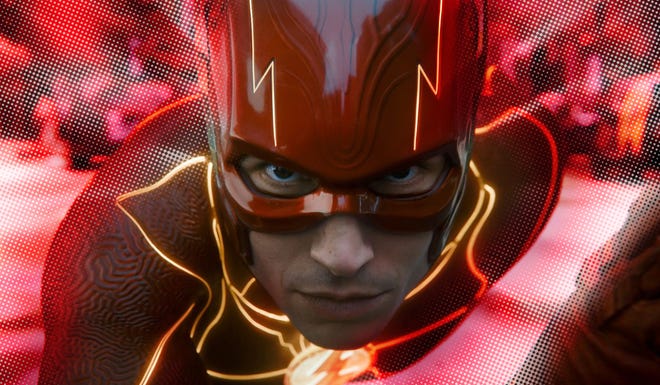 It's nice to see that the movie's early action scenes are clearly depicted, thoughtful, and tailored to each character. The Batman-y sequences feel very Batman-y and the Flash sequences feel very Flash-y. And there is a bit of the comic book silliness that makes the action scenes fun and exciting. Later on though, the action seems to devolve, with stakes unclear, bullets coming from nowhere, and confusing power usage.
The Flash shines more earlier on in its runtime, especially with the scenes spent with the central characters of the two Flashes and Michael Keaton's Batman. And while there are a few catch phrases bandied about, the movie doesn't rely on the nostalgia to work on a story basis. Keaton brings gravity but also goodhearted cheesiness (I always loved how his Batman really leaned into the Bat-theme) and new addition Sasha Calle brings a more dangerous, sullen take as Supergirl, though the character felt somewhat underused.
With all that it's trying to do, The Flash ends up bloated and sometimes loses its way in its attempts to hold onto its central conceit. Some central moments aren't given the closure they deserve, which feels jarring, with the treatment of Keaton's Batman, Calle's Supergirl, and Miller's other Barry. There are themes introduced and then dropped. Most of the movie's central 'lesson' lands, but at moments you feel like the movie is undercutting what it's trying to say or that it could be doing more, could be adapting to the new characters and ideas it brings in, yet it stays on the obvious path it sets up at the very beginning. Which works, but perhaps not as well as it could and begins to beg the question of why the movie bothered to introduce all of those other characters and themes.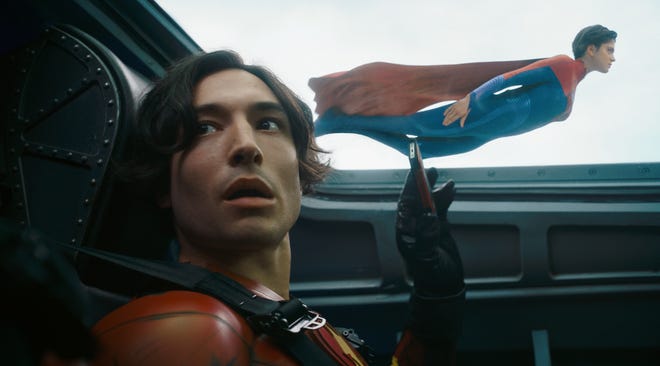 Then, of course, are the smaller issues where The Flash falls short. The visual effects, especially towards the end of the film, felt wonky and unfinished. The dialogue is overwritten sometimes, letting the pressure out of charged moments just to make sure the audience knows what's going on. The movie seems to make the easiest emotional choice over and over again, which can make it feel like you've already seen the scene before the scene even begins.
And yet, sometimes, The Flash sparkles. Especially in those early action scenes and with Miller's Barry Allen having to face a self that he wishes he could be but simultaneously resents. It's easy to begin to feel for these characters. Even though The Flash can feel bulky and visually odd at times, it certainly has enough fun and emotion to sustain an audience's good time. The Flash is one of the better DC films of the recent years and certainly better than your average summer blockbuster.
---
The Flash is now streaming on Max.
---
Before you stream the speediest superhero of all, check out Popverse's watch guide to catch up on every instance of Ezra Miller's Flash so far, or check out our guide on everything you need to know about this movie before you see it.