Congressman Robert Garcia is bringing Free Comic Book Day to the US Capitol
US Congressman Robert Garcia is leading the charge to bring comics - FREE COMICS - to the halls of power in the United States.
On Sunday afternoon of San Diego Comic Con, Congressman Robert Garcia (California District 42) held the very first event from his newly minted Congressional Popular Arts Caucus (more information on the panel and the Popular Arts Caucus to come). While the panel (which featured Congressman Garcia, Library of Congress Reference Librarian Megan Halsband, comic book writer Josh Trujillo, and Comic Book Legal Defense Fund Director Jeff Trexler) introduced the plans that the Caucus has to support not only the popular arts but also the artists behind them as well as the importance of organizations like the Library of Congress and the Comic Book Legal Defense Fund in that mission, one particular bit of news stood out.
During the panel, Congressman Robert Garcia announced, "We're going to host the first Free Comic Book Day at the Capitol" -- to unsurprisingly wide applause. He made a particular point that the day wouldn't just be about getting comics to kids but also into the hands of policy makers. "I think policy makers have a lot to learn from comics," the congressman said, adding wryly, "especially some of my colleagues."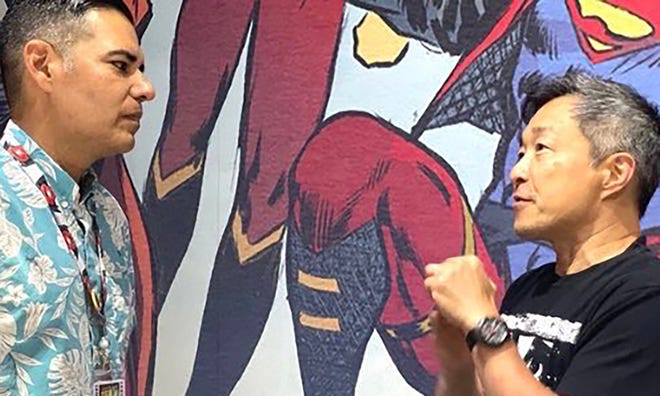 Popverse has confirmed during SDCC 2023, Garcia met with DC president/CCO Jim Lee and Marvel Comics' editor-in-chief C.B. Cebulski, so it's possible the plans could grow to include those publishers (and others as well).
The worldwide Free Comic Book Day occurs on the first Saturday in May every year - May 4, 2024 is the next one - but the congressman didn't specify when the US Capitol's event would occur. He did share later on in the panel that, in their early stages, he and the Caucus plan to focus on programming before moving towards policy making. So hopefully Free Comic Book Day at the Capitol will come sooner rather than later. It certainly sounds like it would be a lot of fun.
Keep an eye on Popverse as we continue to follow not only this story, but also the progression of the Popular Arts Caucus as well.
---
Popverse saw it and did most of it, and you can find all about our guide to All the big news, magic, and moments from San Diego Comic-Con. And if you want to go to SDCC next year, we have the San Diego Comic-Con 2024 dates as well.