From Mutts to Marvel: Patrick McDonnell takes on A Super Hero's Journey
The new metatextual book from Marvel Arts will debut in September
While the first book from Marvel Arts — the partnership between Marvel Entertainment and mainstream publisher Abrams ComicArts — showcased the work of superhero artist Alex Ross, the next project will come from a far less obvious source: Patrick McDonnell, creator of the newspaper strip Mutts.
This fall's The Super Hero's Journey combines panels from classic Marvel comics by creators including Stan Lee, Jack Kirby, Steve Ditto, and Don Heck with new work from McDonnell, as Mr. Fantastic is led through a journey across multiple stories and comic books by the Watcher, while Doctor Doom gathers the power of the Negative Zone for his own nefarious purposes — all of which is offered up as a way for McDonnell to tell a metatextual story about the ways in which Marvel comics have impacted his life and shaped his career as a successful newspaper cartoonist.
McDonnell says that the book is "my graphic novel love letter to the 1960s Marvel Super Heroes and their legendary creators. It was a childhood dream come true to have my art play along with the work of the great Stan Lee, Jack Kirby, and Steve Ditko. I tried my best to capture the magic, fun, and cosmic energy of those early comic book masterpieces in this arty mashup."
"When we released Fantastic Four: Full Circle by Alex Ross, we promised that Marvel Arts was a line 'where nothing is impossible and anything can happen,'" added Abrams ComicArts editorial director Charles Kochman. "With The Super Hero's Journey, Patrick McDonnell delivers on that promise, creating something truly unique."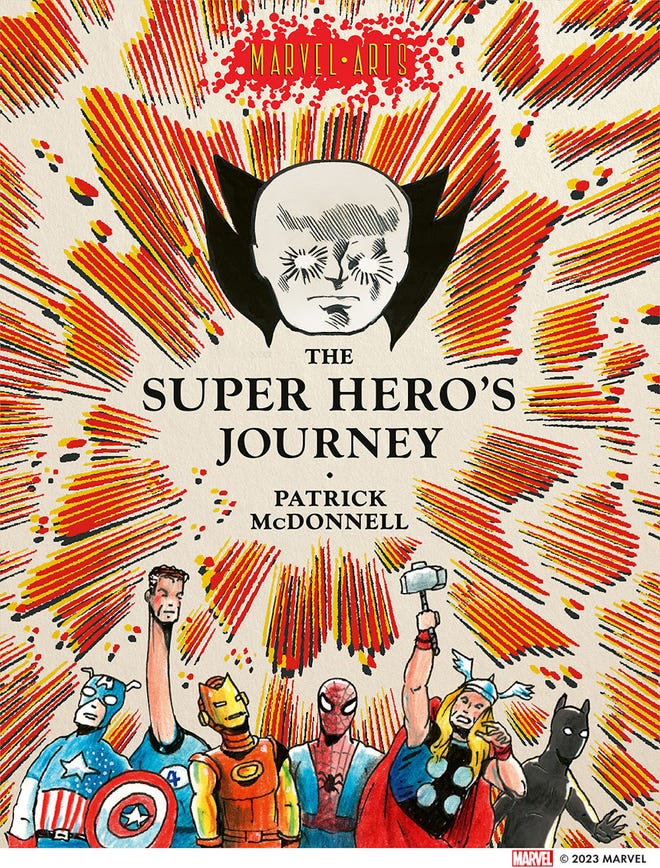 The Super Hero's Journey will be released September 26, 2023.
---
Revisit the New York Comic Con 2022 panel where Abrams ComicArts laid out their plans for the next year.