Funko's Funmaker Mike Becker gets serious about giving back to the Comic-Con Museum
The third annual Mask-O-Raid presented by Funko helps raise money for its community
Things got spooky on the first night of Funko's third annual Mask-O-Raid event, hosted by the Comic-Con Museum in San Diego.
If you've never been to the Comic-Con Museum, it's a real treat on a normal day with exhibits that inspire you to celebrate comics, creativity, and popular art. On October 27 (and October 28) the Comic-Con Museum got a make-over reminiscent of Disney's Halloweentown. Taking center stage for the night was Funko Founder Funmaker Mike Becker, who displayed his love for the arts by displaying his vintage '70s collection of Halloween costumes, auctioning original art, and raffling off Funko prototypes (and tickets to Comic Con International 2024) .
Popverse's Illianna Gonzalez-Soto had the chance to sit down with Funmaker Mike to chat Funko haunts, celebrating community & creativity, and what Funatics can expect at this year's Mask-O-Raid event.
Check out the gallery down below for a full look at the night's festivities.
Popverse: How did the Funko Mask-O-Raid event first start?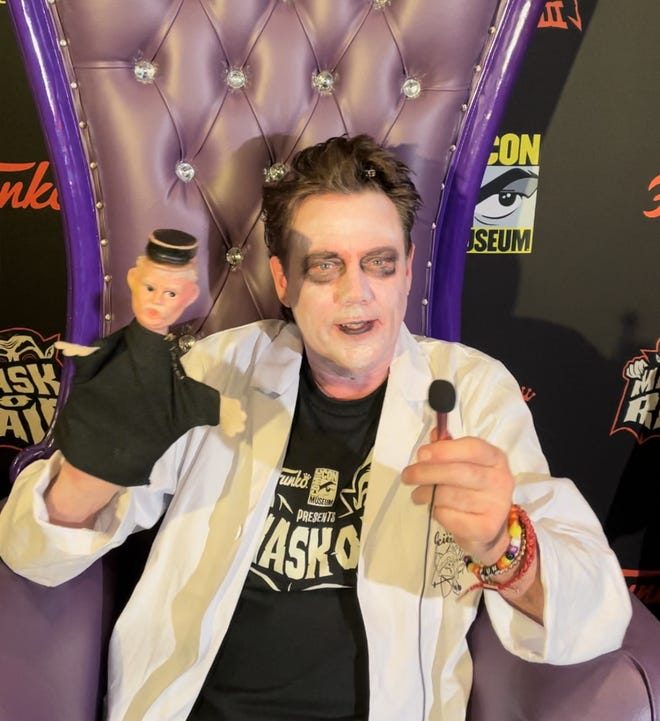 Funmaker Mike: Well, they started about three or four years ago. I've done a lot of different types of events here. Whatever San Diego Comic Con or San Diego Comic Con Museum wants me to do, I'm down. We love these guys. We've been great partners and great friends, whether it's a Hall H thing, whether it's something here at the Museum — We'll do whatever is needed to do whenever, because we're all in it to win it together.
Popverse: What is so special about the Comic-Con Museum — why give back to the community?
Well, it's a nonprofit as you know. The whole thing [tonight] is for charity. There's two nights, it's Friday and Saturday and all of our resources, all of our time and some money actually gets poured into this thing from our side and then [the Museum] is nice enough to host us. And all the money goes to the Comic Con Museum's Educational Center.
I got to see firsthand upstairs what lovely things they do for both kids and adults. You know, the crafts area alone was amazing. So that's just stuff that I think can honestly change an entire life.
I'm not always all that serious all the time, but on this kind of stuff, I like to have fun, but I'm very serious about this because of what these programs can do to change young children's lives and show them that art is fun and art is cool and being creative is cool.
With me, I was severely dyslexic, and I didn't get great grades. You know, I had a 1.9 GPA, but I'll tell you what that opened up: creativity. So I felt like some of the things that people think are really a crutch really end up turning other talents on for you. So creativity is a wonderful thing, and they really celebrate it here at the San Diego Comic Con Museum.
Popverse: You mentioned fun and creativity. What's the funnest thing or the coolest thing that people can expect from coming here?
Probably my slide show presentation. No, I'm just kidding.
Well, we have a great art exhibit. A lot of the Funko artists and artist friends have created a lot of really wonderful one-of-one art pieces. Great food, actually.
And really, Funko's number one export, and I feel like Comic Con's as well, is culture and community. There's a lot of great people just having a lot of fun dressing up and enjoying the evening. There are a lot of prizes and giveaways, but it's really just good old fashioned fun. You know, the kind of stuff I remember from the seventies when I was a kid going to Halloween parties and things.
Popverse: What's your favorite thing about Halloween? You mentioned the seventies, why is that your favorite era?
Yeah, just because I think that was the magic era for the Ben Cooper masks. There were two things that really told a lot about you when you were a kid: What lunch pail you got at the start of the year and what Halloween costume you were gonna get.
Popverse: Have fans ever complained about a Funko being haunted à la Chucky or Annabelle at all?
… No. But they've said that they think there are things inside of the [mascot] head.
Popverse: Which head?
All of the heads [evil face].
---
Funko spares no expense with its Heavy Metal Halloween-themed area at NYCC