DC reveals Tom King and Phil Hester Batman Prequel, Gotham City: Year One
Gotham City: Year One to reveal origins of comics' scariest city
It's a city that's become famous as the center of all things dark and twisted in the DC Universe, but just what made Gotham the grim metropolis that fans know and love? A new series announced at Comic-Con International: San Diego on Thursday promises to reveal all.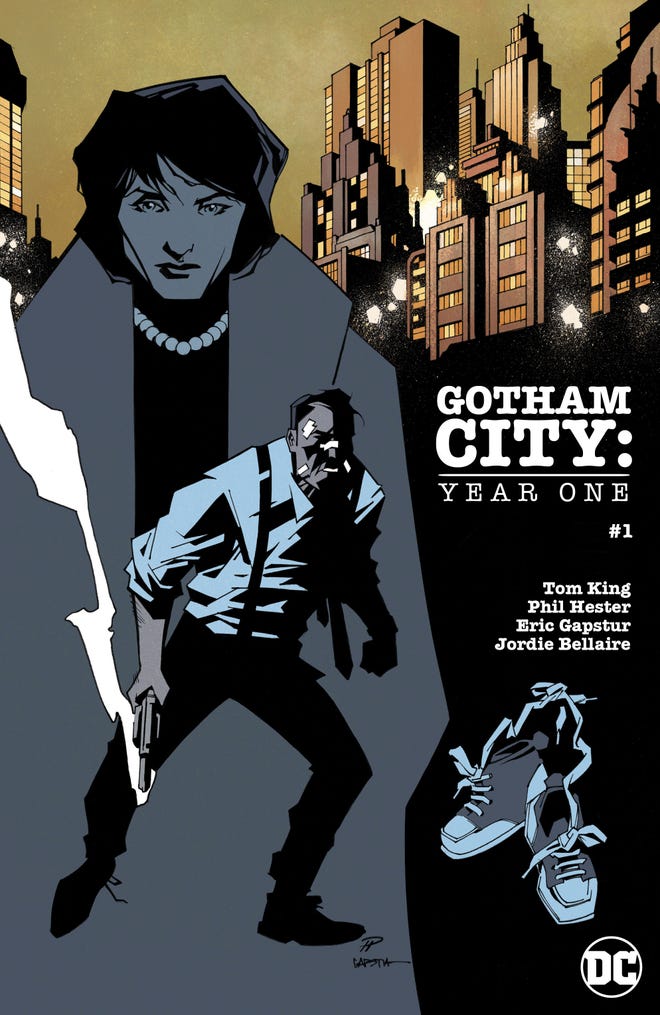 Unveiled during the DC's Tom Taylor and Tom King in Conversation panel Thursday morning, Gotham City: Year One will see Tom King return to Batman's home town accompanied by Phil Hester, Eric Gapstur, Jordie Bellaire, and Clayton Cowles to tell the secrets behind the origin of comics' most gargoyled city.
Set two generations before Bruce Wayne took on the mantle of the Dark Knight, the six-issue series centers around a character familiar to long-term DC fans: Slam Bradley, the hard-boiled private investigator who first appeared way back in the very first issue of Detective Comics, way back in 1937. (Bradley belongs to an important comics lineage; he was co-created by Jerry Siegel and Joe Shuster, who'd go on to create Superman a year later.)
This time out, Bradley will be looking into what's being described by Gothamites as the "kidnapping of the century": the disappearance of the Wayne family heir, Helen. But, as should only be expected of these kinds of things, things aren't quite as straightforward as they first appear… even for a kidnapping case.
Hester, whose resume includes runs on Green Arrow, Swamp Thing, and Batman Beyond amongst many others – he was most recently seen on Philip Kennedy Johnson's initial Action Comics and Superman issues – says in a statement that King has "crafted a story that will echo across Batman lore past and present," adding, "I'm honored to play a small part in bringing Siegel and Shuster's landmark creation to a new audience, and in giving one of DC's oldest legends the white-hot spotlight he deserves."
Check out this unlettered, uncolored preview of Gotham City: Year One #1 by Tom King, Phil Hester, and Eric Gapstur:
Gotham City: Year One #1 (of 6) will be released October 4, and feature a variant cover by Ryan Sook, and a 1:25 variant from David Marquez.
Keep track of this and ALL the news from this weekend with our San Diego Comic-Con 2022 coverage round-up.