IDW is giving itself a company "reset", starting by cutting 39% of its 80-person staff
Amongst those no longer with the company are its CEO and CFO
IDW Media Holdings, parent company of IDW Publishing and IDW Entertainment, has announced that it is cutting roughly 39% of its current workforce in what it's calling "a series of significant moves in response to operational challenges to position the company for recovery and future growth." Additionally, the company has chosen to voluntarily delist from the New York Stock Exchange, as part of the same plan.
According to documents from March 2023, IDW had 80 employees based in San Diego, Los Angeles and New York; if the approximate 39% figure — one provided by IDW itself — is correct, that translates into 31 people laid off as part of the current reduction. According to IDW Media Holdings' statement on the matter, "The reduction in force and other steps, after the effect of backfilling certain positions, is expected to deliver approximately $4.4 million in annual savings (and potentially greater savings in future periods) and is currently expected to result in approximately $0.9 million in severance and related costs to be recognized in the current period."
IDW Publishing was responsible for more than 750 comic books and graphic novels per year, with 20-30 original titles amongst that number. IDW Originals are particularly important to the IDW Media Holdings business model, with IDW Entertainment currently developing multiple film and television projects based on material that originated with the company's comic book publishing arm. The importance of the Originals program was called out in a slide as part of a recent investor report: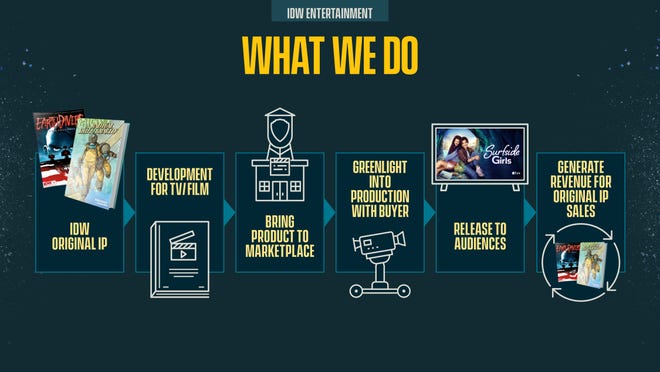 Additionally, the company is also known for its licensed material, including Teenage Mutant Ninja Turtles, Star Trek, and Sonic the Hedgehog.
Say goodbye to Wall Street
The decision to withdraw from the stock exchange is being presented as a cost-saving exercise on behalf of IDW, with David Breau, lead independent director in IDW's board, quoted in IDW's press release as saying that "the reduction in time spent by our management and employees complying with the requirements applicable to SEC reporting companies will enable them to focus more on managing the Company's businesses, strengthening our strategic relationships, exploiting our assets and thus increasing stockholder value, with a focus on long-term growth without an undue distraction by short-term financial results and stock price movement."
Deregistration is not an automatic event, however; IDW Media Holdings has to file with the SEC to deregister the company, and free itself from reporting obligations. Whatever cost savings will come from this plan, they're unlikely to arrive in the short term.
Meet the new leaders of IDW
Amongst those leaving the company are Brooke Feinstein, former chief financial officer, and Allan Grafman, who was named chief executive officer just last August. Feinstein's vacant position will not be filled, but instead the duties will be split between existing staff, while Grafman will be replaced by Davidi Jonas, the executive chairman of IDW and vice chairman of the board of executives. Jonas, notably, is a member of a family that owns a controlling interest in the company's equity, and his father, Howard Jonas, currently serves as IDW's chairman and chairman of the board.
Howard Jonas issued a statement on the executive changes, saying, "We appreciate Allan's industry experience and efforts on IDW's behalf during the last eight months as CEO and for over three years prior to that as a member of the Board and Chairman of the Audit Committee. However, with the need to make pivotal changes to preserve value and transform the Company, the Board felt that a new CEO with new ideas, a tireless work ethic, willingness to roll up his sleeves and do whatever is needed to help the Company, with a successful record at creating a corporate culture of excellence and maximizing stockholder value, was what IDW needed."
Davidi Jonas issued his own statement, saying, "I am humbled by the confidence being placed in me by the IDW Board in appointing me to this position at such a pivotal time in the Company's existence. I feel an overwhelming sense of excitement and more than a little trepidation as I face the challenges before us. Our Board is taking bold action to address the challenges facing the Company and I share their view that alacrity is called for. My trepidation comes from the magnitude of the task ahead and my determination to do everything possible to unlock and create the value for our stockholders that they deserve. Many of our stockholders, not least of them members of my family, have shown patience and loyalty and it is my singular goal to see that rewarded."
The statement goes on to add, "Today we hit reset. Today I take on the responsibility to those for whom I work and those whom I work with, the stockholders and my colleagues at IDW. I will work tirelessly to unlock value."
---
At New York Comic Con last year, IDW's creators talked about their ambition to become "the best publisher in comics."