How Jason Aaron's Thor comics changed the God of Thunder forever
As two of his most popular creations take center stage in Thor: Love and Thunder, let's look back on Jason Aaron's epic run with Marvel's Thunder God.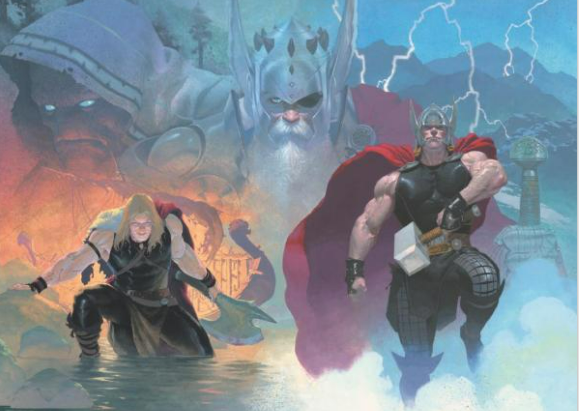 Even by the standards of the Marvel Universe, Thor was always intended to be a larger-than-life figure. Stan Lee liked him because he wanted a character who could be grander and more powerful than even The Hulk. Jack Kirby liked him because he fit that Kirby mold of eternal, mythic figures that the King of Comics would continue to explore in every phase of his career. A couple of decades after Thor first appeared in the pages of Journey Into Mystery, Walt Simonson would re-emphasize the kind of scope Thor could command with a legendary run on the character featuring issue-long fight scenes and splash pages so jaw-dropping they still echo through comics history today.
Then came Jason Aaron, who had an ambition for Thor arguably grander than any creator who came before him: He wanted to write a god he could believe in.
A new era of Thor
Subscribe to Popverse to read this article
Become a member and get first access to tickets and badges to our events, photo ops, exclusive content, and more.