Joshua Williamson on breaking Duke and the hidden Transformer in plain sight
The writer of Skybound's upcoming G.I. Joe reboot teased what to expect on Enter the Popverse
Those who tuned into this week's Enter the Popverse didn't just get a chance to hear Joshua Williamson talk about how he got involved with Skybound and Hasbro's Energon Universe — where he'll reboot G.I. Joe, starting with December's Duke #1 — they also got the first glimpse of interior artwork from the issue… and a reveal about an Easter egg on the cover of the issue, as well.
Talking to Enter the Popverse host Ashley Victoria Robinson while the pages were being shared — you can see them in the gallery below, if you missed the show (or simply wanted to see Tom Reilly's beautiful art in more detail) — Williamson said, "The first few pages, the way I saw it was, one of my favorite things about GI Joe, even when I was a kid, was always the opening sequence [of the original animated series]. It was always the music, that opening sequence of them versus Cobra, but this action sequence. And so what I wanted to do was, at the beginning of the issue, I really wanted to showcase that idea of almost this action sequence. We get to see who Duke is, and a little bit of his history."
He went on, "I wanted to show this action sequence with him and kind of give you a little bit of a history lesson about who this character is in case you have no idea. That's one thing with this — we definitely want to appeal to the fans, and people who'll love it. I mean, that's one of my things; I'm a fan, would I love this, and I wanted to appeal to that — but I also recognize that not everyone knows who Duke is. So I wanted to give you a little bit of who Duke is."
The opening sequence of the first issue, Williamson said, is "about really showing you who Duke was — and showing you who Duke is," teasing that when readers catch up with him in the issue, he's a little broken. "Something happens to Duke, and what happens to Duke is classified, I'll call it that; I can't talk about it. [But] something happens to Duke, and it's what sets him on this journey, and it's what these five issues are about. It's about really putting him through this massive test."
That test, it turns out, will lead to "the origins of G.I. Joe."
As if that's not enough of a teaser, Williamson also talked about an unnoticed detail on the cover for the issue. "It has a little Easter egg on it," he pointed out, just minutes after talking about the fact that Starscream is his favorite Transformers character. Oh, look at that plane in the background of the image, I wonder what's going on there…? "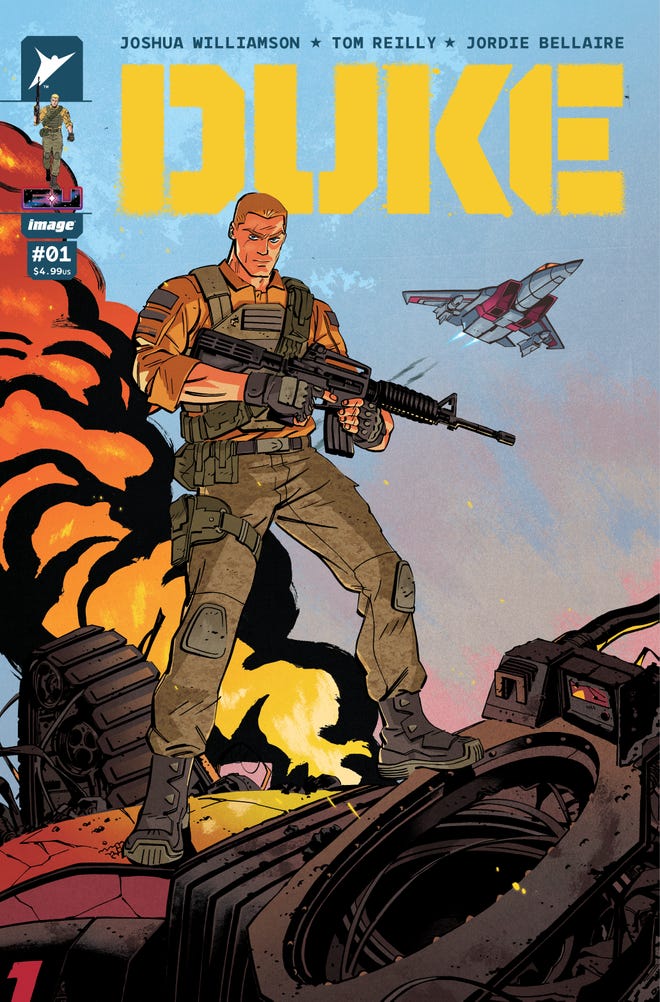 Duke #1, the first of four connected G.I. Joe miniseries written by Williamson, launches in December. For the full Enter the Popverse episode and more of Williamson's comments, click here or watch the embed below.
---
The ashcan for Transformers #1 from Skybound was the hottest book from San Diego Comic-Con this year.