Daniel Warren Johnson's Transformers #1 ashcan was the hottest book of SDCC 2023
The Energon Universe is off to a good start
In case you needed another sign that Skybound's new revival of Hasbro's Transformers and G.I. Joe franchises are, as the saying goes, more than meets the eye, here's an interesting tidbit of information: the most popular exclusive comic book from last week's San Diego Comic-Con was… the ashcan edition of Skybound's upcoming Transformers #1. And the second-most popular exclusive comic? A black and white variant of that same issue.
According to Covrprice's Nick Richardson, copies of the regular edition of the ashcan are already selling for between $70 and $94 on eBay less than a week after the convention, although the black and white variant is even more expensive — which only makes sense for a comic with fewer editions available — going between $100 and $200 a pop. Apparently, people really can't wait to see Daniel Warren Johnson's take on Optimus Prime and the rest of those Robots in Disguise. (To be fair, neither can I; I'm kicking myself for not trying to pick up the ashcan.)
As if that's not enough, the Daniel Warren Johnson variant edition of Void Rivals #1, the launch title for Skybound and Hasbro's new Energon Universe line, ranks at #6 on Covrprice's top 10 of movers and shakers. "We tracked 29 copies sold, at a 7-day trend of 101%, with a high sale of $94 for a raw copy and a current raw NM FMV of $78," Richardson wrote.
Other titles that show up on the list include Puppeteer Lee's SDCC 2023-exclusive variant cover to Spawn #1, Joe Quesada's SDCC-exclusive variant cover for Captain America #750, and another Skybound title: Rose Besch's SDCC 2023 variant for Invincible #2, marking the 20th anniversary of the series and the new Prime Video special, Invincible: Atom Eve.
The Energon Universe officially debuted last month with the first issue of Void Rivals, a new property by Robert Kirkman and Lorenzo De Felici that had — without any advance notice — reintroduced the Transformers to comics via a cameo from Autobot Jetfire. That surprise was immediately followed by the announcement of Johnson's new Transformers series, which will officially launch in October, and two G.I. Joe miniseries written by Joshua Williamson: Duke, which begins in December with art from Tom Reilly, and Cobra Commander, which launches in January 2024 with Andrea Milana illustrating.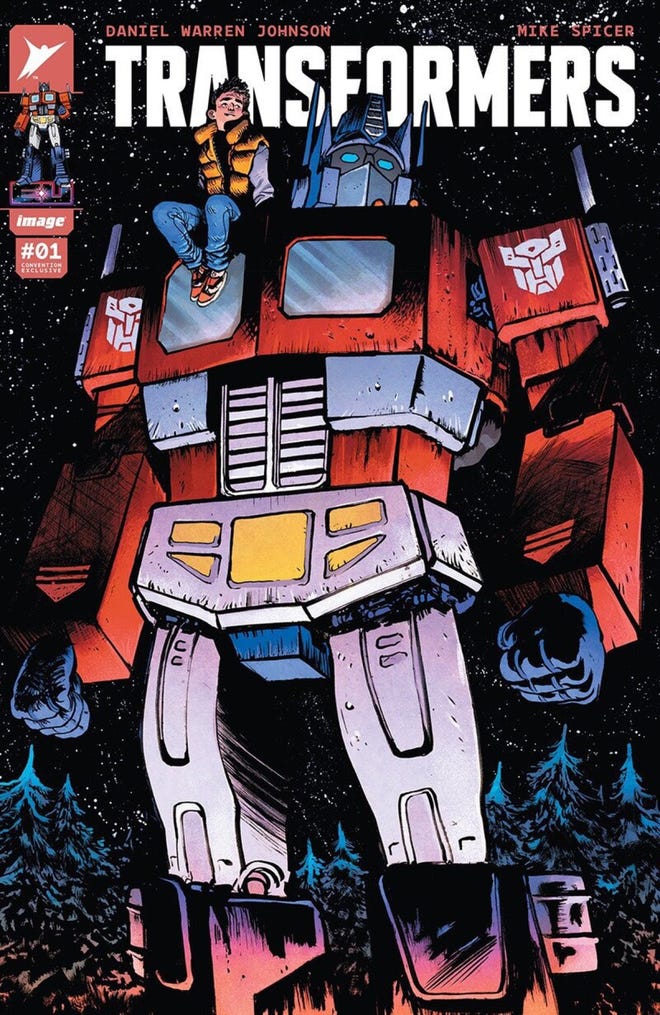 ---
Popverse saw it and did most of it, and you can find all about our guide to All the big news, magic, and moments from San Diego Comic-Con. And if you want to go to SDCC next year, we have the San Diego Comic-Con 2024 dates as well.