Jurassic Park & Jurassic World: How (and where) to watch the dinosaur blockbuster movies & TV show
As we are in a dormant period of the franchise after the Jurassic World franchise, it's time now to take thse movies (and the TV show) out of amber and appreciate it once again (or for the first time)
While humans and dinosaurs never co-existed the same time in the real world, they have become fast friends on the big screen (and on our home screens) with Michael Crichton and Steven Spielberg's Jurassic Park franchise. Over 30 years, the work of those two men - as well as numerous other individual actors, directors, writers, and special effects people - have created a truly cinematic, theatrical experience that feels like a legitimate theme park ride (and has even become one).
As we are in a dormant period of the franchise after the Jurassic World franchise has finished out its trilogy, it's time now to take these movies (and the TV show) out of amber and appreciate it once again (or for the first time, if you've never seen one of these classic dinosaur movies).
While you might recall the Jurassic six films, we must point out the excellent Jurassic World Camp Cretaceous animated series too; don't let the kid-label fool you - it's excellent entertainment, and is bolstered by watching the movies alongside it.
Jurassic Park and Jurassic World in release order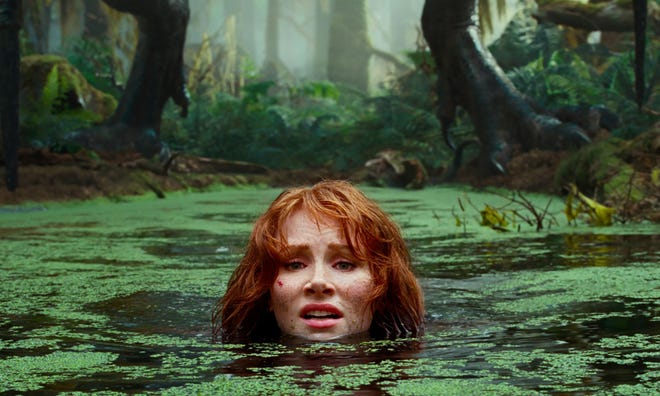 Speaking as someone who watched Jurassic Park in theaters back when it was released in 1993 and reveled in that IMAX-quality speaker system of my local movieplex, the best way to watch the Jurassic Park and Jurassic World movies is in the order in which they were released.
In fact, watching them in quick succession - especially the second and third parts of each trilogy - give you some added resonance for the serialized story told in those chapters.
Here's how to watch the Jurassic movies and TV show in release order:
Jurassic Park and Jurassic World in chronological order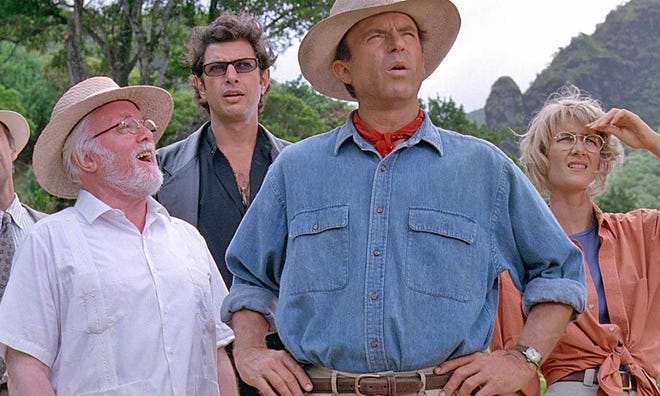 While the Jurassic movies are released in fairly chronological order, 2021's Jurassic World Dominion prologue is set way back in the time of the dinosaurs. Also, the Netflix animatd series Jurassic World: Camp Cretaceous from 2020 actually takes place in the Jurassic timeline from 2015 to 2018, between the first two Jurassic World films.
Here's how to watch the Jurassic franchise in chronological order:
Where to stream the Jurassic Park and Jurassic World movies?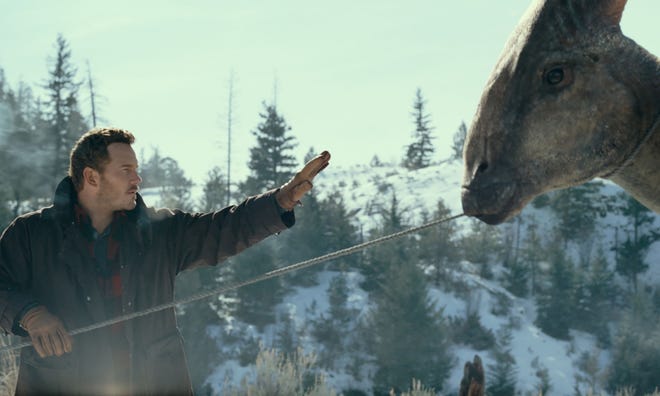 Just as the dinosaurs get on the loose in any Jurassic Park or Jurassic World film, the streaming options for the six movies (and the TV show) are also hard to track down.
As of right now, all of the films except the latest, Jurassic World: Dominion, are available to be streamed on both DirecTV and Fubo. Dominion is available as part of an Amazon Prime Video subscription.
The Netflix series remains available on that streaming service, but is also available for purchase on Amazon Prime Video - as are all six movies.
The two shorts are available for free on YouTube.
Will there be new Jurassic Park or Jurassic World movies or TV shows?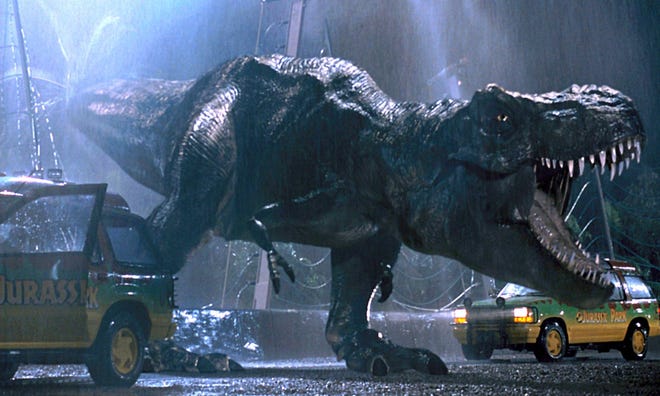 2022's Jurassic World: Dominion is the end of the trilogy, but not the end of the franchise. Producer Frank Marshall said in two years prior to Dominion that the film would be "the start of a new era" - one in which dinosaurs would be actively living on the mainland, and humans would be dealing with it. Marshall doubled down on that later, specifying that more films are intended.
While director Colin Trevorrow said he would be hesitant to direct another Jurassic film, he was interested in actor Bryce Dallas Howard stepping up to direct a future film (Howard has also directed episodes of the Mandalorian)- and went on to say that some of the Dominion characters such as Kayla Watts (portrayed by DeWanda Wise), Ramsay Cole (Mamoudou Athie), and Soyona Santos (Dichen Lachman) would be ideal to revisit in any future projects.
---
Upcoming superhero movies: What's coming soon from Marvel, DC, and other superhero films