SDCC 2023: Indian star power, pomp, and performance on display in Hall H's Kalki 2898 - AD panel
Kalki 2898 - AD is the first India-produced film ever to be presented at Comic-Con International and be given the Hall H treatment, and boy did it deliver.
One of the big Hall H panels here at San Diego Comic-Con 2023 was also the most mysterious - an unannounced movie called Project K. But once we got in the room and the event kicked off, we knew we were in for something special.
While Hollywood's inability to strike a deal with American actors and writers led to a much different SDCCC 2023, some of the biggest Indian performers took the stage in style to introduce the latest film by writer-director Nag Ashwin (Mahanati): Kalki 2898 - AD, a sci-fi epic that will be released in 2024. Actors Kamal Haasan, Rana Daggubati, and Prabhas, joined Ashwin on stage, while the great Amitabh Bachchan joined the panel from India by way of video conference.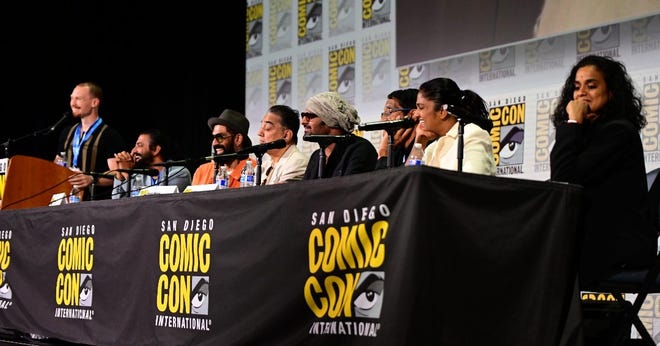 Kalki 2898 - AD is the first India-produced film ever to be presented at Comic-Con International and be given the Hall H treatment, and boy did it deliver. Details about the story remain cryptic but it is a futuristic, dystopian tale mixed with Indian mythology, as a modern-day version of the Hindu god Vishnu arrives on Earth to protect the people from its oppressors.
The electricity was widespread through the crowd from the start. Before the panelists walked onto stage, the crowd was treated to a five-minute drum and dance performance. The teaser was shown twice (again after chants of 'encore' filled the hall). It had elements of Dune, Blade Runner, and Starship Troopers, with a dark color palette. Now this is a Tollywood film, so of course, so there are those punches of color that are trademarks of Indian Cinema, but their placement appears to be very purposeful.
Pacing the aisleways were imposing soldiers in black armor. Ashwin explained that they were very important characters in the film, they're "Indian version of Stormtroopers, I guess. Look, someone is going to say, but I'll say it first."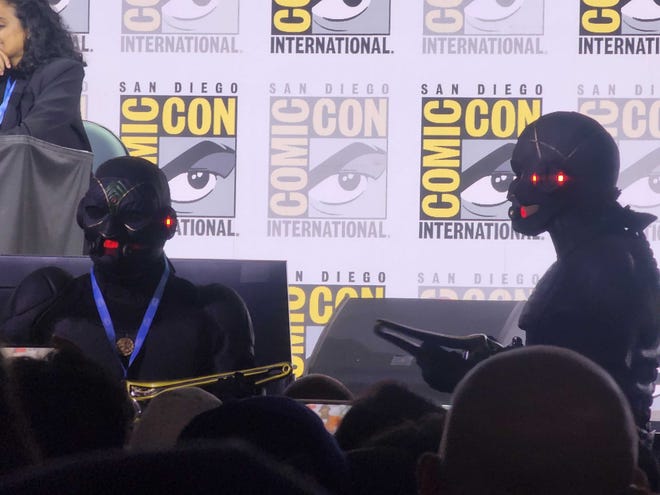 "I keep questioning Nag-y all the time, how did he think of this; what is he drinking; what is he smoking?" Bachchan said to laughs. "But it's incredible the way it's all been put together… I hope you like what you see, and next year when we release the film, you'll like it even more!"
Bachchan said of Haasan, "Each of his (224) roles has so much reality, so much effort. It's quite amazing, and it's an honor to be in the same film as you. While we've done a few together, this one is going to be quite special." Meanwhile, Bachchan has over 250 credits to his name. Cast alongside India's hot names like Daggubati, Prabhas and Deepika Pakudone, Kalki 2898 - AD promises to be India's most ambitious science fiction film of this scale and this grandeur.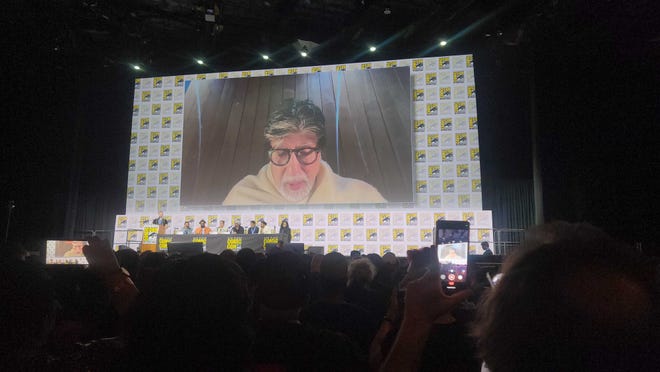 Given the impossible task to boil it down to a three-word description, he summed up the film, "The end begins."
Kalki 2898 - AD is scheduled to open in theaters January 24, 2024.
---
Popverse saw it and did most of it, and you can find all about our guide to All the big news, magic, and moments from San Diego Comic-Con. And if you want to go to SDCC next year, we have the San Diego Comic-Con 2024 dates as well.