Keith David joins the cast of Masters of the Universe: Revolution
At the Masters of the Universe panel, Kevin Smith reveals big new cast member and William Shatner acting opposite Mark Hamill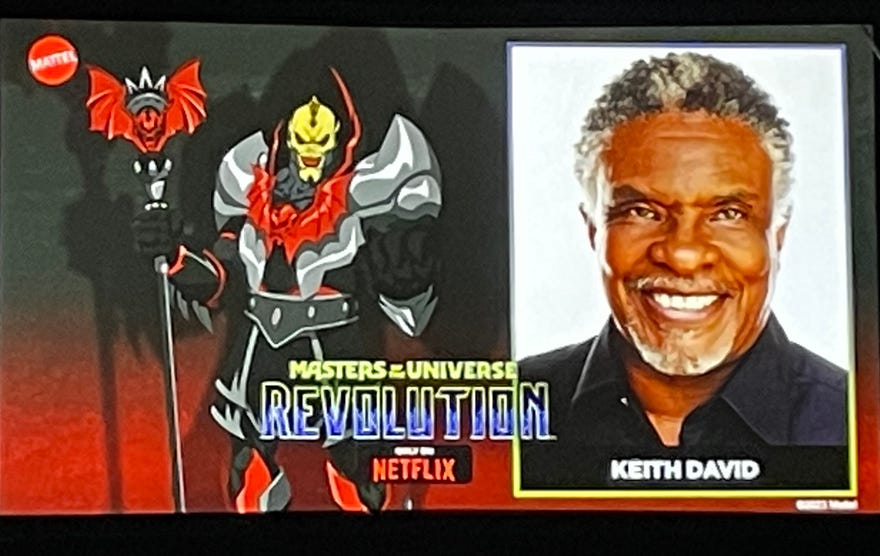 At today's San Diego Comic-Con's Masters of the Universe panel, executive producer Kevin Smith announced a new addition for the second season of the He-Man series, now titled Masters of the Universe: Revolution.
Keith David (Supergirl, Rick & Morty) will be joining the cast in the role of Hordak, leader of the Evil horde.
In the original series, Hordak served as another enemy to He-Man, one who relies upon magic to try to conquer Eternia. In the new series Hordak has abandoned magic in favor of technology. In a clip from the new series, we see that Motherboard, the character introduced in season one who assimilates Skeletor technologically, actually serves Hordak. "The Eternia conversion continues," Hordak tells her in a clip shown. "The skies will teem with the Horde army."
"He's the Nosferatu of the galaxy," explains executive producer Teddy Biaselli of Hordak in season two. Smith, Biaselli and fellow executive producer Rob David also made it clear that he will pose challenges not only to He-Man but to Skeletor.
Smith also revealed that William Shatner, in an unnamed role, will have scenes with fellow sci-fi legend Mark Hamill, who plays Skeletor. "Luke Skywalker and Captain Kirk act opposite one another," promises Smith.
The exact timing of release has yet to be announced, but the group said they're on track for "early '24."
---
Popverse saw it and did most of it, and you can find all about our guide to All the big news, magic, and moments from San Diego Comic-Con. And if you want to go to SDCC next year, we have the San Diego Comic-Con 2024 dates as well.