Watch Amazon Prime Video's Lord of the Rings: Rings of Power and Wheel of Time panels, moderated by Felicia Day!
Hear from Wheel of Time's Rafe Judkins about what's next for the series, and from the cast of Rings of Power about what it was like shooting the highly-anticipated Tolkien drama.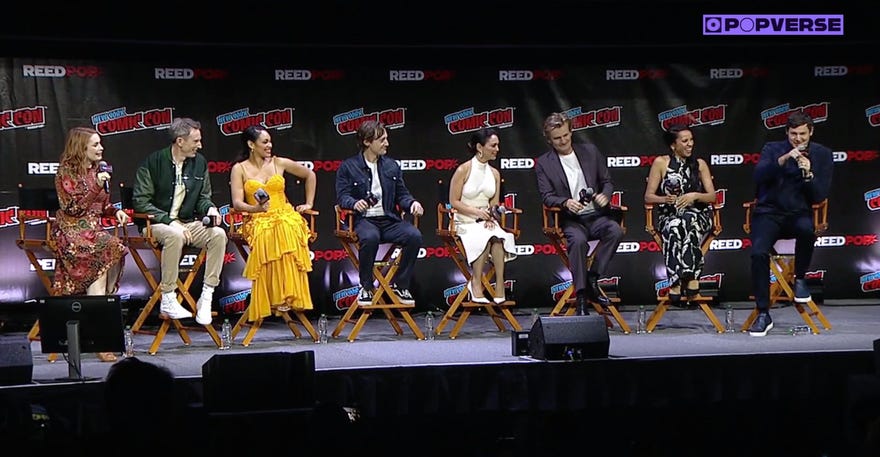 Amazon Prime Video makes NYCC '22 a fantasy fan's, well, fantasy as it brings the casts of two of its biggest shows to the Empire Stage. Join host Felicia Day as she speaks with Lord of The Rings: The Rings of Power stars Benjamin Walker (Gil-Galad), Charles Edwards (Celebrimbor), Cynthia Addai-Robinson (Míriel), Daniel Weyman (the Stranger), Sara Zwangobani (Marigold Brandyfoot), Nazanin Boniadi (Bronwyn), Leon Wadham (Kemen), and Ismael Cruz Còrdova (Arondir), plus Wheel of Time creator Rafe Judkins and cast Daniel Henney (Lan), Marcus Rutherford (Perrin), Madeleine Madden (Egwene) Dónal Finn (Mat), and Ceara Coveney (Elayn). Watch it here!
Popverse is filming this and many other panels at New York Comic Con this year (see the complete line-up here). Popverse and NYCC are providing these free for everyone to watch live, with the companies hosting the panels only blacking out the screenings, trailers, and new footage - as they intend for it to only be seen by those in attendance in the panel room.
After the panel is finished, you can watch these panels in one of two ways - by becoming a Popverse member at the 'Fan' level (or higher), or by buying a NYCC digital ticket. The NYCC digital ticket gives you access to all of the filmed panels from New York Comic Con 2022, as well as the recent Emerald City Comic Con and C2E2, as well as access to long-form interviews and original reporting from the Popverse editorial team. The Popverse annual membership does that for the entire year, and would include live video panels from the upcoming MCM London Comic Con, as well as next year's Emerald City Comic Con and C2E2.
Subscribe to Popverse to read this article
Become a member and get first access to tickets and badges to our events, photo ops, exclusive content, and more.