Marvel schedules secret new comics project to debut this fall (and we think we know what it is)
We'll have to wait until July to find out what it's called and who's in it, however
No sooner has Marvel revealed the full title, creative team and contents of its last 'classified' comic book — what was announced simply as Fallen Friend #1, and is now known to be Fallen Friend: The Death of Ms. Marvel #1 — than it unveils another one, which if anything is even more secretive… but at least it lets us know roughly when we'll know more.
In the latest issue of the Marvel Comics catalog known as Marvel Previews is a full-page listing for a comic titled, "Classified* #1 (of 4)," with the asterisk leading to a footnote helpfully explaining "* NOT ACTUAL TITLE." The complete solicitation text for the 40 page comic is, simply, "Stay tuned for more information (including the actual title) in July!"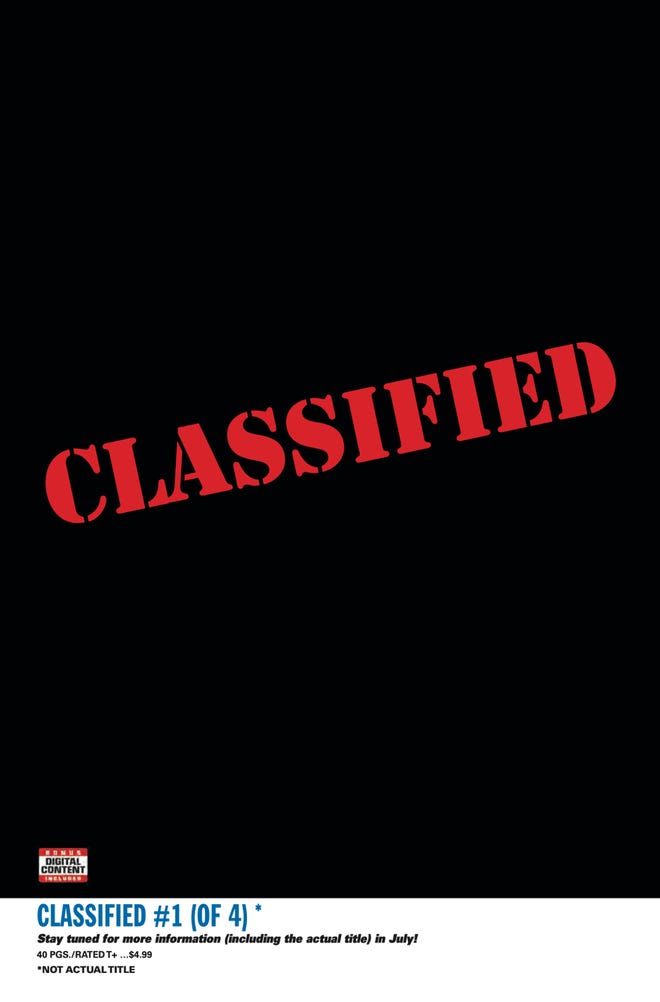 A July announcement makes it likely that the full title and creative team will be released during San Diego Comic-Con, which takes place July 19 through 23 at the San Diego Convention Center… a little over a month before the first issue of this four-issue series is released. Moreover, if that is when further details about the comic are released, it will be a little over a week before the final order cutoff date for the first issue occurs, giving retailers little time to lock in final order numbers for the issue. By July 23, three quarters of the series are likely to have been solicited for order by Marvel, each one offering no information to retailers.
This isn't the first time Marvel has solicited multiple issues of a comic book under the title 'Classified' or a variant: in 2016, a collected edition was solicited under the title 'Classified Prelude,' only to later be revealed to be 'Secret Empire Prelude.' In 2018, a miniseries was solicited under the title 'X-Classified,' only to later reveal the title as "Mr. & Mrs. X," following the wedding of Rogue and Gambit.
But… what could this particular Classified end up being? The most obvious answer would be that it is, somehow, related to Ms. Marvel's resurrection — four issues starting in August would mean that the series' final issue could coincide with the November release of The Marvels in theaters, featuring Ms. Marvel's big-screen debut, after all. It's worth noting that the placement of the Classified solicitation in the Marvel Previews catalog is firmly in the center of X-Men-related titles, perhaps raising the possibility of the series having a mutant connection… could this be the rumored resurrection of the comic book Kamala Khan as a mutant, like her MCU counterpart…?
The Marvel Previews page as it appears in the catalog can be seen below. Classified #1 is released August 30; more information, apparently, is forthcoming in July… which also, perhaps not coincidentally, is the same month that Fallen Friend: Death of Ms. Marvel #1 is released.
---
What's that about spoilers? Marvel has had a strange week about Spider-Man spoilers, it's true.