Strange Sports Stories: Five of the greatest comic book cameos from real life sports heroes
If you play sports, you might have to save the world alongside a superhero, based on these examples
Marvel's congratulations on social media to Coco Gauff for winning at the U.S. Open reminded us of her recent appearance on the cover of an Iron Man comic book. We've become used to seeing sports stars and superheroes crossover on variant covers and promotional artwork over the last few years, but there's a proud shared past between sporting figures and comic books inside the comics, too.
Here are five of our favorite instances of real world sporting heroes being transformed into comic book heroes.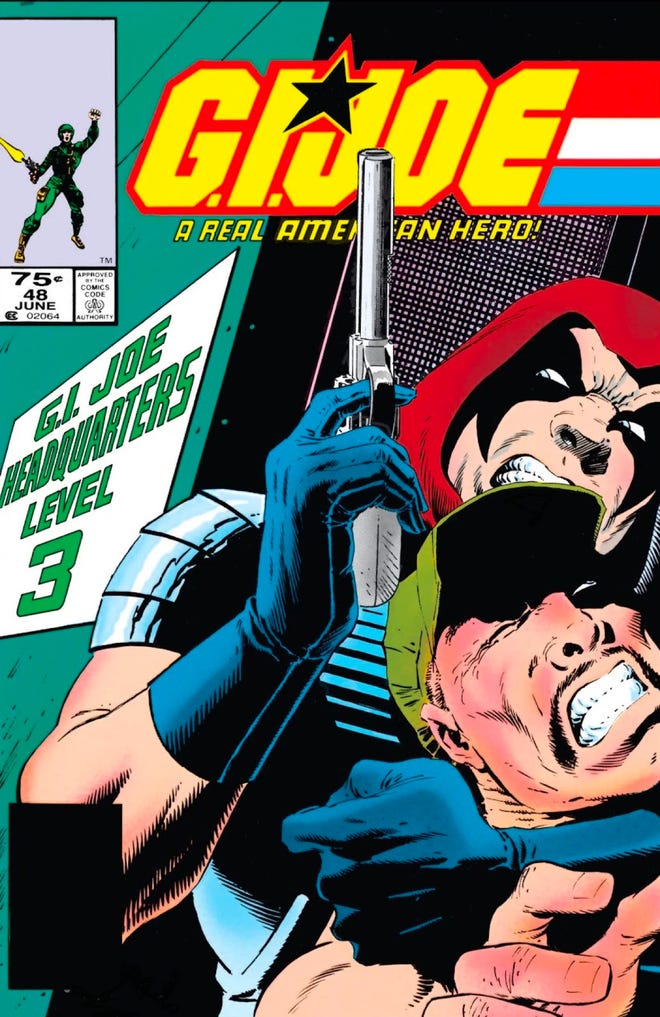 Sgt. Slaughter
There is, of course, a long history of crossovers between comics and wrestling in particular, which has seen multiple official comic books based on real life wrestlers and wrestling organizations. But Sgt. Slaughter's comic book debut predates all of that, and comes courtesy of the least likely place: Marvel's G.I. Joe series from the 1980s. Slaughter had a deal with G.I. Joe owners Hasbro in the '80s that saw him transformed into a toy, as well as appearing in person and in animated form on the G.I. Joe cartoon… and showing up in the comic for a brief period, starting in #48. Unfortunately, the Sgt. Slaughter in the comic was so fictional, he didn't even reflect the real Sgt's sports background… think of it as method acting taken to a whole new degree.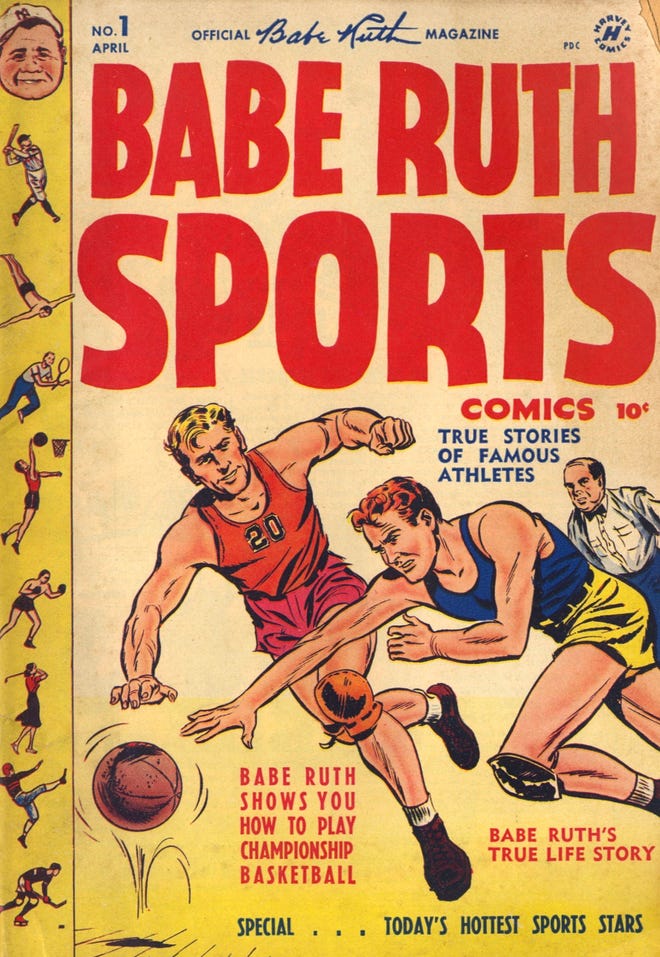 Babe Ruth
One of the earliest sports stars to appear in comics, baseball legend Babe Ruth didn't just make a cameo appearance or two in comic books; he actually lent his name to a line of sports-themed comics published by Harvey Comics in the late 1940s. "Babe Ruth Sports Comics" featured both tips for wannabe athletes and short non-fiction biographical comics of the day's sports' stars — or, as the cover to the first issue put it: "True Stories of Famous Athletes! Babe Ruth shows you how to play championship basketball! Babe Ruth's True Life Story!" The combination was apparently appealing enough to keep the title alive for 11 issues, with the last issue dated June 1951.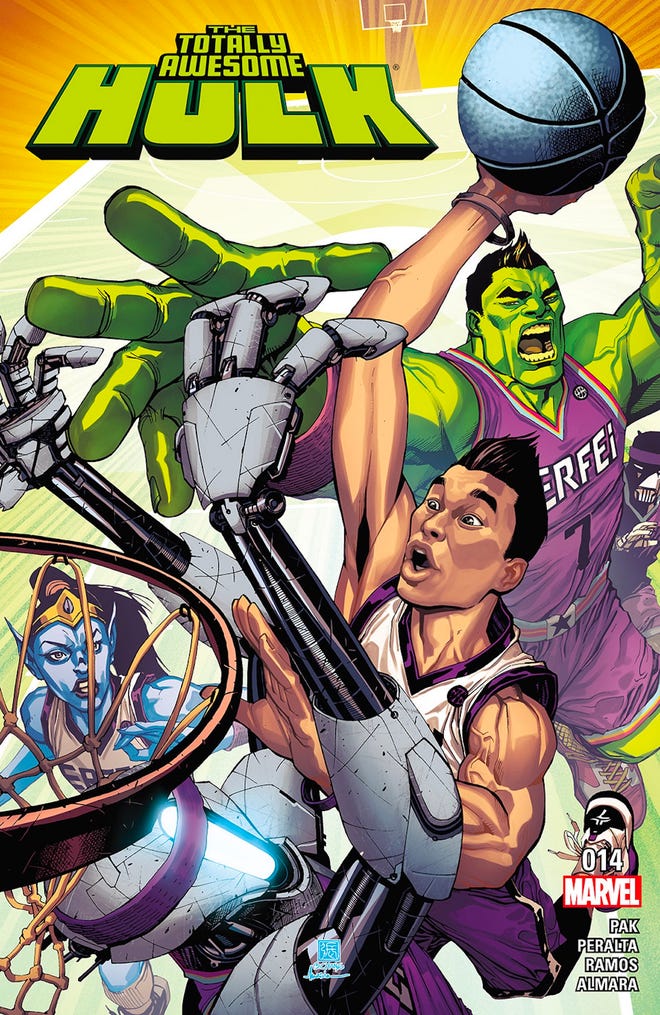 Jeremy Lin
Whereas Marvel has been merrily including sports stars on the covers of its comics over the past few years, it's rare to see a real world sport celeb inside a Marvel story — which makes Jeremy Lin's two-part appearance in the Totally Awesome Hulk series in 2016 all the more surprising (and fun). After all, how many other actually-living basketball players can boast that they've been kidnapped by robotic dragons before teaming up with a Hulk to save the day via a suspiciously on-brand basketball-esque maneuver? (I'd like to think the answer is, "none," but who can say for sure, let's be real.) The two-part guest-shot was a fun highpoint of an already fun series — and ideally exposed a bunch of newcomers to Amadeus Cho during his all-too-short time as Marvel's jade giant.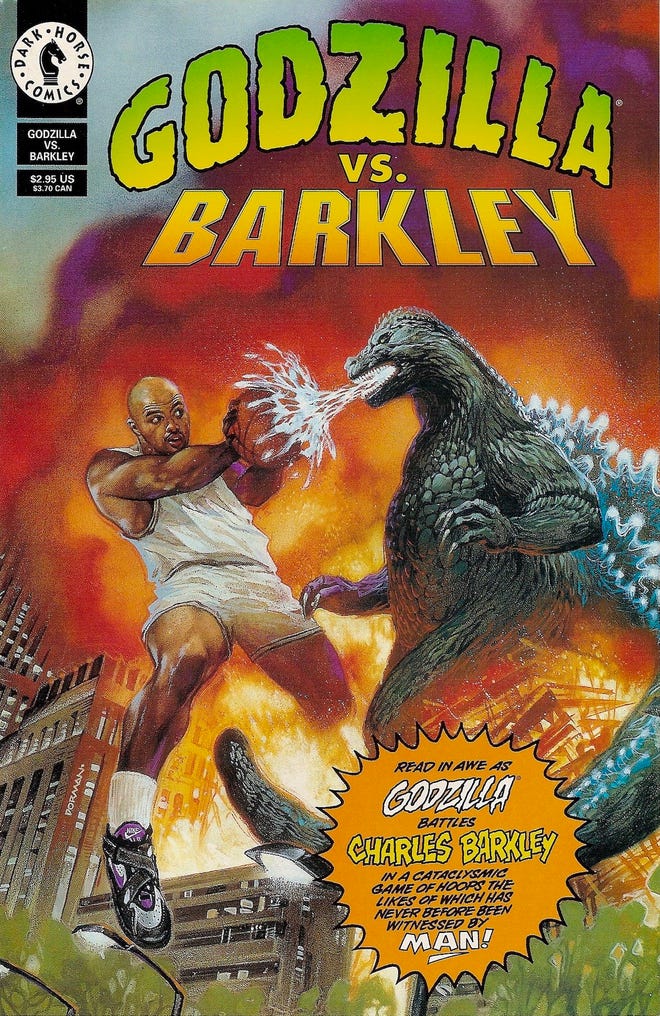 Charles Barkley
Of course, taking on some Marvel villains is one thing, but when it comes to taking on an icon like Godzilla, there's only one sports hero you can really turn to: the veritable Round Mound of Rebound himself, Sir Charles Barkley. (Note: not actually a Sir.) As unlikely as the clash might be, it actually happened twice: first in a Nike advertisement in 1992 (one that featured work by Industrial Light & Magic, in fact) and then, a year later, in Dark Horse Comics' Godzilla vs. Barkley one-off, which the publisher boasted was "bigger than Bigfoot, space aliens, and Elvis combined!" Spoilers: Barkley wins, but only because he asks Godzilla to shoot hoops. That sounds like a joke, but I swear it's how the comic actually ends. (Godzilla also wears Nikes because of this.)
Muhammad Ali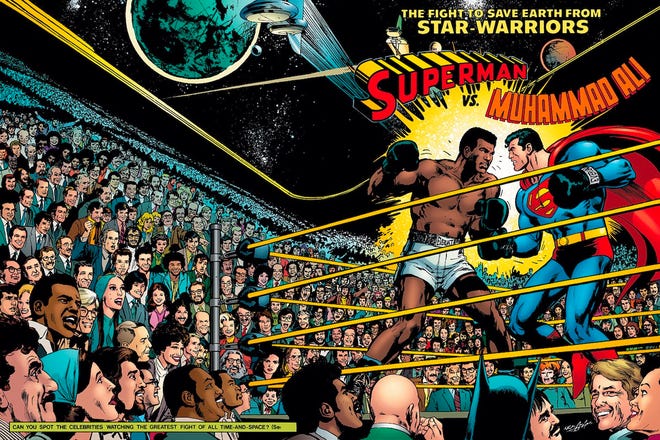 Could Superman vs. Muhammad Ali be one of the greatest sports comics ever made? The answer is a resounding yes, and not just because of some breathtaking artwork from Neal Adams and Dick Giordano; the story is a thrill as well, however, as Ali and Superman are forced to fight by alien invaders, with nothing less than the survival of Earth at stake. Impressively — and surprisingly — the comic doesn't wuss out of declaring a winner in the fight, who goes on to fight the aliens themselves, while the loser carries on their own Earth-saving duties behind the scenes. Fueled by the logic of a Fast & Furious movie and reading like a particularly weird Justice League comic, this 1978 special issue is a true treasure… and the sort of thing that should really make more sports stars want to get into comics themselves. I mean, surely we can hope for something like Usain Bolt vs. The Flash, right…?
---
Here's a different kind of sports/comics crossover: the favorite manga (and anime!) of Los Angeles Angels player Shohei Ohtani.