Marvel makes more heroes worthy of Thor's hammer Mjolnir
You get a Mjolnir! You get a Mjolnir! And you get a Mjolnir!
"Whosever holds the hammer, if they be worthy, shall possess the power of Thor!"
This is the inscription on Thor's hammer Mjolnir. For the past 60 years, this rule has governed all stories about the God of Thunder. The hammer can only be wielded by those deemed worthy, and if they are, get ready for an onslaught of power.
However, there is nothing in the inscription that limits it to just one person at a time.
The Immortal Thor #4 (written by Al Ewing and penciled by Martin Coccolo) brings thunder, lightning, and a few surprises. The God of Thunder finds himself faced with a threat unlike any other, which forces him to try something drastic – sharing his power. But who is worthy of wielding Thor's hammer? Let's dive into the answer…
Warning: Spoilers ahead for The Immortal Thor #4!
Who is worthy to hold Mjolnir?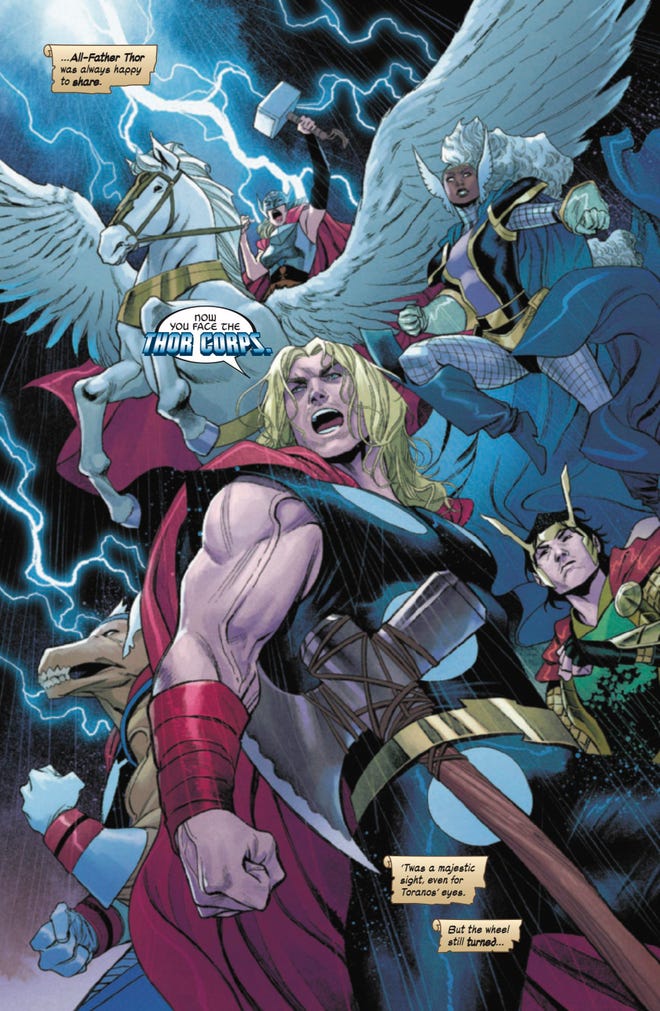 (Note: Loki recently underwent a transformation in The Immortal Thor #2. The new version of Loki hasn't revealed their gender yet. In the past Loki has switched genders, and their current appearance looks like it can be either male, female, or non-binary. With that in mind, until their gender is clarified, I will be using they/them pronouns when speaking about the current version Loki.)
Thor is having a rough time. The God of Thunder is facing Toranos, a giant Elder God. Toranos' powers dwarf Thor's, even when it comes to lightning. Faced with impossible odds, Thor realizes he's going to need more thunder. To get that thunder, Thor gathers some of his greatest allies, and has them grab Mjolnir, unleashing the power of Thor onto each of them.
How does this work? To gain the power of Thor, the worthy person just has to wield the hammer. The power is lost if they are separated from Mjolnir for more than sixty seconds. Do you see where this is going? As long as Thor and his allies keep playing hot potato with Mjolnir, all five of them can keep the power as they battle.
So, who is worthy? Some of the choices should come as no surprise, while others might shock you. Remember that electrifying moment in Avengers: Endgame when Captain America wielded Mjolnir? Imagine the intensity of that moment multiplied by four.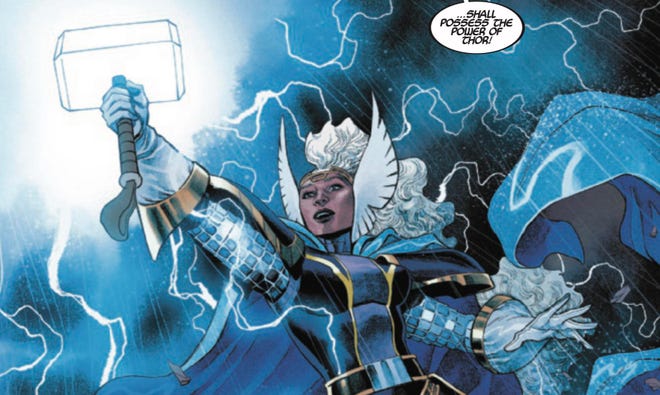 The God of Thunder has dubbed this new group the Thor Corps. The name was previously used by a trio of Thor-adjacent heroes during Tom DeFalco and Ron Frenz's run. The group was given their own mini-series in 1993 before going their separate ways.
Will five Thors be enough to stop Toranos? The big brawl will take place in The Immortal Thor #5, and while its outcome is uncertain, we can safely say that there will be plenty of thunder.
An advanced review copy for The Immortal Thor #4 was provided ahead of release by Marvel.
---
Imagine Iron Maiden's 'Quest of Fire' as a comic, then read how Brian Posehn & Mike Oeming outdid your imagination