Marvel at New York Comic Con: Publisher's full plans for panels, events, giveaways at NYCC 2022
The House of Ideas is showing out in style at next month's big show in the Big Apple
Ever since its origins, the House of Ideas has called New York its home, so it's no surprise that Marvel has big plans for this year's New York Comic Con — plans that it's finally sharing with the rest of the world.
The company announced Wednesday that it will hold six panels across the four-day event, in addition to hosting a livestream broadcast, signings, and giveaways throughout the entire show — and its plans extend beyond simply Marvel itself, fascinatingly enough.
Comic-centric panels taking place at NYCC will include Thursday's Captain America: Cold War panel — which includes the writers of both Captain America: Sentinel of Liberty and Captain America: Symbol of Truth, Jackson Lanzing, Collin Kelly, and Tochi Onyebuchi, as well as the editor of both books, Alanna Smith — as well as the Saturday Marvel Comics: Next Big Thing panel, in which executive editor Nick Lowe and editor-in-chief C.B. Cebulski talk to creators including Jed MacKay, Gerry Duggan, and Zeb Wells, about what's coming up in Marvel's comics.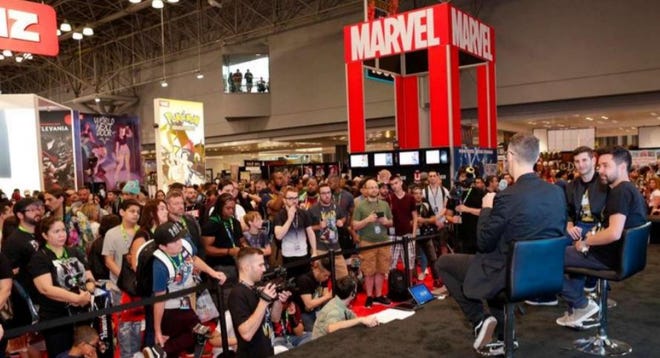 Perhaps most interesting for fans fascinated by behind-the-scenes shenanigans, though, would be Friday's Marvel: Books of Future Past panel, which features Marvel's VP of licensed publishing, Sven Larsen alongside executives from other publishers that partner with Marvel, including Abrams editor Charlie Kochman, IDW Editor Scott Dunbier, Folio Society editor James Rose, and Penguin Classics publisher Elda Rotor.
Beyond comics, Marvel is also hosting its annual Women of Marvel panel on Sunday morning, as well as the Marvel Fanfare panel on Friday afternoon, in which C.B. Cebulski and a number of still-secret guests make themselves available to talk about anything and everything Marvel — with fans getting to guide the conversation.
More information about what Marvel is planning will be released across the next few weeks, according the the company, with New York Comic Con itself running from October 6 through 9 at the Javits Center.
---
Marvel's announcement of NYCC programming comes days after DC announced its own programming; if you're thinking that you might need a guide to keep track of all of this, good luck: we made one for you, and we also made a list of some good places to eat while you're visiting, as well. (Why, yes, of course Popverse will be at the show, reporting and streaming live as everything happens. Where else would we be?