Marvel Studios' Ms. Marvel 'Generation Why' Changes Kamala Khan for Generation Z
Ms. Marvel changes Kamala Khan's superpowers (and the MCU) for good
Eight years after being introduced to readers in Ms. Marvel #1, Kamala Khan was introduced to viewers in Disney+'s Ms. Marvel premiere episode, 'Generation Why.' The MCU's version of the character isn't exactly like the one who appeared in that first issue, but the Disney+ show, like the comics, is all about change. The changes made to Iman Vellani's Kamala Khan, including changing her superpowers, allow the show to do more than the comics ever could have done alone.
In the comics, Kamala has been 16 for the better part of a decade. But not even Marvel Studios president Kevin Feige could keep an actor from aging forever (try as he might), which means viewers will get to see something over the next few weeks and (with The Marvels film due out in 2023) years that readers haven't, even after Kamala has led a solo title, been an Avenger, and founded the Champions. We'll get to watch one of the now most iconic teenage superheroes grow up. And the first episode shows that she has a lot of growing up to do. As a junior in high school, she needs to get her driver's license, help with her brother's wedding, volunteer in her community, prep for college prep, and figure out how to be a good friend, sister, and daughter while also being herself and figuring out who she wants to be. And maybe also figure out what it means, as her mother asks her, to be good. Not to mention her new superpowers.
Which, yes, aren't exactly like the ones that Kamala Khan has in the comics.
Kamala Khan's superpowers from comics to the MCU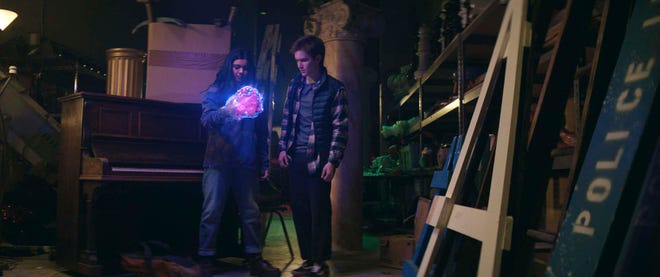 In comics, developing superpowers can function as (and for teenaged characters just about always is) a metaphor for maturation. The genetic changes that Miles Morales goes through when bitten by a spider, a mutant goes through when their X-gene is activated, or an Inhuman goes through when exposed to Terrigen can be read as a kind of secondary puberty, the first having been a physical transformation from child into adolescent. That physical transformation is different from the social transformation that a young adult undergoes to become an adult. Kamala's Terrigen Mist-induced transformation in G. Willow Wilson and Adrian Alphona's Ms. Marvel is the social turned into a physical process. Adolescence is consequently an extended period of flux, which Ms. Marvel's stretchy shapeshifting powers have made exceptionally literal, between being a child with neither power nor responsibility and being an adult with plenty of both.
Reflecting what they represent, those shapeshifting powers aren't particularly feminine (at least not in the Western, patriarchal sense of the word). Wilson has said, "I knew from the beginning I didn't want her to have sparkly, hand wave-y, floaty, pretty powers." While women and girls do not always have pretty powers in comic books, superpowers have historically been used to visually gender characters, often distinguishing women from male teammates (see Invisible Girl/Woman and Jean Grey) or, for legacy superheroes, counterparts. Kamala's shapeshifting superpowers serve a similar purpose, rendering her different from earlier iterations of Ms. Marvel. If not for the artistic styles of Alphona, Takeshi Miyazawa, and Nico Leon, then embiggening would undoubtedly qualify as body horror. And that's empowering, for the character and for readers, because having a body can be horrifying, especially when it undergoes change.
Kamala Khan's comic book superpowers allow her to, at first, change into other people. When she emerges from her cocoon as a NuHuman in No Normal she does so appearing not as herself but as Carol Danvers, both her personal hero, who she wants to be when she grows up, and the epitome of not just whiteness but specifically white American femininity with fair skin, a military-style uniform in patriotic primary colors, and pretty powers. In the absence of superheroes more like herself - Pakistani, Muslim, immigrant, and alien with brown hair, eyes, and skin - Kamala does not yet see herself as capable of being one, so she becomes someone who is all the things she isn't before realizing that she doesn't have to become anyone else. That transformation is, for readers, noticeably absent from the show.
Kamala Khan finding herself at AvengerCon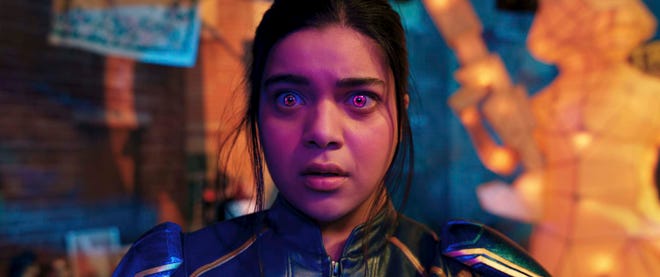 Instead, Kamala, dressed in a costume homemade for AvengerCon, stands in front of a mirror positioned in front of a poster of Brie Larson as Captain Marvel on her bedroom wall. As the character grapples with her parents denying her permission to attend the convention in that cosplay (going so far as to make a Hulk costume for her, to which she later says, "I can't wear a salwar kameez to AvengerCon, okay?") and the question of what's missing from it, the camera switches between close, medium, and long shots of Vellani, alternating between her face, her mirrored reflection, and Vellani's body and Larson's image. The show's answer to Kamala's question isn't whiteness. It's her grandmother's bangle. In the comics, the bangle is modified by Kamala's best friend Bruno Carrelli, making it a low-tech accessory to her super stretchy burkini costume. In the show, it appears to be something else. The bangle is what's going to make her version of Captain Marvel hers. And it's part of what's going to make her Ms. Marvel.
Recently delivered from Pakistan, the family heirloom seems to be the source of Kamala's superpowers. When Kamala puts it on, it expands and emits a faint purple glow that envelopes her body. She then undergoes a transformation. On the other side of it, she can create light constructs. They're beautiful, and they would fundamentally undermine the metaphor in the comics. However, television is a different medium, and this is a different metaphor, better suited for it and carefully constructed by women of color acting (Vellani), writing (Bisha K. Ali), and producing (Sana Amanat), one in which change is beautiful and terrible. The first time Kamala uses her new superpowers, she initiates a sequence of events that result in mean girl Zoe Zimmer being flung across the convention center by a giant hammer before nearly falling flat on hard floor. But then Kamala's embiggened, extended, ethereal fist breaks her fall. And here's the thing: what's most important about Kamala Khan's superpowers, in any medium, is that they allow her to do good.
Finding a different Kamala Khan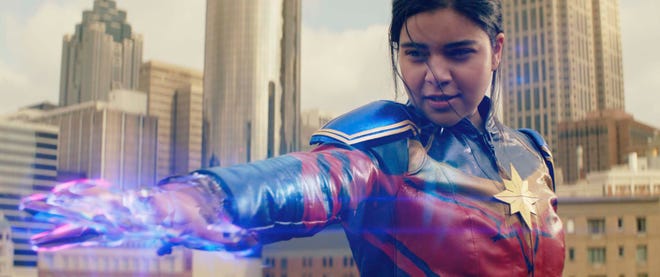 And a live action television adaptation, using adaptation in the loosest possible sense of the word because this isn't and was never going to be an exact reproduction of the comics, can enable her to do even more good, albeit in different ways. The comics still exist, and readers who love them and their versions of the character, costume, and superpowers can always reread them. But special effects haven't quite caught up to what a line artist, inker, and colorist can do. They might not ever be able to replicate that particular kind of magic. So the MCU's version of Kamala Khan has "sparkly, hand wave-y, floaty, pretty powers." And so there are going to be girls who, for the first time, get to see someone who looks like them with those glowing purple powers. And they'll love them, not in spite of but because they are feminine, and this version of the character, who they'll get to grow up with. Maybe they'll even read the comics, too.
And if they do, they'll find a different Kamala, with different superpowers, made for a different time and audience. Ms. Marvel comics began as a love letter to Generation Y. The show's 'Generation Why' is a love letter to Gen Z. It is for viewers who have, like Vellani herself, grown up alongside and parallel to the MCU, which is now, finally, four phases in, changing for them. Unlike the Kamala of the comics and show, they won't want to be Carol Danvers. They will want to be Kamala Khan, America Chavez (Doctor Strange and the Multiverse of Madness) or Kate Bishop (Hawkeye), shooting trick arrows, punching stars through universes, or making cosmic constructs out of light. That change, more than any made to Kamala Khan's superpowers, is the most significant one that the MCU could possibly make.
---
Disney+'s Ms. Marvel opens the door for a YA takeover of the Marvel Cinematic Universe.