Like trans people IRL, Marvel's trans characters have already been here
Just like trans people IRL, the trans characters of Marvel have been here (and aren't going anywhere)
Recently, rumors have circulated that Gwen Stacy, AKA Spider-Gwen, is depicted as trans in the recent summer sequel Spider-Man: Across the Spider-Verse. As previously discussed, it is unlikely that Gwen was intended to be textually trans. Nevertheless, a trans superhero in the Marvel multiverse can indeed be considered a more-than-probable proposition. In fact, there already are trans characters in the panels of Marvel Comics, in onscreen live-action and animated Marvel adaptations, and even in the realm Marvel of video games.
Here's a survey of some of the prominent trans characters that have appeared across the Marvel multiverse. In addition to their first appearances, we've also surveyed some of the subsequent exploits, demonstrating the enduring and in-eradicable nature of the trans community.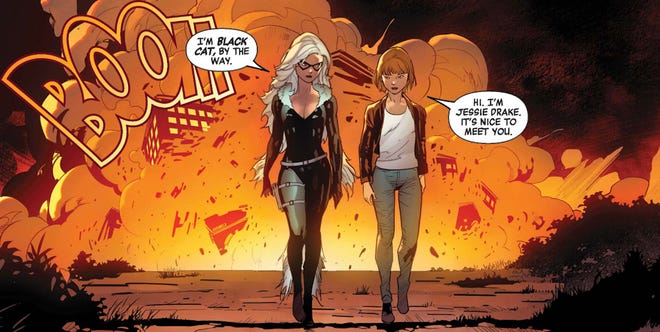 Jessie Drake first appeared in March 1994's Marvel Comics Presents #150 by Ann Nocenti, Steve Lieber, Steve Lightle, Marianne Lightle, and Michael Higgins. The story follows Typhoid Mary on a reign of terror towards the abusive men of the world. When she encounters Drake, she at first rejects her. However, Mary later accepts Jessie after she explains that she's trans.
More recently, Drake returned in the Marvel's Voices: Pride (2021) #1 anthology, in the story 'When a Black Cat Crosses Your Path, You Give Them the Right-of-Way' by Leah Williams, Jan Bazaldua, Erick Arciniega, and Ariana Maher. At the conclusion of this story, Jessie has teamed up with Black Cat, and the pair of powerful women are heading off to their next great adventure.
Marvel's trans heroes: Sera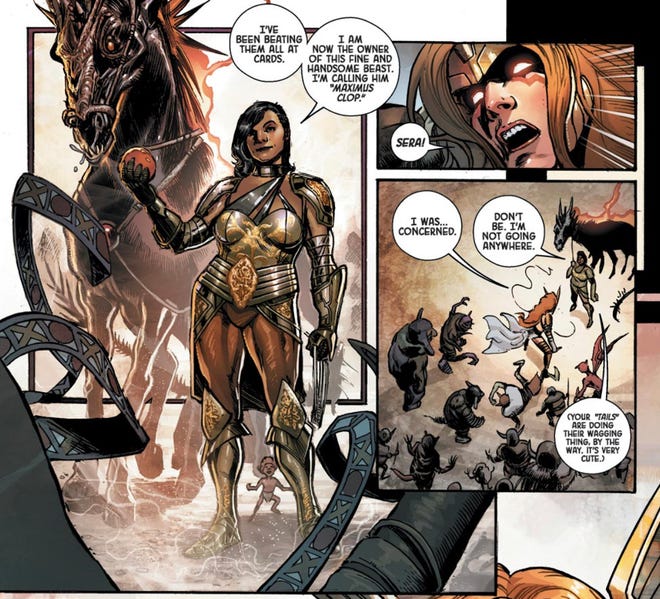 Readers were introduced to Sera, the Hunter Queen, in Angela: Asgard's Assassin #1 by Kieron Gillen, Marguerite Bennett, Phil Jimenez, Stephanie Hans, and Clayton Cowles. Born an Archorite confined to a temple in Under-Heven, Angela eventually helped Sera escape and magically transition. Sera continued to play a key role in Angela's story through Angela: Queen of Hel, in which the eponymous hero attains the crown specifically to enable the resurrection of the late Sera.
Aside from the fan-favorite character being mentioned in the introduction for Marvel's Voices: Pride (2021) #1, she has been unfortunately underutilized since an unfortunate creative decision had her join the Ravagers roster in 2019's Asgardians of the Galaxy #7.
Marvel's trans heroes: Doctor Charlene McGowan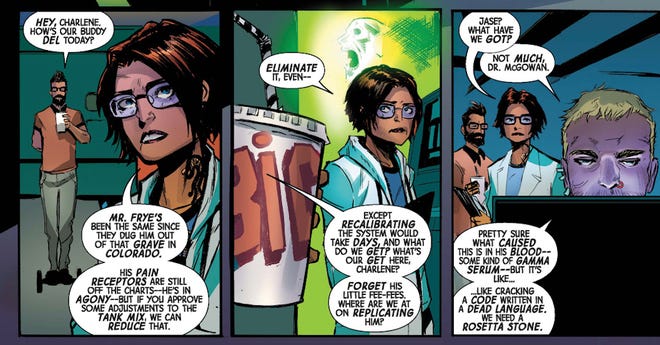 Doctor Charlene McGowan was originally introduced in a supporting role in Immortal Hulk #6 by Al Ewing, Lee Garbett, Paul Mounts, Cory Petit, and Alex Ross. McGowan has previously worked at a MGH lab owned by Wilson Fisk. She suggested that they shift production to black market HRT, which both assisted the trans community while earning Kingpin a tidy profit (thanks to the unfortunately relatable difficulty in acquiring necessary hormone treatments, black market HRT translated into big profits). McGowan was consequently arrested when Daredevil raided the lab, leading to her eventual conscription into the U.S. Hulk Operations organization, which set the stage for her involvement in the Immortal Hulk storyline.
The Marvel's Voices: Pride (2021) #1 anthology also included a story featuring McGowan. In 'Something New Every Day' by Lilah Sturges, Derek Charm, Brittany Peer, and Maher, McGowan gets the chance to interact with Elektra Natchios (and let her know that "welcome to womanhood" is definitely not a phrase cis women need to be directing towards trans women under any circumstances).
Doctor McGowan played a more significant role in the Immortal Hulk five-issue spinoff miniseries Gamma Flight (2021) by Ewing, Crystal Frasier, Lan Medina, Antonio Fabela, and Joe Sabino. In this storyline, Gamma Flight must rescue the citizens of Thomasville from the effects of a town-wide gamma experiment being conducted under the guise of a corrosive populist right-wing media campaign.
Marvel's trans heroes: Marvel's "proto-trans" characters
The first of the Marvel's Voices: Pride anthologies, Marvel's Voices: Pride (2021) #1 included an introduction by Luciano Vecchio that included a few panels paying homage to the "proto-trans" characters of Marvel Comics.
This included characters like Cloud and Xavin. Cloud, originally introduced in Defenders #123 by J.M. DeMatteis, Don Perlin, Kim DeMulder, Christie Scheele, and Janice Chiang, was a sentient nebula who merged with the identities of a pair of lovers. Cloud subsequently lost their memories and manifested in various forms. Meanwhile, Xavin was a Skrull first introduced in Runaways #7 by Brian J. Vaughn, Takeshi Miyazawa, Craig Yeung, UDON, Chrstina Strain, and Randy Gentile. Like most Skrulls, Xavin is a shapeshifter. However, rather than consistently manifesting as a particular gender, Xavin's gender expression is fluid – a decision they willingly defend when its questioned by their teammates.
In both cases, the characters are not trans in a 'grounded' manner. However, they nevertheless use fiction to explore concepts related to gender and gender liminality. At a time when it was not necessarily possible for trans readers to see themselves explicitly represented, characters that explore with gender through fantastic and genre-specific means could feel like a sip of refreshing water in an otherwise barren and arid desert. Vecchio's inclusion of these "proto-trans" characters is an acknowledgment that, historically, non-explicit trans representation still had a profound benefit for readers who might seem themselves reflected in such fantastic representations of gender experimentation.
Marvel's trans heroes: The Unofficial X-Men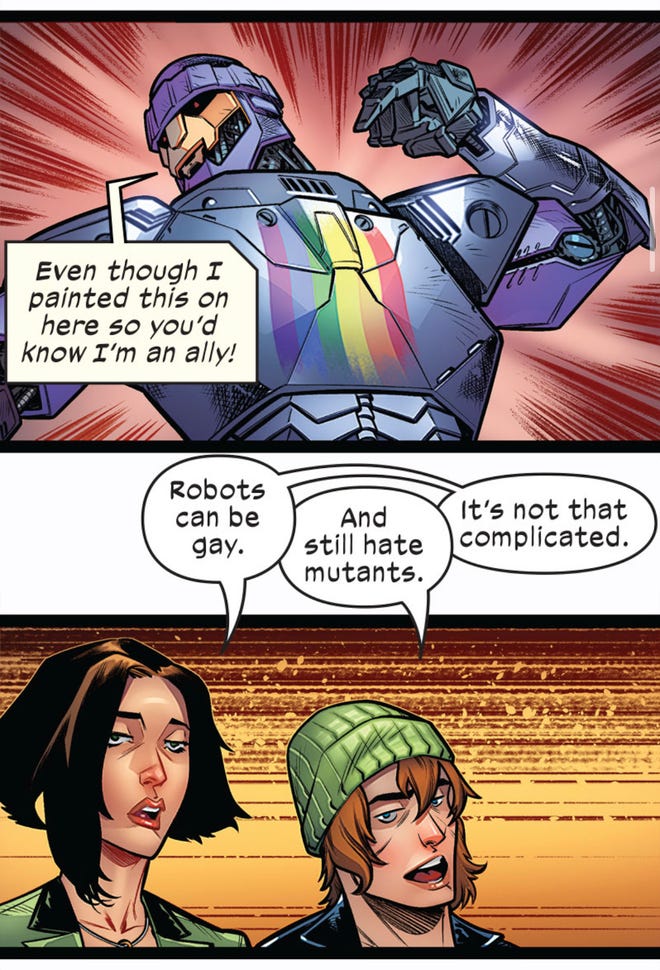 The Marvel's Voices: Pride anthologies have provided the opportunity for many new trans characters to make their entrance into the mighty Marvel multiverse. In fact, in the Marvel's Voices Pride (2022) #1 story 'LGBT-D' by Grace Freud, Scott B. Henderson, Lee Townsend, Brittany Peer, and Ariana Maher, readers are introduced to a whole support group comprised of trans heroes. With meetings at The Matt Baker House moderated by gay cis ally Dennis Dunphy (D-Man), the Super Trans support group ranks include Nora (Pity Girl), Reed (Aphelion), Rex Ridley (Good Arson) and Soph (Faceshopper).
The Super Trans support group has returned several times. The first instance was deeper in Marvel's Voices Pride (2022) #1, making a cameo appearance later in the anthology in the story 'Permanent Sleepover' (see below). The Super Trans made a more significant return for a run of episodes on the Marvel Unlimited series X-Men Unlimited (2021) in a six-part arc called 'Unofficial X-Men.' Appearing in X-Men Unlimited #80 – 85 by Freud, Alberto Alburquerque, Yen Nitro, and Joe Sabino, the Super Trans support group must prove their mettle as they deal with a variety of challenges, including the malignant "Sentin-Ally" and Mojo's latest scheme: constructing a team of X-Men so marginalized they will be forced to be "real heroes and fall in line because they're so happy for the opportunity and x-tremely oppressed and x-tremely easy to control."
Marvel's trans heroes: Escapade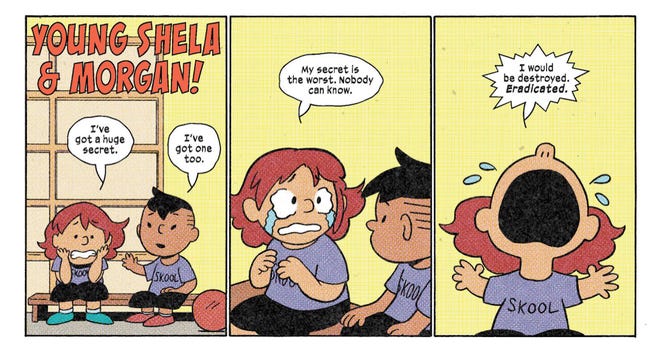 Shelia Sexton, AKA Escapade, made her debut in a story in the Marvel's Voices: Pride (2022) #1 anthology, 'Permanent Sleepover' by Charlie Jane Anders, Ro Stein, Ted Brandt, and Tamra Bonvillain, with consulting by Naseem Jamnia. Escapade has the ability to temporarily swap locations, or specific abstract or physical attributes, with other people. The full-length origin story also introduces her tech-savvy BFF Morgan Red (they/them) and their adorable genetically altered pet turtle, Hibbert. Further, in the back matter of Marvel's Voices: Pride (2022) #1, Escapade (and several other queer characters) got their very own entry pages for the Marvel Universe Handbook.
Escapade, Morgan, and Hibbert reappeared in New Mutants (2019) #31 by Anders, Alburquerque, Stein, Brandt, Carlos Lopez, Bonvillain, and Lanham. In addition to continuing the larger narrative involving the characters, the storyline also continued to utilize the Peanuts-style 'Young Shelia and Morgan' flashbacks introduced in 'Permanent Sleepover'.
Marvel's trans heroes: Koi Boi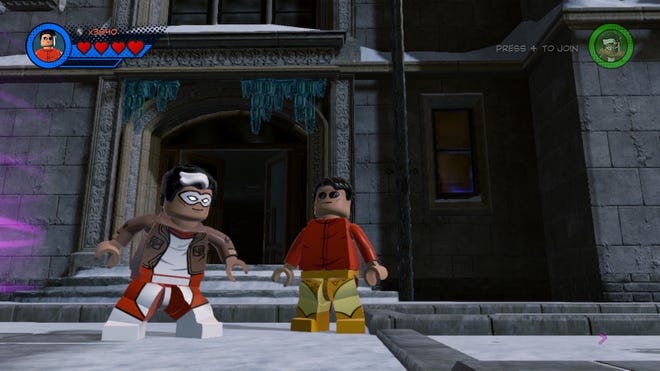 Ken Shiga, AKA Koi Boi, was first introduced in The Unbeatable Squirrel Girl (2015a) #2 by a creative team led by Ryan North and Erica Henderson. A crime fighting partner of Tomas Lara-Perez, AKA the Chipmunk Hunk, the pun-loving Shiga soon becomes a core part of Doreen Green's superhero team. Shiga is not explicitly stated in dialogue to be trans. However, in The Unbeatable Squirrel Girl (2015b) #9, a scene transpires in which Shiga changes clothes in an alleyway. In one panel, he can been wearing a chest binder. In March 2018, in a response on Twitter to Magdalene Visaggio, Henderson confirmed "while [they] never had the intention of doing a very special episode," Shiga was indeed trans.
Alongside the rest of the superheroes on Squirrel Girl's team, Koi Boi subsequently appeared as a playable in LEGO Marvel Super Heroes 2. This may make him the first playable trans character to appear in a Marvel video game. Along with the rest of Green's crew, Shiga appeared in Squirrel Girl: The Unbeatable Radio Show. Shiga appeared in every episode of the excellent six-episode podcast, and was played by trans actor Leo Sheng.
Trans representation in the MCU
There have been multiple trans characters and/or trans actors who have appeared across the Marvel Cinematic Universe.
So far, the largest role for an out trans actor in the MCU has been Aneesh Sheth as Gillian on Jessica Jones season 3. A secretary at Alias Investigations, Gillian appears throughout the season. Against Jessica (Krysten Ritter) plays an important narrative role – especially since Jessica's long-standing ally Trish Walker (Rachael Taylor) was less available for dialogues with Jessica during the third season.
Jessica Jones season 2 also featured Shakina Nayfack as Frankie, a pawnshop owner who appeared in the episode 'AKA Pray for My Patsy.' Meanwhile, Michaela Jaé Rodriguez appeared in the Luke Cage season 1 episode 'Manifest'.
However, there have been other trans actors who have appeared in the MCU. One example is in the Marvel's Agents of S.H.I.E.L.D. episode 'Fun & Games,' first broadcast in January 2018. In this episode, directed by series star Clark Gregg, Erika Ervin played the small role of Lady Karaba. And in July 2019's Spider-Man: No Way Home, Zach Barack appeared as Zach Cooper, a student at Midtown School of Science and Technology, the school also attended by Peter Parker (Tom Holland).
On the animated series Moon Girl and Devil Dinosaur, Ian Alexander appears as Tai, one Lunella's classmates at Intermediate School 833 who uses they/them pronouns. While Tai is a recurring character, they first appeared in 'Check Yourself.' This episode also features a non-binary supercomputer named LOS-307 (Asia Kate Dillon), and includes dialogue in which smartest person on Earth Lunella (she/her) models an introductory exchange of pronouns. The Moon Girl cast also includes Indya Moore as Brooklyn, another student enrolled at I.S. 833.
Marvel's trans heroes aren't going anywhere
Just like trans people in real life, the trans characters of Marvel have already been here – and they aren't going anywhere. But while the trans characters of Marvel have been here whether the larger audience is aware of them or not, there is still plenty of room for growth when it comes to trans rep.
Whether its in the panels of Marvel Comics, onscreen in Marvel adaptations, or into video games and beyond, the growing number of present and persistent trans characters in the Marvel multiverse can only serve to better reflect the reality of our community.
---
For further reading, consider this list of 11 queer superhero comics. And if you're looking to keep Pride going into July and beyond, here's a roundup of all the Popverse pieces celebrating Pride 2023.