Marvel is reviving the Ultimate Spider-Man franchise - but who is the Spider-Man this time?
Ultimate Spider-Man is being revived once more, this time with Jonathan Hickman and Marco Checchetto
It's true - the Ultimate universe is really, officially back. This past June's announcement of a new Marvel arc titled Ultimate Invasion helmed by Jonathan Hickman and Bryan Hitch came with the promise that the Ultimate universe was coming back. Now, as Ultimate Invasion reaches it's conclusion, it's time to start looking towards the future of the Ultimate universe.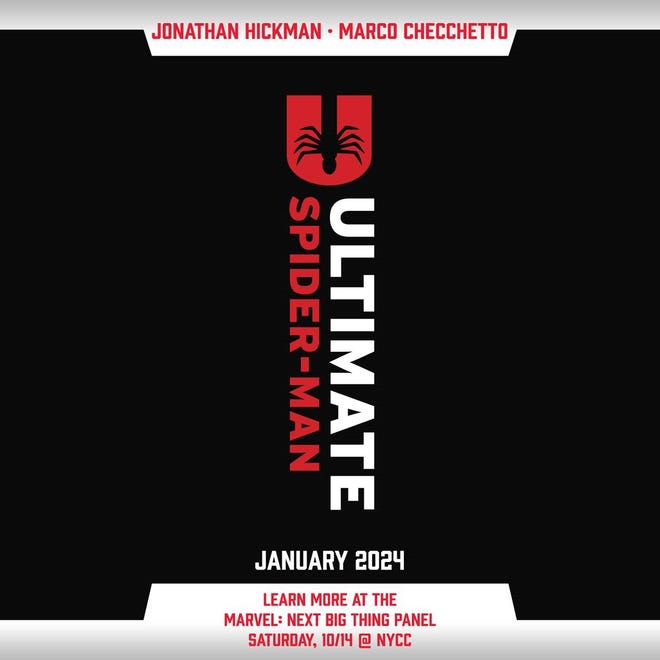 Over the past few days, Marvel has been teasing a whole lot of new stuff that they're planning on announcing at this October's New York Comic Con (Popverse will be there reporting on all of this, of course) from the end of Krakoa, to today's tease for a brand-new Ultimate Spider-Man comic. Now who is going to be behind this new title? Ultimate Invasion writer Jonathan Hickman and long-time Marvel artist Marco Checcheto (Daredevil).
Though we don't have too much information about this new series - it is a teaser after all, Marvel's email included the following copy: "Jonathan Hickman's Ultimate Invasion limited series spawns an entire new Ultimate Universe, complete with a new ULTIMATE SPIDER-MAN! Get more details next month at New York Comic Con. "
Who is going to be wearing the Spider-Man mantle? How will this series tie into previous Ultimate Spider-Man storylines? I guess we'll just have to wait until next month to hear more.
---
NYCC 2023: The panels, the guests, the booths, and the Popverse presence you can expect