Celebrating mentorship, creativity, and kickass women at NYCC's Women of Marvel panel
All the news and announcements from Marvel's Women of Marvel panel at NYCC
On Sunday October 9 Marvel kicked off the final day of New York Comic-Con with their Women of Marvel panel. The panel was about more than female superheroes, it was about celebrating female creators, lifting up others, and promoting mentorship. Community is a big part of what makes conventions great, and the warm feelings of community could definitely be felt at this panel.
Angelique Roche (Women of Marvel podcast host) moderated, and the panel included Lauren Bisom (editor), Judy Stephens (Women of Marvel podcast co-host), Stephanie Phillips (Millie the Spy writer), Erica Shultz (Forgotten Home writer), Ellie Pyle (digital media director), and Eve L. Ewing (Ironheart writer). Roche began by talking about the history of Women of Marvel, which began as a convention panel before growing into a podcast and more.
Mentorship
A QR code appeared onscreen to encourage audience members to check out the podcast. "It's a lot of listening to Angelique, Judy, and I geek out about the things we love," Pyle said. Roche then asked if everybody had been enjoying the Jane Foster and the Mighty Thor mini-series, before revealing that everybody in the audience would be receiving an NYCC variant of the final issue.
Roche announced that the next season of the Women of Marvel podcast would drop on November 3rd, with a focus on powers. "We can't tell you a lot because we're in the middle of it," she teased. Stephens then spoke about how this panel brings the podcast full circle, since Women of Marvel began at conventions. "It grew from the conversations we had in the room with you guys," Stephen said.
Pyle then spoke about what Women of Marvel meant to her personally. She shared a story about attending a Women of Marvel panel years ago when she was an assistant editor. She was spotted in the audience and invited onstage to participate. Pyle always appreciated the way her colleagues uplifted her, and helped her career flourish. "Mentorship has always been part of the Women of Marvel," Pyle said.
Roche then told everyone in the audience to stand up and look around at their neighbors. She said if anybody wanted to work in the industry, they should network with each other. "There are so many opportunities for so many people and we need all of you," Pyle said.
Announcements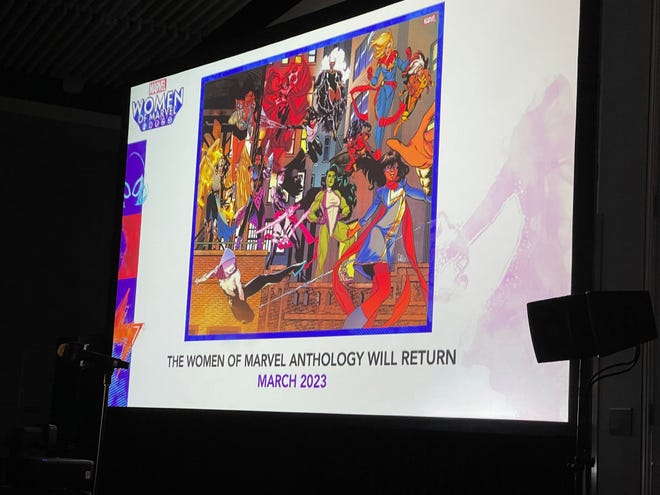 A new Women of Marvel anthology was announced for March 2023. No details were given on the creators involved. The upcoming Monica Rambeau: Photon series by Eve L. Ewing was discussed. "I never get tired of seeing this cover by Lucas Werneck, who did a really good job," Ewing said as the cover was displayed onscreen. Ewing said that hair style is very important for women of color, and pinning the perfect hairstyle for Monica was something the creative team worked hard on.
"The mini-series is about a black woman who is carrying a lot," she continued, while speaking about how Monica is sometimes rendered invisible by those around her. Ewing always saw a contradiction between how powerful Monica was, in contrast with how she is always being sidelined. This mini-series will address that head on.
Lauren Bisom began talking about Moon Girl and Devil Dinosaur, which will have a new comic series dropping this December. The series will be written by Jordan Ifueko and penciled by Alba Gez. Bisom said that the series will have Luna searching for new friends. "Luna needs some cover because it's hard being a superhero as a 9 year old, so she decides to get some friends for cover. And these friends are on a roller derby team, and they happen to be Inhumans with powers," Bisom shared. She also teased that one of Luna's new friends could potentially be a villain. There was a playful debate over if Luna was the smartest girl in the world, or the galaxy.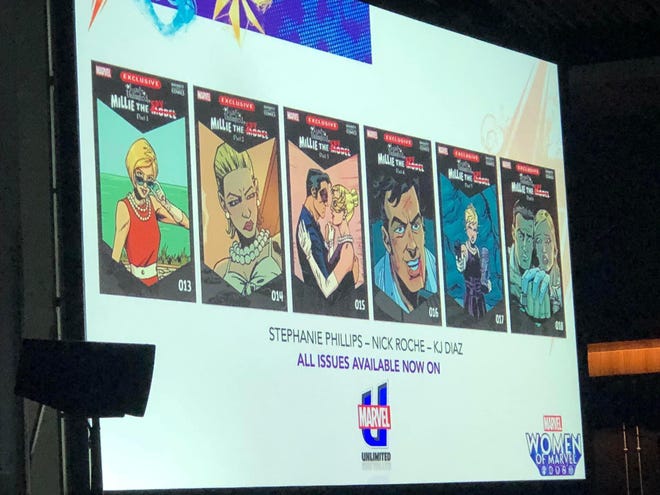 The conversation then shifted to Millie the Spy, a mini-series that just wrapped up. Stephanie Phillips wrote the digital Infinity Comic, which reimagines Millie the Model as a spy. Millie the Model is still the longest running female led Marvel title without renumbering, but she's struggled to find a place in the mainstream Marvel Universe. Phillips grew up watching James Bond and got the idea to repurpose Millie as a spy. She was inspired by all the stories of how the FBI and CIA used Hollywood celebrities to gather intel during the '50s and '60s.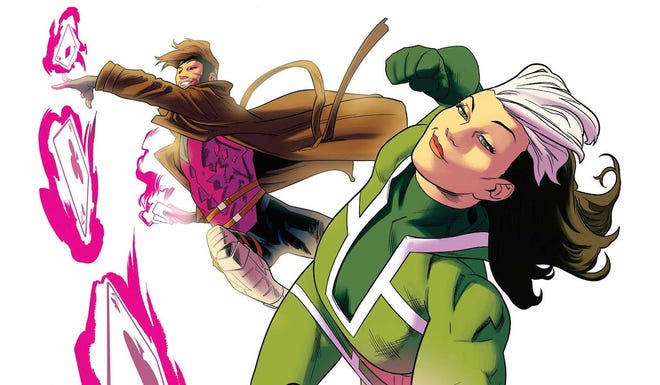 Phillips next project was announced, a mini-series called Rogue and Gambit. Carlos Gomez will be providing the art. "I feel like I have to say sugar at least once," Phillips joked. She said she was excited to dive into the dynamic between the two mutants, adding that Gambit was a jerk, but he's really fun.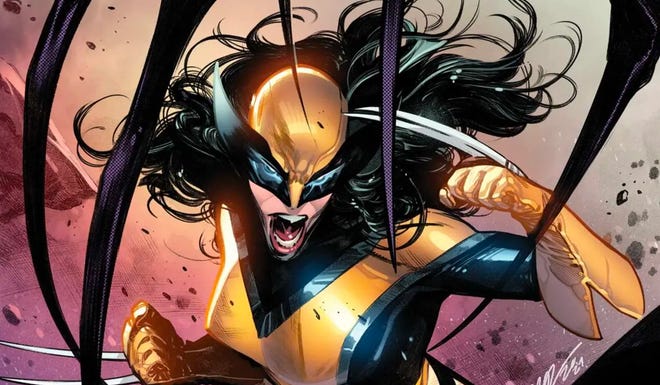 The next surprise series announcement was X-23: Deadly Regenesis. In fact, it was such a surprise that writer Erica Shultz had no idea the news was being dropped during the panel. "I didn't even know if it was going to get announced," Shultz said with delight. The five issue mini-series will feature art by Edgar Salazar and will be published this March. Shultz said she was excited to expand Laura's story, and have the young mutant learn and grow.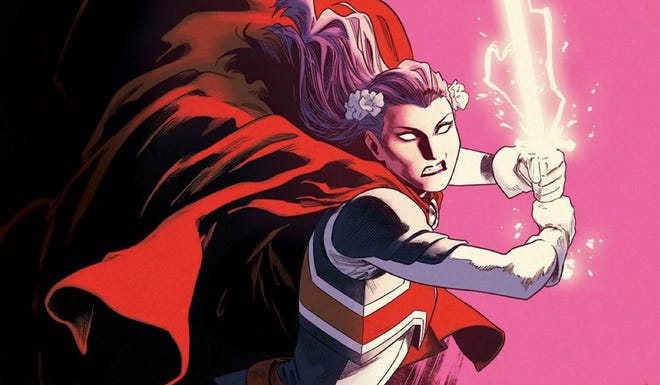 Betsy Braddock: Captain Britain was the next series announced, written by Tini Howard and penciled by Vasco Georgiev, on sale this February. Since Howard wasn't at the panel, Roche read a text from her. "You can say this, this is her first solo book in a long time, and the first one where she isn't in another woman's body. I've been writing Betsy for over 30 issues now and I'm excited to take her out on her own," Howard said via text.
Cooking and Questions
Pyle then reminded the audience to check out the many fun Infinity Comics on the Marvel Unlimited app. She spotlighted a comic called T.E.S.T. Kitchen, which is written by Michelin Star chef Paul Eschbach. "It's a cooking comic," Pyle said. The series is about Tony Stark's personal chef Anna Ameyama and the adventures she gets into. "Every issue comes with a recipe written by a Michelin Star chef that you can make at home," Pyle said. She then encouraged everyone to try the recipes and submit their pictures.
The panel opened up questions from the audience, with one fan thanking Phillips for bringing back Millie the Model. It's me, I was that fan. What can I say, I've always appreciated Millie's place in history. Phillips told me Millie's future was a question for her editors, but noted my desire to see more spy adventures with Millie. The panel wrapped up, and guests received their Jane Foster and the Mighty Thor variant cover on the way out.
Read (and in many cases watch) all the big highlights from New York Comic Con 2022.