Everything we learned about Marvel's Moon Girl and Devil Dinosaur from D23 Expo 2022
All of the Marvel's Moon Girl and Devil Dinosaur News from D23 Expo
D23 Expo was full of love for the upcoming Disney Channel series Marvel's Moon Girl and Devil Dinosaur, with a high octane roller skating performance during Disney's Epic Entertainment Showcase: The Musical: The Extravaganza! and the debut of show's first episode later in the weekend during the spotlight panel, and a talent experience that demonstrated that representation matters, with fans already showing up dressed as Moon Girl.
Based on Marvel's comic books of the same name, Marvel's Moon Girl and Devil Dinosaur will follow the adventures of 13-year-old super-genius Lunella Lafayette, voiced by Diamond White (The Bold and the Beautiful, The Lion Guard). Lunella is a character who is so smart that "she created a device which transports a 10-ton T-Rex, Devil Dinosaur, into our dimension," joked the show's executive producer Steve Loter (Kim Possible, The Penguins of Madagascar).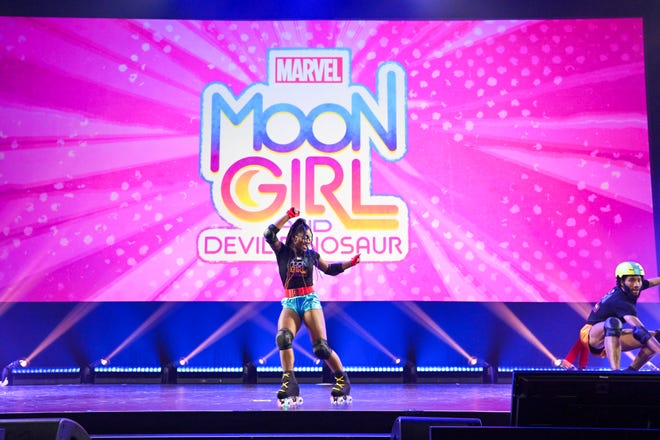 In the duo's comic book origin story, Lunella tries to stop her own Inhuman terrigenesis using Kree tech and indavertently transports Devil Dinosaur into present-day New York City. But in the Disney Channel series, in a change from the duo's comic origin, Lunella starts experimenting with a time vortex, her science gets out of hand, and she ends up bringing Devil Dinosaur, played by voice acting legend Fred Tatasciore, into NYC — and Tatasciore showed up to each Marvel's Moon Girl and Devil Dinosaur event with all the energy of a 10-ton T-Rex, roaring, gurgling, and snarfing at various points during the presentation.
Tatasciore explained that in English all the roaring roughly translated to: "I am having so much fun on the show, especially playing a T-Rex that is as complex as Devil. He loves Lunella so much and would do anything for her. I also love that he's creative. He loves to paint, watch movies, and listen to music."
Fans were stoked to see Tatasciore voice Devil Dinosaur in real life, and many showed up to Talent Central with their T-Rex claws on full display.
The TRIOOO #MoonGirlMagic #MoonGirlAndDevilDinosaur@DisneyMGDD pic.twitter.com/LEfCVoN90K

— Diamond (@diamondwhite) September 11, 2022
Diamond White is honored to play "first-ever young, Black, female Disney-Marvel superhero"

White also talked about how it felt to play a groundbreaking character and said that she was honored to play a super-genius and how she's excited for Black girls to have someone to have a superhero to look up to.
"I am honored to be playing the first Marvel black teen girl superhero in her own series," White reiterated more than once during D23 Expo. "There is so much about her that I relate to. And it's so cool that she's into quantum physics, dinosaurs, and music. She lives with her family which includes her parents and your grandparents and together they run one of the last roller rinks in New York's Lower East Side. I wish I had a character like her growing up."
With Lunella's family owning a roller rink, D23 Disney Branded Television Showcase attendees were treated to an upbeat roller skating group that performed to a killer original song by Raphael Saadiq, the show's executive music producer. Also, because I was rocking out hard during the Showcase's roller skating presentation, it's exciting that during Saturday, September 10's spotlight panel it was announced that Walt Disney Records and Marvel Music are releasing a Marvel's Moon Girl and Devil Dinosaur album on February 10, concurrently with the show's premiere. The album will include an extended version of the theme song by White, 'Moon Girl Magic,' which was the song that the roller skaters performed to during the Showcase.
An already amazing cast, and now Alison Brie is joining as Aftershock!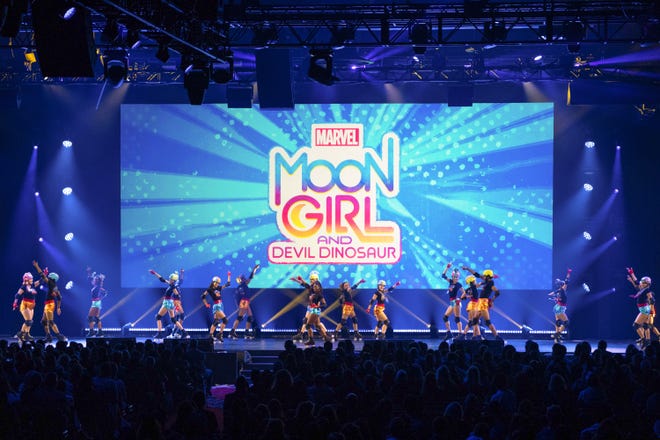 Lunella also works alongside her best friend, manager, and media maven Casey, voiced by Libe Barer (Violet in DuckTales). Casey helps the young vigilante duo keep the Lower East Side community safe.
"I love getting a chance to play a Latino that's so different from the stereotypical characters that I grew up seeing on screen. Plus, I have such a blast recording with Diamond; we always have fun," said Barer.
Also starring in the upcoming series are Alfre Woodard as Lunella's grandmother, Mimi; Sasheer Zamata as Lunella's mom, Adria; Jermaine Fowler as Lunella's dad, James Jr.; and Gary Anthony Williams as Lunella's grandfather, Pops. Also credited as part of the cast are Stranger Things star Maya Hawke and Stumptown (renew Stumptown!) star Cobie Smulders, who is returning as Agent Maria Hill.
Series executive producer Laurence Fishburne is also starring in Marvel's Moon Girl and Devil Dinosaur in the recurring role of the Beyonder, a curious and mischievous trickster, who comic book fans know from the first Secret Wars and beyond (Graeme, we can be marvelous nerds together).
But that's not all! There was a surprise announcement made during the show's spotlight panel. Announced for the first time at D23 Expo 2022, Alison Brie (Community, BoJack Horseman) will FINALLY be joining the Marvel Universe as Danielle Blunt (AKA Aftershock!) A few months ago, Brie teased that she was open to play a villain in the Marvel Universe (but I think the actress already knew that she was one of the Bastards of Evil in the upcoming Disney Channel series).
But despite the spooky villains, Loter said the show was perfect for fans of all ages: "You get everything out of this show you want. You get the humor. You get the heart. You get the music," said the EP during the panel.
---
Marvel's Moon Girl and Devil Dinosaur arrives the Disney Channel on February 10, 2023.
Read on about the upcoming
Moon Girl & Devil Dinosaur relaunch at Marvel Comics
.