Ahead of its second season, Disney Channel's Moon Girl and Devil Dinosaur get an all-ages graphic novel
Wreck and Roll will come from Scholastic in April
While fans wait patiently — or impatiently, in my case — for the second season of the Disney Channel's amazing Moon Girl and Devil Dinosaur, based on the Marvel comic of the same name, Scholastic has something to make time pass a little bit quicker: a new graphic novel set in the show's continuity, to be released next Spring.
Although Moon Girl and Devil Dinosaur debuted as a comic — in 2015's Moon Girl and Devil Dinosaur #1, appropriately enough — the 96-page Moon Girl and Devil Dinosaur: Wreck and Roll by Stephanie Williams (DC's Nubia: Queen of the Amazons) and Asia Simone will be the first time the animated series' canon and aesthetic has appeared in comic book form. Wreck and Roll follows the example of other Scholastic/Marvel collaborations — the two have been working together since 2021 — to offer an easy entry point into Marvel mythology for younger readers; this book is aimed at a 8-12 year-old age group.
The official description for the book, courtesy of the publisher, goes like this: "Just in time for the debut of her original Disney TV show, Lunella Lafayette — aka the smartest person in the Marvel Universe — gets her own original graphic novel! When a rad-skating band of thieves start going wild, it's up to Moon Girl and Devil Dinosaur to take to the streets and put a stop to their crime spree — while making sure to bust a few sweet moves along the way! But can Lunella balance fighting crime AND training with her all new, all awesome derby team — especially when it turns out that team might be up to no good? Set against the backdrop of her vibrant Lower East Side community, this hilarious graphic novel with a diverse cast of characters will be a hit with kids everywhere."
Moon Girl and Devil Dinosaur: Wreck and Roll will be released April 2, 2024. Look at the full cover below - and if you haven't, think about checking out Moon Girl and Devil Dinosaur the show on Disney+.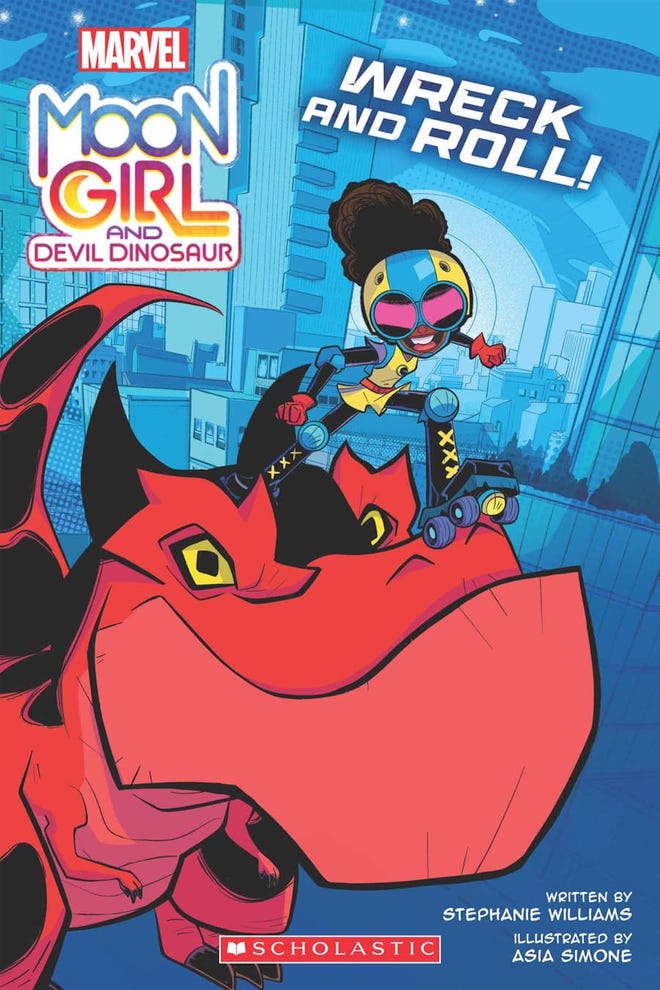 ---
Last year, Marvel relaunched the Moon Girl comic inside the mainstream Marvel Universe.