Nathan Foad and Con O'Neill's dream guest casting for Our Flag Means Death (plus a suggestion of our own)
When it comes to guest stars for season two of Our Flag Means Death, what about looking to alums of SNL and White Lotus?
One of the joys of a big comedy is the appearance of extraordinarily talented guest stars, and Our Flag Means Death featured some especially great ones, including the likes of Leslie Jones, Fred Armisen, and Will Arnett. When Our Flag Means Death castmates Nathan Foad and Con O'Neill were asked to talk about the amazing guest stars they've gotten on the HBO Max show, O'Neill answered, "I was gobsmacked with Will Arnett, and I wasn't even in that episode."
In response to a question about who they would like to see do guest spots in the second season (which is due sometime this year), both actors immediately suggested other SNL comedians. Foad answered, "Amy Poehler, Maya Rudolph, that would be a dream."
"If Tina Fey even knew we existed," O'Neill chimed in, "that would be enough." "I'd cease to exist," Foad agreed. "I'd cease to exist. My head would roll off my shoulders."
Obviously, the idea of bringing more SNL alums to the show is thrilling. If any TV show could translate the hilarious queer energy of comedic soulmates Aidy Bryant and Kate McKinnon, it would be Our Flag Means Death.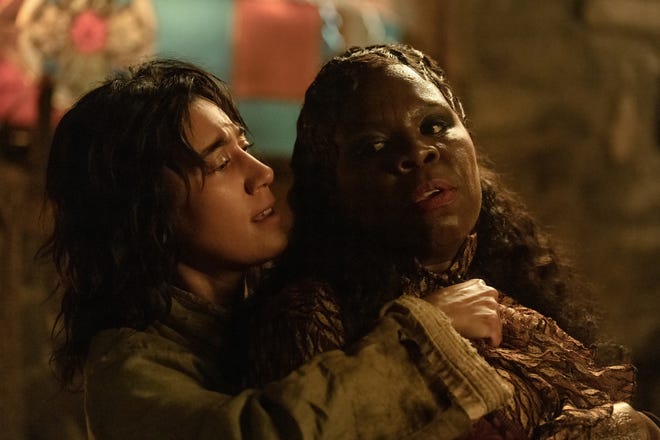 But if I could be so bold, what about drawing a comedienne from another juggernaut HBO Max franchise? Let me float a phrase: Jennifer Coolidge, Pirate.
Here's the thing: there's actually a female pirate from the period that Coolidge would be perfect to portray. Rachel Wall was a married housewife in 18th century Boston (I know, the show is set in 17th century Europe, but the show has played with history already). Wall's husband George was a terrible fisherman who never had two nickels to rub together. So the two of them bought a boat, hired some ruffians, and began a scam where they would wait for a storm to blow through, then dress up their boat as though it had been trashed. Rachel would stand out there calling for help (tell me you can't see Jennifer Coolidge doing this), and then when the ships would come to her aid, her crew would rob and murder them.
Even the demise of Wall's scam feels very Coolidge-y. Rachel and George wanted to have their scam ready to go as soon as a storm passed. And they took that to mean that they had to be out on the water while the storm was happening (which yes, does seem like it could ruin the whole thing One time they cut it too close (shocker), their ship got trashed, and George died.
If we want some SNL energy, we could have Bobby Moynihan play George (He is so right for this show). Or we could stick with White Lotus and give it to F. Murray Abraham. Believe it or not, though he has been in a million films and TV shows, and half of them are period pieces, as far as I can tell he has never played a pirate. This travesty cannot stand!
---
Waiting with bated breath for the next season of Our Flag Means Death?
Check here to make sure you're up to date on all the news there is to know about season two of Our Flag Means Death
.
---
If you liked Our Flag Means Death, read these queer comics