NYCC: All the surprise announcements from Marvel's Next Big Thing panel
Breaking down all the big news from the Marvel: Next Big Thing panel
On Saturday October 8th, Marvel Comics held their Next Big Thing panel at New York Comic-Con. If you've ever been to one of these before then you know that the panel usually has some fun surprise announcements, and this one was no exception. Editor Nick Lowe moderated, and panel included editor-in-chief C.B. Cebulski, editor Lauren Amaro, Amazing Spider-Man writer Zeb Wells, Moon Knight writer Ed Jed MacKay, and X-Men writer Gerry Duggan.
Avengers Assemble and Dark Web
Lowe began the panel by asking the crowd what iconic line Captain America finally said in the 2019 film Avengers: Endgame. Lowe was referring to the battle cry 'Avengers assemble,' which he used as a segway to talk about the Avengers Assemble Event. Cover art for Avengers Assemble: Alpha #1 was shown on the screen, a gorgeous piece by the always talented Bryan Hitch. Cebulski told the crowd that this was one of the biggest Avengers stories ever told, building off of everything that has happened since writer Jason Aaron took over the title.
Nick Lowe introduced a trailer for Dark Web, an upcoming Spider-Man/X-Men crossover event. The trailer was done in the style of a motion comic, featuring scenes from the upcoming event. Dark Web will feature the return of Spider-Man's clone Ben Reilly, who has been calling himself Chasm since the end of the Beyond.
Chasm will be teaming up Madelyne Pryor, another Marvel Universe clone who got the short end of the stick. Zeb Wells said that once he realized how much the characters had in common he decided to pair them up. Nick Lowe compared the event to Inferno, an X-Men event published in 1989. MacKay spoke about his contribution to the event, Dark Web: Mary Jane and Black Cat #1. Because Kamala Khan is interning at Oscorp, she'll be drawn into the events of the crossover, which will be explored in the tie-in mini-series Dark Web: Ms. Marvel.
Two new Goblin series will be spinning out of the event. Gold Goblin will focus on Norman Osborn's new persona, as he tries to atone for his years as a villain. It was hinted that Osborn's family will play a role in this series, which means we'll probably be seeing his daughter-in-law Liz and grandson Normie. The panel said there are no plans to have Norman become the Green Goblin again.
Red Goblin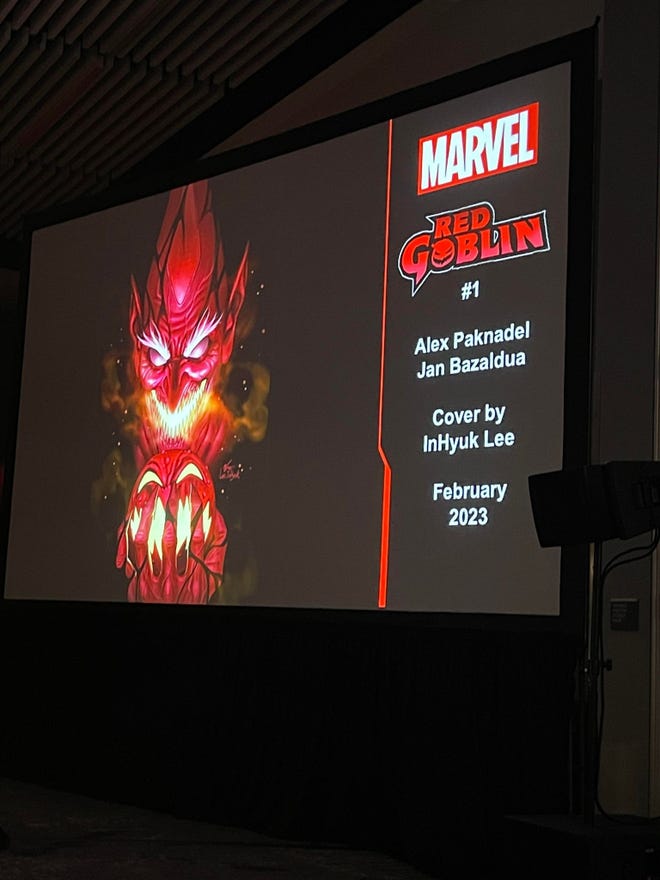 A new series called Red Goblin will be published in February 2023, written by Alex Paknadel with art by Jan Bazaldua. "The Red Goblin is back, but what is the mystery behind this Red Goblin," Lowe teased. Red Goblin was a previous identity that Norman Osborn used when he was merged with the Carnage symbiote, but with the launch of the Gold Goblin series it seems someone new will be behind the mask. Lowe told readers that the Dark Web event will set up the Red Goblin series. "This series is bonkers," Lowe promised.
Hallows Eve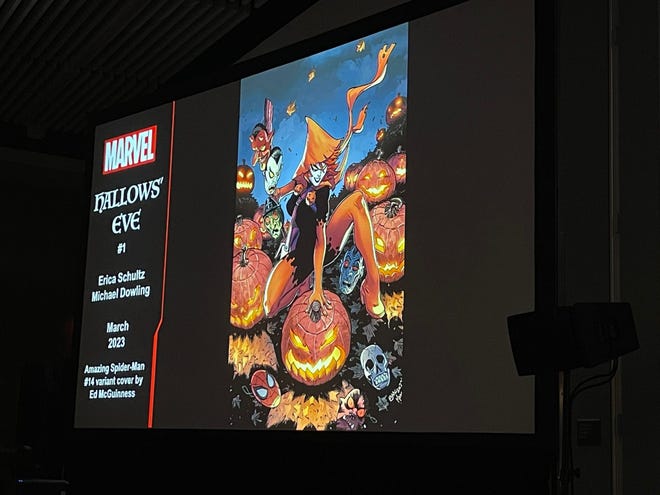 Lowe also teased a new character called Hallows Eve, whose real identity will be an established character in Spider-Man's world. The character was created by Zeb Wells and Ed McGuinness. She will be introduced in Amazing Spider-Man #14, before getting her own series in March. Her series will be written by Erica Schultz and illustrated by Michael Dowling. "She's so incredible that we haven't even met her yet and we're giving her a real series. That's how strong the idea was, and how much we loved it. We cannot wait for you to meet her in Amazing Spider-Man #14. She runs through Dark Web, and her future is bright," Lowe said.
Sins of Sinister
Lowe then surprised the audience with a trailer for an upcoming event titled Sins of Sinister. Taking a cue from the 90s event Age of Apocalypse, the X-Men books will go on hiatus and be temporarily replaced with other titles. Immoral X-Men will replace Immortal X-Men, X-Men Red will become Storm and the Brotherhood of Mutants, while Legion of X will become Nightcrawlers.
A summer of symbiotes and more fun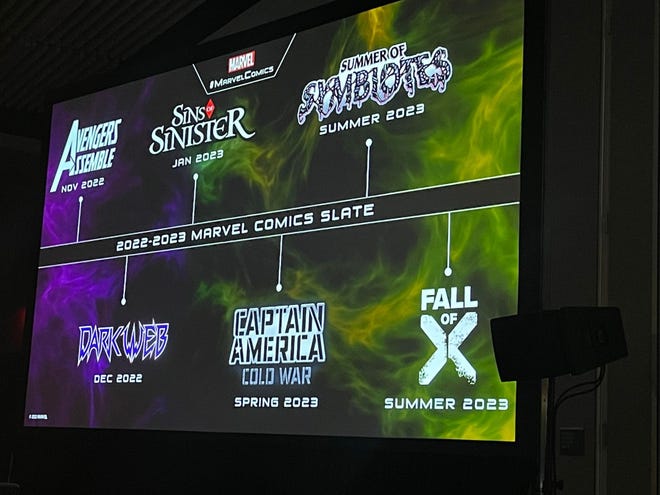 Lowe noted that Marvel Studios has a unique way of announcing their slate of movies, and borrowed a page from their book by using a similar graphic chart to tease their upcoming releases. An image appeared onscreen similar to the one Marvel Studios uses during events like San Diego Comic-Con and D23 Expo, but the titles were comic publications rather than films. The first three titles on the screen were the previously mentioned Avengers Assemble, Dark Web, and Sins of Sinister.
Captain America: Cold War, a title that had been announced prior to the convention, was also placed on screen, with a release date of spring 2023. Lowe then surprised everyone by announcing Summer of Symbiotes, an event centered around Marvel's symbiote characters, slated for summer 2023. " "It is going to be so crazy," Lowe said. "It's all about the stuff that's happening in those books and then some. They'll be new characters, there will be old characters you haven't seen in a while. It is mind-bending, and just start getting ready. Because you need to get ready or you might go crazy, it's just so good."
Fall of X and a teaser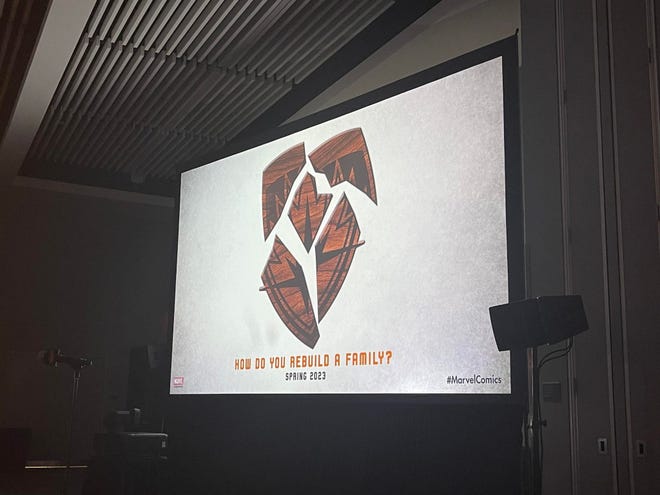 The final event revealed was Fall of X, a storyline which will be released late summer 2023. "The X-Men have been winning for a long time," Duggan said. "How long did you think the villains were going to leave them alone?" Before anyone had a chance to recover, Lowe closed off the presentation with a graphic that contained a broken Guardians of the Galaxy logo made of wood. The image had a caption asking 'How do you rebuild a family?' Other than the spring 2023 release date, no information was given, but Lowe teased that this would not be good news for the Guardians.
The panel wrapped up after some questions from the fans. What's the next big thing from Marvel? Judging from this panel, it appears that will be several big things, with lots of momentous events in their 2023 publishing slate. Keep your eyes peeled to Popverse as we continue to bring you breaking news from New York City Comic-Con and beyond.
---
Get fully immersed in NYCC with Popverse's wall-to-wall coverage of the event. From filmed panels to backstage interviews, on-the-floor coverage, news, cosplay galleries, and more - we're tracking it all in Popverse's New York Comic Con 2022 round-up.