Everything we know about Netflix's live action One Piece show
Straw Hats unite for the live-action adaptation of the hit One Piece manga and anime!
It's turning out to be a year to remember for One Piece fans. While the manga continues the first arc of the Final Saga, which will bring the long-running series to a close, the anime has seen Luffy's highly-awaited Gear 5 transformation finally brought to life. And if that wasn't enough, there's also the live-action One Piece to look forward to!
This summer Netflix is launching its latest anime adaptation, and it looks like the streaming service is going all out to make it a success. According to reports, the One Piece live-action will be one of the most expensive shows ever made, with a per episode budget bigger than Game of Thrones and The Mandalorian.
If you want to tune into Netflix's live-action One Piece then we've rounded up everything you need to know to get ready for the show's launch. We've got details on the release date, episode count, cast list and much more.
What is the One Piece live-action release date on Netflix?
It has been confirmed that the live-action version of One Piece has a release date of Thursday August 31, 2023. It launches on Netflix, with every episode available to stream.
The release date was announced on One Piece Day, alongside a brand new trailer.
What is the release time for One Piece on Netflix?
Netflix hasn't confirmed the exact time that One Piece will arrive on its service. But new shows usually go live on release day at 12am pacific time - which is the timezone used in Netflix's California HQ.
Here's the expected release times for different regions:
US (West Coast): 12am PDT
US (East Coast): 3am EDT
UK: 8am BST
Europe: 9am CEST
Japan: 4pm JST
Australia: 5pm AEST
Has a One Piece live-action trailer been released?
Netflix has released a few trailers of its One Piece adaptation, showcasing what Luffy and co look like in their live-action form. You can watch the first trailer below.
What is the One Piece plot?
Netflix has confirmed that the live-action One Piece will start at the very beginning of Luffy's tale, introducing audiences to the characters, antagonists and locations manga and anime fans know so well.
It looks like the live-action One Piece will be a faithful adaptation of the original manga and anime, following early plot points fans already know so well. The first episode even borrows the title of the first volume of the manga, 'Romance Dawn.'
Here's the synopsis for the first episode: "A boy named Monkey D. Luffy embarks on a journey to attain the greatest treasure: the one piece. After the former pirate king's public execution 22 years ago, the world has entered a great pirate era, and Luffy aims to be at the top."
Who is in the One Piece cast?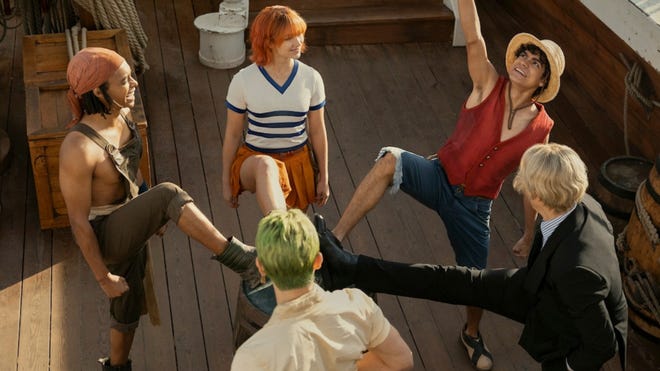 Netflix has assembled quite a number of fresh faces for the live-action One Piece show. Here is the core cast:
Monkey D. Luffy played by Iñaki Godoy
Roronoa Zoro played by Mackenyu
Nami played by Emily Rudd
Usopp played by Jacob Romero Gibson
Sanji played by Taz Skylar
That quintet is joined by supporting actors, who play a range of characters including fan favorite Shanks:
Shanks played by Peter Gadiot
Koby played by Morgan Davies
Alvida played by Ilia Isorelys Paulo
Helmeppo played by Aidan Scott
Captain Morgan played by Langley Kirkwood
Buggy played by Jeff Ward
Kaya played by Celeste Loots
Klahadore played by Alexander Maniatis
Sham played by Biance Oosthuizen
Banchina played by Chante Grainger
Chef Zeff played by Craig Fairbrass
Dracule Mihawk played by Steven Ward
Arlong played by McKinley Belcher III
Nojiko played by Chioma Umeala
Garp played by Vincent Regan
Genzo played by Grant Ross
Higuma played by Tamer Burjaq
As a nice extra touch, for the dubbed version releasing in Japan the original voice cast from the anime have reunited to voice their characters in the Netflix live-action show.
How many One Piece live-action episodes are there?
Netflix has greenlit One Piece for an eight episode first season, to be led by a series premiere titled 'Romance Dawn.'
The opening episode, which has a runtime of one hour and nine minutes, is directed by Marc Jobst and is based on a script by Matt Owens, Steven Maeda and Tom Hyndman.
Here is the full episode list for season one:
Episode 1 - Romance Dawn
Episode 2 - The Man in the Straw Hat
Episode 3 - Tell No Tales
Episode 4 - The Pirates Are Coming
Episode 5 - Eat At Baratie!
Episode 6 - The Chef And The Chore Boy
Episode 7 - The Girl With The Sawfish Tattoo
Episode 8 - Worst In The East
Who's making the One Piece live-action show?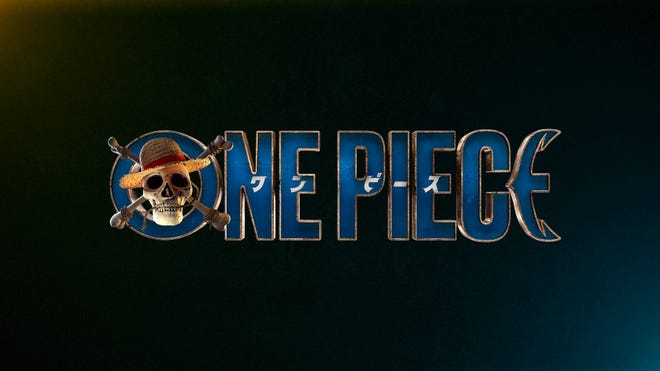 The Netflix live-action adaptation of the popular manga and anime series is headed up by showrunners Matt Owens (Luke Cage, Agents of S.H.I.E.L.D.) and Steven Maeda (Lost, Lie to Me). One Piece creator Eiichiro Oda is also acting as an executive producer, and is deeply involved in the show.
Earlier this year, it was revealed that Oda-san had always wanted a One Piece live-action, and work on the Netflix adaptation began back in 2016. In a letter to fans the One Piece creator explained: "I've been working with Tomorrow Studios and Netflix for quite some time now. Even though they understand each of the characters, we obviously come from very different cultures so, when it comes to entertainment, we have different codes, sets and aims."
He went on to add: "Now, this might seem like it's coming out of nowhere but...we've been hard at work this entire time. And now, each and every entity involved is working in sync. We're finally here!! Considering my expected life span, I believe this is the last chance to bring One Piece to the entire world. If we're going to do it, I want to be able to supervise things while I'm still active. That's why I agreed to the live-action adaptation of One Piece back in 2016."
Netflix is the largest streaming service in the world, but it'll be up to fans' hearts and dreams (to borrow a phrase from Luffy) to decide if the live-action One Piece will be as good as the original manga and anime series, and veer away from the sad trajectory that most adaptations have gone down.
---
Looking for more anime content? Make sure you check out our guides to the Naruto watch order, Demon Slayer watch order and One Piece watch order. Or, for more on the One Piece live-action adaptation find out about the age rating and whether it's suitable for kids.