Our Flag Means Death welcome the lusty and kind kind of fans at Emerald City Comic Con 2023
"Oh, a pirate's life sounds just right"
It would be hard to sit in the Main Stage at Emerald City Comic Con at any time of the show's 2023 weekend and not be affected by the energy of the room; at most popular ECCC panels, the energy is palpable, but at this year's Our Flag Means Death panel, the energy could blow you down a few times over.
Our Flag Means Death debuted on HBO Max a year ago (plus a few days' change), and the pirate show found a passionate contingent of fans almost instantly. Over the following months, as it took what seemed like forever for a second season to be announced, fans were given an even slower trickle of information about what's to come; we still don't have a release date or a trailer. During that time, fans have simply grown hungrier for the show. In reponse, they've turned to creating fanworks, turning towards each other and to the show's cast to showcase their fandom.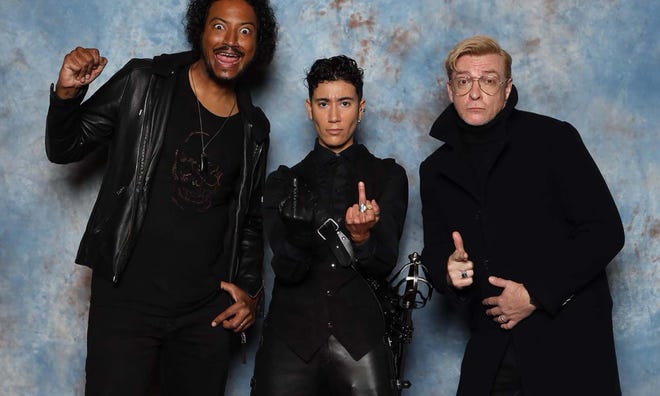 There are many ways for fans to show up in support for what they love, and in the Main Stage of the Seattle Convention Center Summit, there was more cosplay than I think I've ever seen in a panel: Handfuls of Stedes and Blackbeards and Luciuses, but also two orange cakes and a Stede's lighthouse painting (keep an eye on Popverse's Our Flag Means Death page for an upcoming roundup of obscure/deep cut OFMD cosplays).
That expressive energy bled onto the stage, as Vico Ortiz (who plays Jim in the show) came out onstage wearing an actual sword hanging off their shoulder (and leather gloves and pants as well). Popverse's very own Ashley V. Robinson, who was moderating the panel, made sure to take the time to ask Vico to unsheathe that sword and showcase their pirate shout. And before the panel even concluded, a fan on twitter @Fayallureart had already uploaded their digital rendition of the moment, with the drawn Vico decked out in full pirate gear.
Sketches this so fast oml
.#ofmd #jimjimenez #ECCC23 pic.twitter.com/fVIriQUlwb

— Niamh 🐀 DCC spring (@Fayallureart) March 4, 2023
That speedy fan art memorializing Vico's impromptu pirate pose is, in many ways, illustrative of the relationship between the fans, the show, and the actors. For fans of Our Flag Means Death, the show is more than just a show. It's a way of self-expression, of self-realization, and of making and finding community.
There is an intensity, a clearly personal stake that fans feel with this show and what it represents for them. Where people care about the characters like they're people, where they identify with them enough that they'll dress up as them, all four days of the weekend. Where they'll even propose in costume. (Yes, this did indeed happen across the weekend.)
It's hard not to be moved by this passion and reminded that this deep love that people nurture for their fandom has a real, tangible power; that a somewhat silly (but very kindhearted) television show about pirates who are terrible at pirating can take on an extraordinary role in so many people's lives. That art can inspire community, action, and self expression, and that fandom is still alive and growing all the time.
---
Here's everything we know about Our Flag Meas Death Season 2
.