Our Flag Means death (finally) gets a second season announcement
David Jenkins' pirate comedy Our Flag Means Death renewed for second season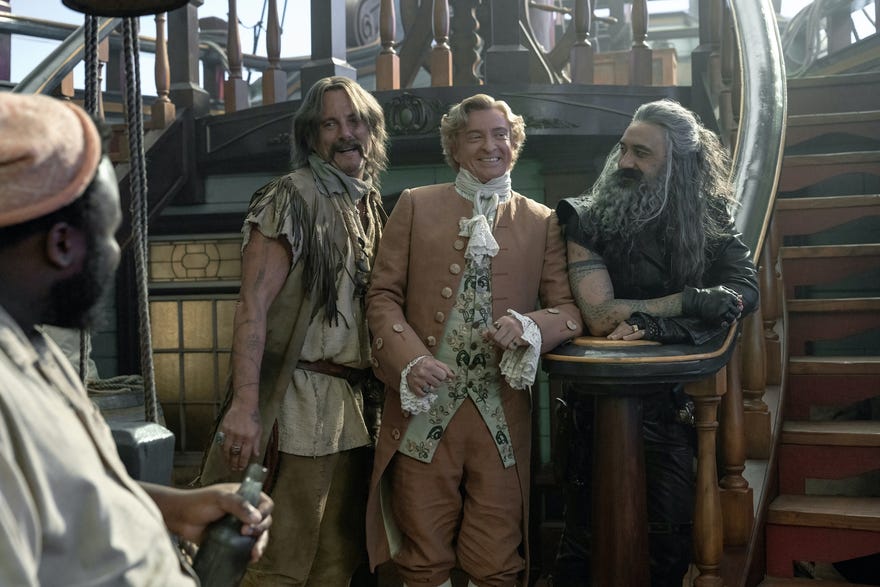 At long last, HBO Max has announced a second season to their much beloved comedy series Our Flag Means Death.
Our Flag Means Death (from showrunner David Jenkins, executive producer and star Taika Waititi, and executive producer Garrett Basch) debuted on HBO Max in March and became a sleeper hit, ranking in the top five Max Original comedy series launches. The show is loosely based on the story of the gentleman pirate Stede Bonnet (Rhys Darby) who left his gentleman-ly life for a life of piracy (though there has been some discussion on whether or not it is appropriate to make light of a man who enslaved people).
The first season of the show saw Stede Bonnet and his ragtag pirate crew struggling to make their names on the seven seas before making an unlikely alliance with the notorious Blackbeard (Taika Waititi). Alongside Darby and Waititi, the cast included Nathan Foad, Samson Kayo, Vico Ortiz, Ewen Bremner, Joel Fry, Matt Maher, Kristian Nairn, Con O'Neill, Guz Khan, David Fane, Rory Kinnear, Samba Schutt, Nat Faxon, Fred Armisen, and Leslie Jones.
HBO Max's head of original content Sarah Aubrey shares, "We are so happy to bring this truly one of a kind series back! We congratulate David, Taika, Rhys and the entire talented cast and crew, and thank the show's fans for embracing it wholeheartedly."
Showrunner and creator David Jenkins adds, "We felt the show was special while we were making it, but fans' open-armed embrace of the inhabitants of the Revenge makes heading into a second season all the more sweet. Thanks to our team at HBO Max, our invested executive producers, and our wildly enthusiastic audience for making another voyage to this world possible."
While no information about shooting or release dates have been announced, we're sure that fans (including writers at Popverse) will be waiting for this new season with bated breath
---
Waiting with bated breath for the next season of Our Flag Means Death?
Check here to make sure you're up to date on all the news there is to know about season two of Our Flag Means Death
.
---
Netflix just dropped The Umbrella Academy season 3 trailer, and it's kind of awesome. Read all about it here.