Our Flag Means Death writers ask fans to join them on picket line for some "polite menace"
Our Flag Means Strike
Grab your pirate costumes and signs, it's time to show up at the picket line.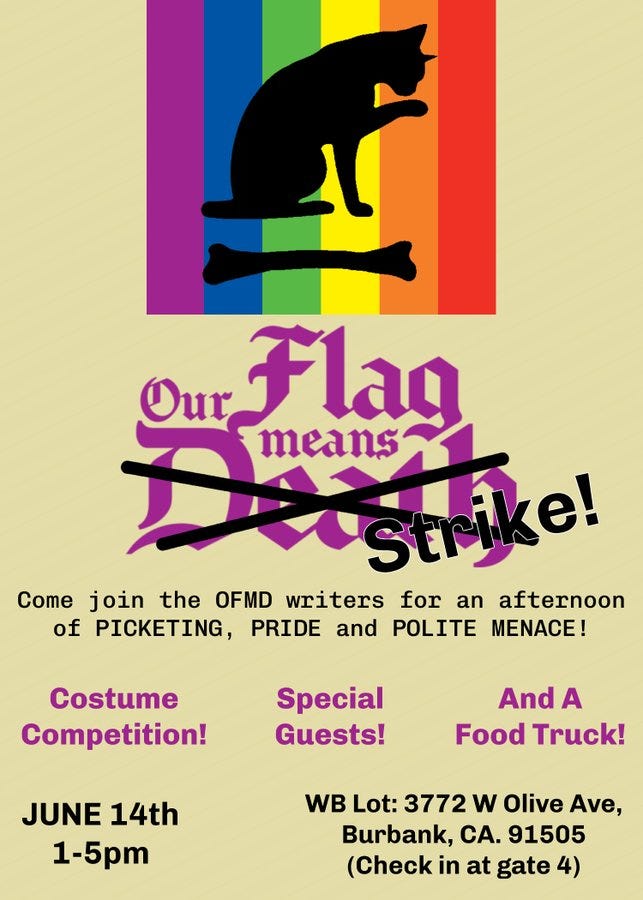 Alex Sherman, a writer on Max fan favorite pirate comedy Our Flag Means Death, has invited OFMD fans to join the writers of the show on the picket line on June 14. The announcement was made on Twitter, reading: "It's no secret that #OurFlag has the greatest fans out there. The support you've shown us writers these last few weeks has meant so much. We'd love to invite you out to join us on the picket line for a very special Flag Day (6/14)! Costumes encourageddd!!! #WGAStrike #WGAStrong"
The announcement was accompanied by a poster (see right) promising "picketing, Pride, and polite menace" as well as a costume competition, special guests, and a food truck.
The special Our Flag Means Death strike day will take place June 14th from 1-5 PM at the Warner Bros lot at 3772 W. Olive Ave. in Burbank, CA 91505. Check in will take place at gate 4.
Want to know more about the Writer's Strike? Check out our guide to what's going on.
Looking foward to Our Flag Means Death season 2 and want to figure out what we know about the season so far? We've got another handy guide for you!
And if you can't wait until the 14th to get your hit of Our Flag Means Death fun, become a Popverse member and stream the OFMD panel from this year's MCM.