Pokémon and One Piece-designed Fashion Debuts at NYCC
NYCC saw the debut of a line of customizable shirts designed by Pokémon and One Piece creators.
People come to a pop culture convention like New York Comic Con hoping to get a million different kinds of things. Some wait in line for hours to buy the special convention-exclusive items, or in the case of FunkoPops pretty much all day. (Seriously, Funko, what the heck?) Some are excited to have their favorite artist sign something—or, in the case of Peach Momoko, get in fights while plaguing her with requests to sign multiple things that they then sell at their booths upstairs while leaving her upset and embarrassed. (Hang in there, Peach! We love you!) Some scour the comic bins looking for deals and old books they haven't been able to find anywhere else.
For me, one of the delights of a con is finding some new pop culture-ish bit of clothing. It can be something classic, like a red tee bearing the logo of the Flash, or something a little bit more meta and meme-y, like the yellow and black House Skywalker T-shirt I got a couple years ago that applies the house heraldry from Game of Thrones to Star Wars's first family. (The coat of arms is two crossed light sabers, with Rebel and Empire icons above and below; the motto is 'Strong with the Force.' And yes, I am a big nerd.)
This year at NYCC there was an interesting new twist on the pop culture shirt—an upscale casual dress shirt using iconography from One Piece or Pokémon that you get to help design yourself. Original Stitch is a California-based dress shirt company that allows consumers to customize aspects of their clothing. You want a shirt for the office (or vacation) but you want it to have very specific kinds of cuffs, collar or buttons? At Original Stitch, you can choose from a whole variety of options.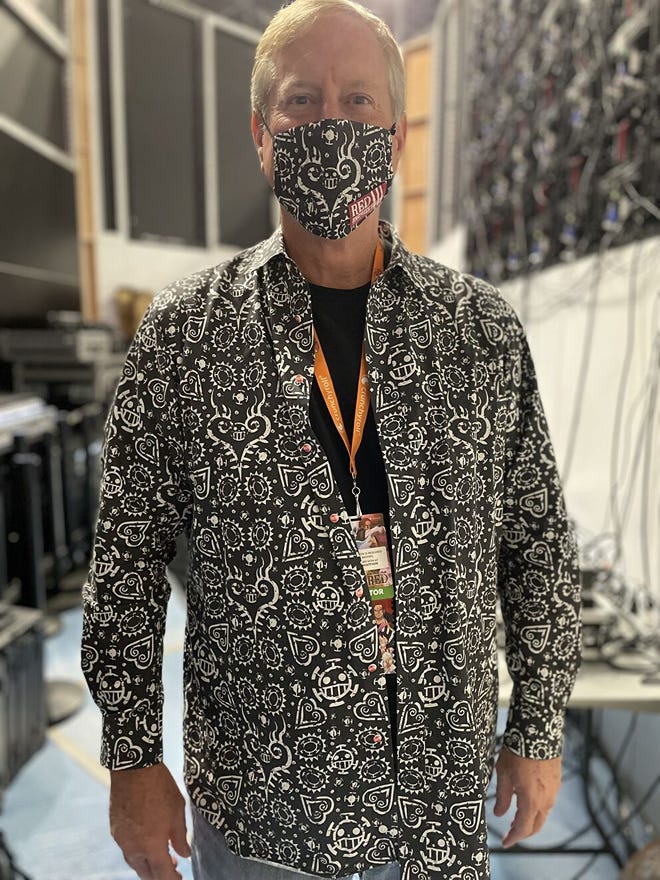 All their shirts are handmade in Japan; in fact, vice president of US sales and operations Matt Miller told me the company has no inventory, everything is individual orders. "It's as sustainable as possible," says Miller, "that's the company culture." This applies not only to production but the way they think about packaging. "There's no pins, cardboards or plastic," Miller explained. "They fold it carefully, press it and then slide it into a biodegradable clear bag." Then it's shipped out. Normal shipping takes 2 to 4 weeks, but they're working to include a one week expedited-delivery option.
The collaborations with Pokémon and One Piece, which provide a wide variety of shirt designs inspired by the brands' characters, episodes and movies, happened through a combination of good luck and the vagaries of Japanese corporate culture. "It's definitely a top-down model" in Japan, Miller explains. "The founder of Original Stitch lives in Japan, and he knows the president of Pokémon," says Miller. That's how they got started.
(The Japanese-style business dynamic, with important connections established over dinners among corporate leaders, had led to some funny conversations for Miller here in the States. "We've got lots of companies interested" in developing their own iconic shirt lines, Miller explains, "big, big companies. And I have to say 'Yes, love to, but you have get to the dinner table in Japan.' It works that way even though we're a U.S. company.")
When it comes to Pokémon and One Piece, the company has really gone deep on design: there are almost 500 different shirt designs for Pokémon that you can choose from—pretty much one for each character, and dozens for One Piece as well. Each shirt very much has its own aesthetic, too. So the Vaporeon has a wonderful sort of watercolor feel; Natu a sort of Southwest American vibe with the character cleverly blended in; and Krickelot a bold and playful red, white and black pattern. And they can be ordered in a variety of shirt styles from men's or women's casual, dress or Hawaiian-style styles, as well as oftentimes kids's shirts, polos, aprons, masks, bandanas or even just fabric.
Part of the 'secret sauce' of the Pokémon and One Piece shirts, Miller feels, is the fact that the designs are all done by the creators of the stories themselves. "Pokémon has a team that makes the designs for the Pokémon shirts," says Miller. "On One Piece the same people who make the episodes make the designs." And that really comes across in the shirts themselves. The designs have an authenticity and often a clever subtlety that you don't generally find in pop culture fashion.
To be honest, I don't know either One Piece or Pokémon. (Don't @ me, I know, I'm old, but also I remember when Pac-Man came out and that is cool, too.) But the thing that surprised me about the Original Stitch shirts is that many of the designs are abstract and iconic enough that they can also work really well as just nice casual dress shirts. In fact they remind me of the kind of Reyn Spooner-esque shirts you can find at Disneyland— if you look closely you realize that the patterns involve Disney iconography, but it's not in your face. The shirts are beautiful on their own merits. Miller notes that Disney actually uses the same design process that Original Stitch does, with Disney's own artists "creating all their designs in their studios."
The price point for these shirts is currently $120, which is a lot more than you're going to pay for your standard pop culture tee. (I found a great Millennium Falcon/NASA mash-up on Sunday for $10.) Miller seems apologetic about this; "We have licensing fees that we pay, plus there's the quality." But honestly, to me the price seems pretty on target with what you'd pay elsewhere for similar level of fashion. This isn't a shirt you're wearing when you're cleaning your car or eating a hot dog; it's something you might wear out to dinner or to a club.
If NYCC is any indication of trends, One Piece is literally "the" hot property right now. Forget Star Wars, forget the Big Two and their cinematic universes, everywhere you looked at NYCC what you saw was either One Piece or people wondering how much longer they were going to be trapped in line at FunkoPop. If you're hunting for a cool shirt or original Christmas gift for the holidays, you might want to give Original Stitch a look.
---
Get fully immersed in NYCC with Popverse's wall-to-wall coverage of the event. From filmed panels to backstage interviews, on-the-floor coverage, news, cosplay galleries, and more - we're tracking it all in Popverse's New York Comic Con 2022 round-up.