There's a new Snoopy float coming to Macy's Thanksgiving Day Parade this year (and we just met him!)
In honor of the 50th anniversary of the Beagle Scouts in Peanuts, the Macy's Parade will feature a Beagle Scout Snoopy
Peanuts' iconic beagle Snoopy has been a staple of the Macy's Thanksgiving Day Parade for over 50 years, but Thanksgiving you're going to see someone new.
No, don't worry - it's still Snoopy
On the US Thanksgiving Day November 23, 2023 an all-new Snoopy float will debut - Beagle Scout Snoopy, as announced during the 'Snoopy Lives it Up!' panel here at San Diego Comic-Con 2023. The 55-foot-tall float will be Snoopy (of course), but wearing his Beagle Scout uniform - complete with Woodstock on his hat. According to Macy Studios' Will Cross, the new float is estimated to require 50 to 75 balloon handlers (more on that in a second), and will take two to three hours to inflate.
They even had a miniature version of the new Snoopy float here for us to witness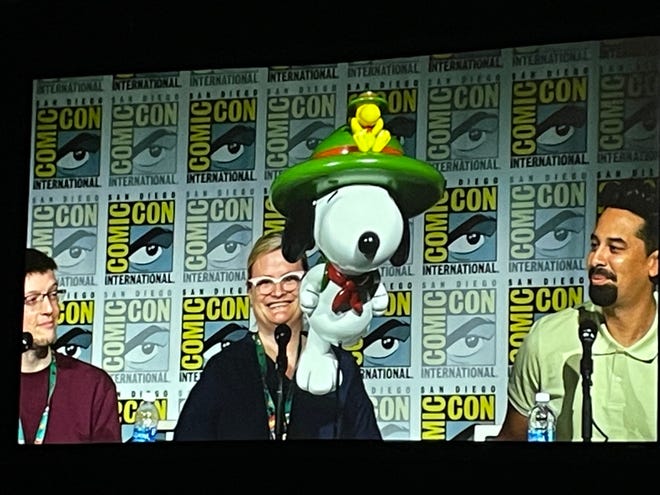 Snoopy has been a tradition of the Macy's Thanksgiving Day parade since 1968. Beagle Scout Snoopy will be the 10th Snoopy float, and follows Astronaut Snoopy, who was the float since 2019 and from 1968-1982 and 1985, too.
Beagle Scout Snoopy is particularly appropriate right now, as this is the 50th anniversary of the first appearance of the Beagle Scouts in the Peanuts strip. Apple TV is preparing to debut Camp Snoopy, a gorgeous new animated show about the Beagle Scouts, in 2024.
So, how do you sign up to be a Snoopy balloon handler? A little boy already beat you to it, during the fan Q&A.
"Are you going to be in New York?" Cross asked. When the boy said yes, Cross asked for his contact info. "We'll see what we can do," to great awws from the audience.
---
Popverse saw it and did most of it, and you can find all about our guide to All the big news, magic, and moments from San Diego Comic-Con. And if you want to go to SDCC next year, we have the San Diego Comic-Con 2024 dates as well.
---
Editor's note: An earlier version of this article incorrectly identified the esteemed individual portrayed in Beagle Scout Snoopy's hat.