Tatiana Maslany's presence in Prime Video's Invincible season 2 is bigger than we expected
She won't be as green as back in the Marvel camp, but she's still sporting striking colors.
Marketing for the second season of Invincible has been heating up since its huge panel at SDCC 2023. It's been more than two years since the hit first season dropped on Amazon Prime Video, and expectations are through the roof, especially after the onboarding of new fans. As the November 3 release date of season 2 part 1 approaches, we're getting more details about some of the new additions to the stacked voice cast and their roles.
The latest update arrives via io9, who have the exclusive on Tatiana Maslany's two characters (yes, two): General Telia and Queen Aquaria. Moreover, she already joined the Invincible universe with the Atom Eve spinoff episode released this summer. There, she played Queen Lizard, and now she's helped bring to life General Telia (pictured above) and Queen Aquaria, who you can meet below.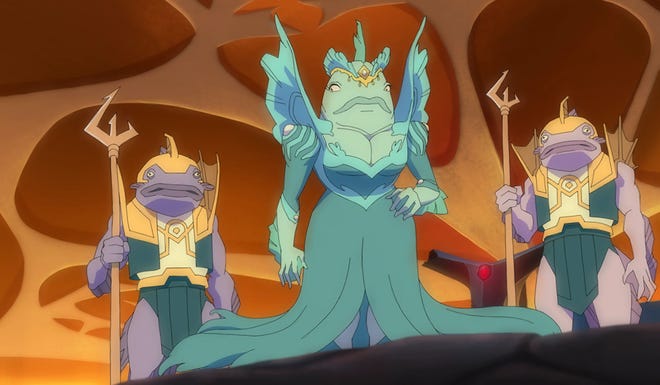 Prime Video is keeping most of the plot under wraps for now, but shared brief bios for each of these two distinct characters. Telia is described as "a decorated general for the Coalition of Planets with a zero-tolerance policy for Viltrumite aggression". Meanwhile, the fish-like Queen Aquaria (a bit on the nose, don't you think?) has the role of "sole monarch of the Atlanteans and their undersea kingdom after her husband, Aquarus, was murdered by Omni-Man". Both are also described as strong and iron-willed female characters in their own specific ways, so it'll be interesting to see what Maslany brought to each of them, especially after her standout performance as Jennifer Walters aka She-Hulk in last year's Marvel-produced Disney+ show.
Invincible tells the story of 17-year-old Mark Grayson and his transformation into a superhero. His father, Omni-Man, is considered the most powerful superhero on an Earth where superpowered individuals aren't uncommon. During his gradual transformation, Mark struggles to balance personal life and superhero duties, but things quickly get much more complicated and fast-paced as a terrible truth about her father is exposed.
---
After its strong presence
at SDCC 2023
that included comic book creator Robert Kirkman and artists Cory Walker and Ryan Ottley, Invincible season 2 will be
at NYCC 2023
later this week, and we'll be covering it live!