Thought Bubble is the most important comic convention around
There's a very specific reason why Britain's independent comic convention is so necessary
If you'll indulge me some hyperbole, I want to put forward this idea for a second: Thought Bubble might be the most important comic book convention currently taking place.
There are multiple arguments to be made to support that admittedly bold statement, just as there are multiple arguments to refute it. (If you're looking for something in particular from your comic book convention, for example, you might not find it at Thought Bubble. It's not particularly heavy on manga, for example, and it's not the show to go to for anyone hoping to see Marvel's editor-in-chief announcing the next big thing from the House of Ideas.)
If you read my travelogue from the show, literally written as I was leaving and on the train out of town, you'll have seen my argument that one of the show's winning elements is that it is, unmistakably, a comic convention, as opposed to other pop culture shows, with the vast majority — if not all — of exhibitors either creators or publishers of some sort; it's a strong statement of intent that alone could act as a reason to claim the most important comic book convention title, but that's not the argument I'm making.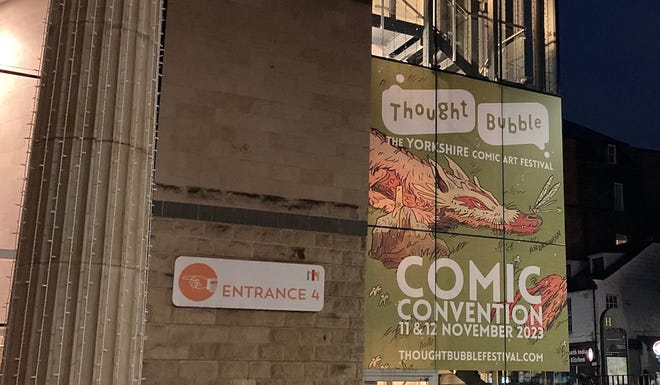 Nor, for that matter, is the fact that deals get made at Thought Bubble. If scuttlebutt is to be believed, Thought Bubble is the unofficial birthplace of new publisher DSTLRY. The Saturday night Mid-Con party was full of comments from people in-the-know about where the best place to be was if you wanted to get signed for a project. (No, I'm not going to share; come to the show and find out for yourself.) There were rumors of creators signing off on future series or finding new collaborators throughout the weekend. While every convention has dealmaking behind the scenes baked into their DNA — there are, if nothing else, a lot of creators and publishers all in one place, which isn't the most common occurrence; why wouldn't deals get made at shows? — the smaller scale of Thought Bubble probably means there's a higher head-count-to-contract ratio than at most conventions you could care to name. Nonetheless: that's not the argument I'm making, either.
Something else that is true, but isn't the reason why Thought Bubble could lay reasonable claim to benighted most important comic book convention around is that there's an impossibly good guest list; this year alone had N.D. Stevenson, Jason Aaron, Zoe Thorogood, Jeff Lemire, John Wagner, Rob Williams, Zainab Akhtar, Rachel Stott, Becky Cloonan, Kieron Gillen, Roger Langridge, and literally countless more. (I'm tempted to talk about how many creators were selling original artwork for unreasonably good prices again, but that's less about Most Important and just Oh wow, I got a D'Israeli original for obscenely little.)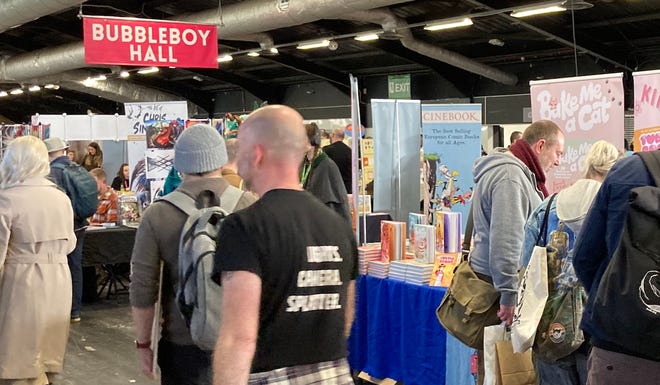 Here is the real reason why Thought Bubble might be the most important comic book convention around: it's the show that makes the idea of making comics feel possible. I'm not entirely sure that it's an intentional aim of the show — although, at the same time, I can't say that it's not, either — but it's a concept that flows through the entire show, at almost every level: Creators who work on top-selling Marvel and DC books table sit alongside small press creators, emphasizing the continuity between all levels of the industry, even as the small press creators underscore that anyone can make comics if they have the passion for it. (That you get to talk to creators at all levels of the industry in a quasi-relaxed setting and discover that, gasp, they're just human, is not nothing, either.)
Meanwhile, schools are also tabling at the show to promote comics courses for those who want to know more, and panels are filled with creators talking about their process. If that's not enough, there are also two separate panels from 2000 AD dedicated to a contest that ends with a writer and artist getting paid work. For anyone who's got any interest in making comics, Thought Bubble is a show almost engineered to inspire — and provide examples for future career choices, options, and directions, no matter what you might be interested in making.
That is what makes the show so special, and essential; there were a number of people — of multiple ages, from little kids up to adults old enough to know better — that I could see have that moment of "Oh! I can do this!" at Thought Bubble 2023, and that's what made it feel so necessary to me, as someone who loves comics and wants to keep reading new, exciting, and different ones for the rest of my life. Thought Bubble is a comic convention that helps create comics, and will keep helping create comics, for years to come.
That's pretty damn important, if you ask me.
---
Want to know what's coming up next in pop culture? Check out our guides to upcoming movies, upcoming TV shows, upcoming comics, and upcoming comic conventions. If you're looking for specific franchises or genres, we have all the upcoming MCU, upcoming Star Wars, upcoming Star Trek, and upcoming DC movies & TV for you. If you're a fan of superheroes and not specific to just Marvel or DC, we have overall guides to all the upcoming superhero movies and upcoming superhero TV shows (and new seasons) as well.