Watch Brandon Sanderson and Dan Wells record Intentionally Blank podcast at NYCC!
Fantasy author Brandon Sanderson and horror author Dan Wells are at the Javits Center recording a live episode of their hit podcast, Intentionally Blank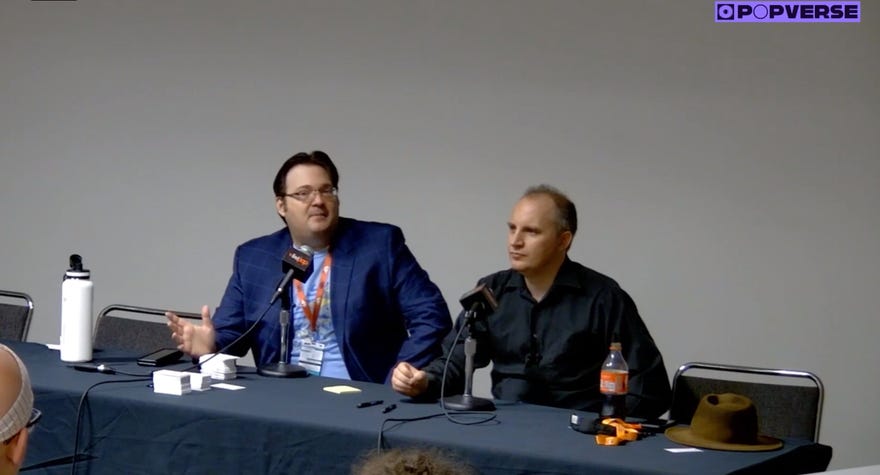 On Friday, October 7, literary fans who attended NYCC got to catch up with two-best selling authors and be there live as an episode of their podcast was recorded right in front of them. Join Popverse's coverage of the latest episode of Intentionally Blank, hosted by writers Brandon Sanderson (Mistborn) and Dan Wells (I Am Not a Serial Killer).
Popverse filmed this and many other panels at New York Comic Con this year (see the complete line-up here), which you can watch in one of two ways - by becoming a Popverse member at the 'Fan' level (or higher), or by buying a NYCC digital ticket. The NYCC digital ticket gives you access to all of the filmed panels from New York Comic Con 2022, as well as access to long-form interviews and original reporting from the Popverse editorial team. The Popverse annual membership does that for the entire year, and would include live video panels from the upcoming MCM London Comic Con, as well as next year's Emerald City Comic Con and C2E2.
Popverse filmed the entire conversation from the panes, with the companies hosting the panel black out the screenings, trailers, and new footage - as they intended for it to only be seen by those in attendance in the panel room.
Watch the Intentionally Blank panel with Brandon Sanderson and Dan Wells filmed at New York Comic Con 2022:
If you've enjoyed this coverage, please give Popverse a shoutout by tagging us @popversesays on Twitter, Instagram, or Facebook, or linking to us at www.thepopverse.com.
Having trouble viewing this video? Read our streaming/VOD FAQ to find the answers you need.
---
Get fully immersed in NYCC with Popverse's wall-to-wall coverage of the event. From filmed panels to backstage interviews, on-the-floor coverage, news, cosplay galleries, and more - we're tracking it all in Popverse's New York Comic Con 2022 round-up.