DC Studios is developing Watchmen and Crisis on Infinite Earths animated feature films
The movies adapting landmark comic books were announced at San Diego Comic Con 2023.
Watchmen and Crisis on Infinite Earths were two of the greatest superhero stories of the '80s, and as time has gone on they've become timeless entries in the great comic books of all time. And now, DC Studios is developing both as animated feature films.
In 2024, DC fans worldwide will get to experience cartoon adaptations of both Crisis on Infinite Earths and seminal graphic story Watchmen.
The announcement came after a screening of DC's latest animated feature, Justice League: Warworld. Fans were informed that, like Warworld, the animated Watchmen would be rated R. Considering the extremely mature themes in the graphic novel, that makes a lot of sense.
Though very little was teased regarding Justice League: Crisis on Infinite Earths, SDCC-goers did get a glimpse of the logos for both it and Watchmen. Take a look at those logos here: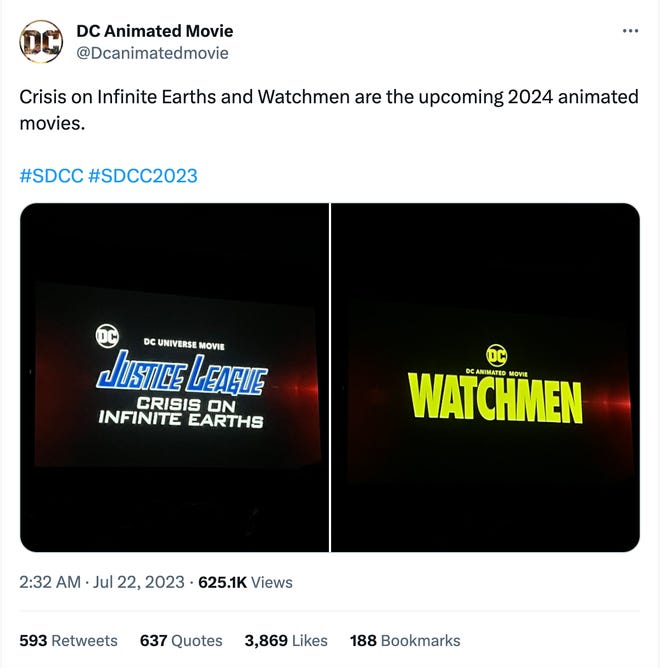 No official release date or cast have been announced for either of the projects, but panelists did reveal the movies were being made for home video release. This follows the pattern of several of DC's recent forays into animation, all of which begin by coming out on Blu-ray/DVD first and then heading to streaming service Max later.
Popverse saw it and did most of it, and you can find all about our guide to All the big news, magic, and moments from San Diego Comic-Con. And if you want to go to SDCC next year, we have the San Diego Comic-Con 2024 dates as well.
---
The animated Justice League: Crisis on Infinite Earths and Watchmen join the ever-growing list of upcoming superhero movies.