What to watch: Best movies to stream in April 2023, one movie one streamer
Great movies to watch on streaming in April
We've all sat down at the end of a long day and opened a streaming app, scrolling for something to watch… and scrolling… and scrolling… only to realize that half an hour has passed, and our pizza has gotten cold.
Well, Popverse has got a solution for you.
Each month, we're going to suggest one movie per major streaming service. These movies will be curated on no other qualification other than the fact that they're simply worth watching. Hopefully, this list will provide enough recommendations that you'll never have to click aimlessly through a streamer's endless library again.
What movie should I watch on Netlfix – Pinocchio
Genre: Animation/Adventure/Drama
I'm hesitating to call Pinocchio Guillermo del Toro's masterpiece, because I think that could be said about a few of his films, but Pinocchio is an extraordinary achievement not only in animation (the stop motion work is nothing short of extraordinary) but also in storytelling. In Pinocchio, del Toro dives again into the dangers of fascism, but also extends the conversation to the dangers of its twin, obedience.
A few months ago, I recommended Matilda to watch on Netflix, and in a lot of ways these two movies and their conversations about rebellion are in conversation with each other. They'd make a great double feature.
What movie should I watch on Amazon Prime – Sound of Metal
Genre: Drama
Sound of Metal is a thrilling movie with Riz Ahmed performing at the top of his game. The film tells the story of a drummer who, almost overnight, loses his hearing, and how that impacts not just his life but also his identity. The film is intense and beautifully wrought, but it's really held together by stellar performances from Ahmed, Paul Raci, and Olivia Cooke. This was my favorite movie of 2020, and it is definitely worth a watch if you haven't seen it yet.
If you don't have Amazon Prime, Sound of Metal is available for rent and purchase.
The Lord of the Rings has been back in the news lately, since Warner Bros Discovery CEO David Zaslav announced that WBD has plans to make new Lord of the Rings adpations. So, it's the perfect time to revisit the classic Peter Jackson Lord of the Rings movies, starting with the movie I consider to the best of the three (hot take, I know), The Fellowship of the Ring, a love letter to adventure.
Genre: Adventure
If you don't have HBO Max,
Fellowship of the Ring
is available for rent and purchase.
What movie should I watch on Hulu – Rosaline
Genre: Romance/Period Drama
It seems to be the era is classic story retellings from the points of view of supporting characters, and Rosaline is a pretty decent example of this trend, this time with Romeo & Juliet. Kaitlyn Dever (Booksmart) stars as Rosaline, a plucky young woman who turns to scheming after she is spurned by her flighty boyfriend Romeo. Rosaline isn't groundbreaking in any way, but it is certainly enjoyable enough to put on when you feel like watching a romantic comedy.
What movie should I watch on Disney+ - Ratatouille
Genre: Animated
Is there a better film about the art of making art than Ratatouille? I don't know if there is. There certainly isn't one more that is accessible to all ages. Ratatoille has become a bit of a meme in the past few years, with the Tiktok musical and such, but it is a movie that holds up, not just in its animation but also in its heart and its central argument for art and the beauty of art (though I don't agree with what it says about critics).
If you don't have Disney+,
Ratatouille
is available for rent and purchase.
What movie should I watch on Peacock – Shadow of a Doubt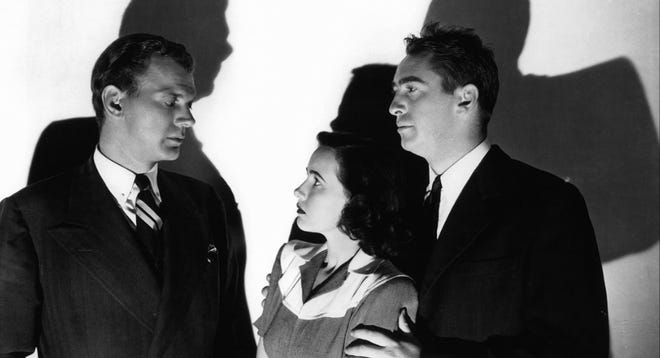 Genre: Horror
I have a deep love of Joseph Cotten, who is probably best known for his role as Jebediah in Citizen Kane. In Hitchcock's Shadow of a Doubt, Cotten takes on a more sinister role, using his charm for evil. Cotten is legitimately scary in this movie, and Hitchcock, the master of suspense, is masterful in deciding exactly how much evil we get to see at any one time, building our dread and shock at the lengths someone might go to protect the reputation that he's built.
If you don't have Peacock,
Shadow of a Doubt
is available for rent and purchase.
What movie should I watch on Kanopy – The Wedding Banquet
Genre: Romantic Comedy/LGBT
Ang Lee is the kind of director who has never really stuck to a single genre or style. In The Wedding Banquet, Lee does his take on a wedding dramedy of errors, as a long term gay couple Gao and Simon attempting to convince Gao's parents that he is marrying a female friend, to solve the friend's green card problem, and Gao's problem of his parents always trying to get them married.
The Wedding Banquet is a movie about family, expectations, and the frustrations and pain of hiding and how that can effect your relationships and even who you are. The real stars of this film are Gua Ah-leh and Lung Sihung, the actors who play the two parents, who turn in two very different, very touching performances that bubble up in unexpected ways to remind you that people arne't always what they seem.
If you don't have Kanopy (though check with your library), The Wedding Banquet is available for rent and purchase.
---
Mark Ruffalo chats the original Avengers: Infinity War ending on the ECCC 2023's Main Stage.