X-Men '97: Everything we know about the animated Disney+ series so far
Here's everything we know about the highly anticipated revival of X-Men: The Animated Series.
To me, my X-Men '97! For True Believers of a certain age, there are few upcoming onscreen Marvel projects more exciting than the highly anticipated revival of the 1990s show X-Men: The Animated Series.
Are you curious about the show's release window, cast and everything else we know so far? Read on to learn all this and more!
How does X-Men '97 relate to X-Men: The Animated Series?
The cult classic X-Men: TAS debuted on Halloween night in 1992 and ran for five seasons, until 1997. However, when it was canceled, there were still ongoing storylines that had yet to be resolved.
X-Men '97 aims to rectify this by reviving the series and continuing the story right where it left off.
Who is in the X-Men '97 cast?
Many of favorite voice actors are returning for X-Men '97! However, these weren't roles weren't guaranteed. In fact, each of these actors had to audition for their parts.
X-Men '97 will feature:
Ray Chase as Cyclops
Jennifer Hale as Jean Grey
Lenore Zann as Rogue
George Buza as Beast
Holly Chou as Jubilee
Christopher Britton as Mister Sinister
Alison Sealy-Smith as Storm
Cal Dodd as Wolverine
A. J. LoCascio as Gambit
Matthew Waterson as Magneto
Gui Agustini as Sunspot
Four additional original series cast members will also be appearing on the series, but in new and undisclosed roles. These are:
Catherine Disher
Chris Potter
Adrian Hough
Alyson Court
Is there a X-Men '97 poster?
No poster has yet been released for X-Men '97. However, Disney+ did release an offical promotional image based on the "Sad Wolverine" meme spawned by X-Men: TAS. Feel free to print it out and frame it if you need something to gaze longly towards while you wait for the show to be released. I know that's my plan!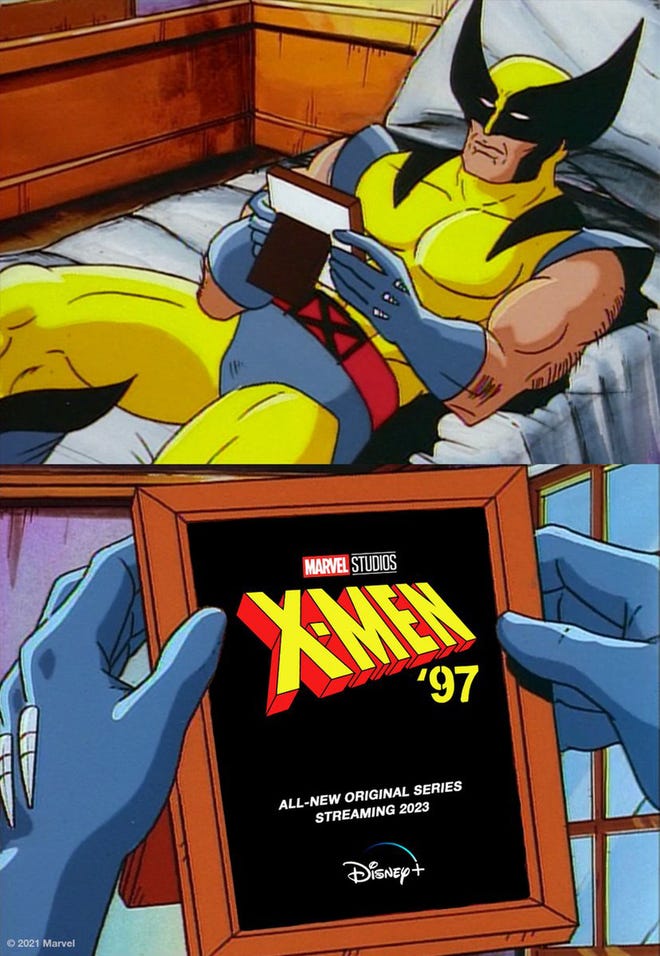 Is there a X-Men '97 trailer?
No trailer has yet to be released for X-Men '97. However, some footage was shared with attendees of the Designing the X-Men panel at San Diego Comic Con 2023. While we can't share that footage with you, you can read about it in detail here.
Is there a X-Men '97 synopsis?
Here's what we have in terms of an official synopsis about the series, revealed at the Marvel Unlimted X-Men: 60 Uncanny Years virtual event in March 2023. But be forewarned: this is hardly Cerebro-class detail.
"Storm and Wolverine try to continue the X-Men. Magneto comes in and wants to step up for Charles Xavier. Sinister comes in to try to end the X-Men once and for all."
Have any spoilers been revealed for X-Men '97?
Yes, it is possible that some spoilers for X-Men '97 were revealed by a New York Comic Con 2023 convention exclusive Funko Pop. However, not many official details about the show's plot have been revealed so far.
To avoid ruining the surprise for anyone who might not want to know about this spoiler in advance, we won't talk about that here. However, you can learn more about this possible spoiler by clicking here.
When and where can I watch X-Men '97?
Currently, X-Men '97 is slated for release on Disney+ in 2024. While the show was originally scheduled for release in 2023, it has subsequently been delayed.
---
Still not enough X-Men: TAS for you? Read all about the legendary X-Men: TAS theme song by clicking here!