Netflix's Yu Yu Hakusho live-action series looks action-heavy but too serious in its first trailer
Don't leave the comedy behind!
Netflix's Geeked Week 2023 has brought us tons of news about exciting new additions to the streamer's ever-growing library of geeky shows and movies. Among the biggest was the first-ever trailer for Netflix's live-action series based on the popular Yu Yu Hakusho manga. Before we get into all the details, you can watch it below:
Yu Yu Hakusho was born as a Japanese manga series written and illustrated by Yoshihiro Togashi. It tells the story of Yusuke Urameshi, a teenage delinquent who is one day struck and killed by a car while attempting to save a child's life. Koenma, the son of the ruler of the afterlife Underworld, presents him a series of tests that he passes, and Yusuke is then revived in exchange for becoming an "Underworld Detective" who investigates demons and apparitions in the Human World. What comes next is an adventure full of mystery, martial arts, and even some spookiness.
However, most Yu Yu Hakusho fans looking forward to this live-action adaptation might come from Fuji Television's renowned 112-episode anime series instead. It aired originally in the early 1990s and later became a huge hit in North America in 2001, airing on cartoon blocks such as Adult Swim and Toonami. The mix of charming characters, martial arts-heavy action, and comedy has been praised over the years, and while this first look at the live-action series gets the action right, it also looks a bit too serious. Mind you, it could just be a trailer cut to appeal to a wider range of viewers, but some fans are understandably worried.
After One Piece earned the trust of both anime/manga fans and casual audiences earlier this year, Netflix could hit it big with shows like Avatar: The Last Airbender and Yu Yu Hakusho if the quality delivers. The latter could be an easy win, as the source material isn't the hardest to adapt, but considering how funny the manga and anime were, let's hope not too many of the lighter bits have been put aside.
Netflix also a released a teaser poster alongside the first trailer. Check it out below: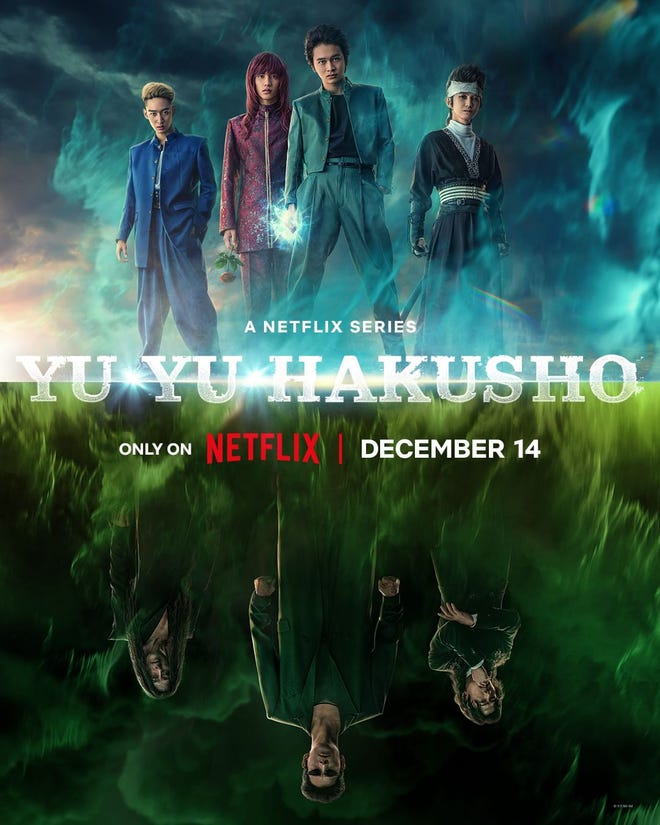 The cast includes Takumi Kitamura, Jun Shison, Kanata Hongo, Shuhei Uesugi, Kenichi Takito, Goro Inagaki, and Go Ayano. The series was directed by Sho Tsukikawa and written by Tatsuro Mishima.
---
Want to know what's coming up next in pop culture? Check out our guides to upcoming movies, upcoming TV shows, upcoming comics, and upcoming comic conventions. If you're looking for specific franchises or genres, we have all the upcoming MCU, upcoming Star Wars, upcoming Star Trek, and upcoming DC movies & TV for you. If you're a fan of superheroes and not specific to just Marvel or DC, we have overall guides to all the upcoming superhero movies and upcoming superhero TV shows (and new seasons) as well.