Chuck E. Cheese's CEO (and Mr. Munch) is flattered by comparisons of Five Nights of Fun event to Five Nights at Freddy's
Nothing to see here. Just a bunch of totally different creepy animatronics having fun for the whole family.
Last week, we found out about Chuck E. Cheese's cheeky upcoming event Five Nights of Fun. Given its suspicious proximity (October 9-13) to the upcoming Five Nights at Freddy's movie adaptation (October 27) and the fact Chuck E. Cheese was actually a major inspiration for the famous video game (now transmedia) franchise, the Internet has been talking aloud about what will ultimately feel like a parody event.
Of course, the folks at Chuck E. Cheese have skillfully tiptoed around any Five Nights at Freddy's connections and potential copyright infringements, which only makes the brief marketing campaign and the upcoming event even funnier. Furthermore, the official Five Nights of Fun poster is designed like a classic movie poster, so you be the judge.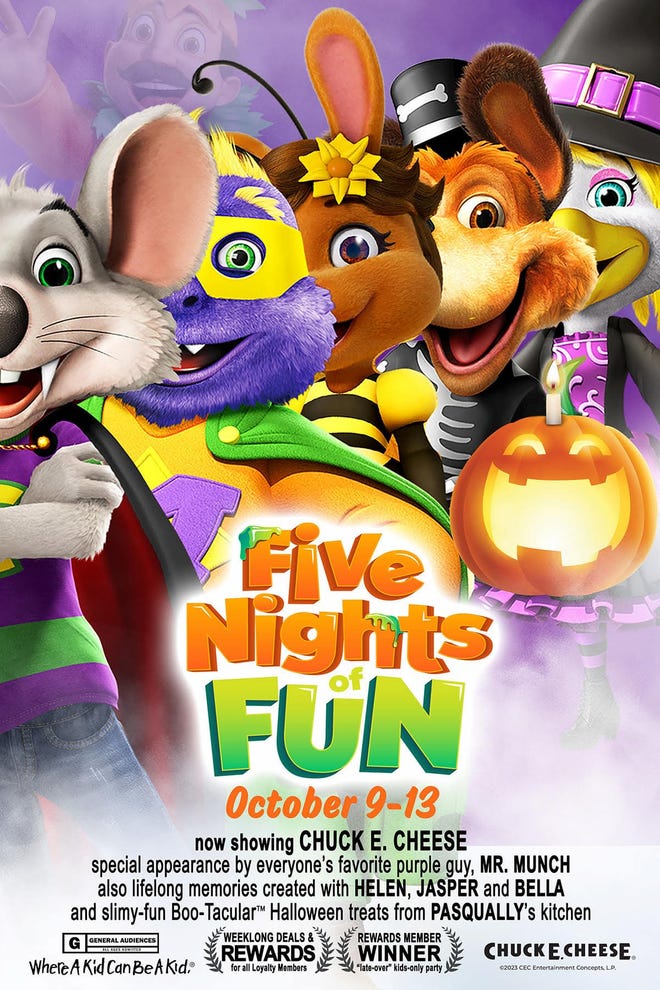 Following all the madness over the weekend, we were lucky enough to get a comment from Chuck E. Cheese's CEO David McKillips: "Chuck E. Cheese inspiring parodies -- and even full length feature films – means we are still a mainstay in the cultural zeitgeist. Imitation is the sincerest form of flattery, and we wanted in on the fun this Halloween during our annual Boo-Tacular event. But of course, as with everything Chuck E. Cheese, we kept it PG and fun for the whole family. Our focus is everyday fun – this just happens to be Five Nights in a row! And the original purple guy, Mr. Munch is super excited!"
As you can see, any resemblance to the long-anticipated Five Nights at Freddy's movie is pure coincidence, and we're totally freaking out over nothing. By the way, remember when Chuck E. Cheese straight-up said they were looking into developing an animated TV show and a live-action movie? Must've been the wind...
---
The Five Nights at Freddy's phenomenon is lasting longer than five nights. Get up to speed, with how to stream the movie, details on the characters and lore, getting to know the FNAF animatronics, how it fits in the canon of the games, talks of sequels, how Chuck E. Cheese is responding, and even a guide to how to play all the FNAF games.
'
Can't get enough? We have have recommendations for five movies to watch after Five Nights at Freddy's.