"Everyone working in comics actually wants this industry to work": Read ComicsPRO president Jenn Haines' opening keynote address to 2023 gathering
The comic book retailer organization's annual meeting is happening right now in Philadelphia
As you read this, the 2023 meeting of ComicsPRO is taking place in Pittsburgh, Pennsylvania. For those who aren't familiar with ComicsPRO, it's a trade organization specifically created for comic book retailers working in the direct market system, with a focus on advocacy for and promotion of the comic book industry, and specifically the independent retailers inside the direct market itself.
Recently, the group has scored some specific victories for retailers, including recently pushing Diamond Comic Distributors to offer increased freight discounts to retailers beginning in April, and Penguin Random House changing both their website and shipping practices to meet store owners' expectations.
This year's meeting is the first time the group's members have managed to meet in person since 2020, due to the COVID pandemic; the schedule for the three-day event, which runs through Saturday, includes presentations from publishers (including announcements of new projects), as well as forums for discussion of shared problems and the opportunity for retailers to network with both fellow retailers as well as vendors.
The event is closed to the public, but Popverse can exclusive share the opening keynote speech to the event delivered Thursday morning by ComicsPRO president (and Will Eisner Spirit of Retailing Award winner) Jenn Haines.
---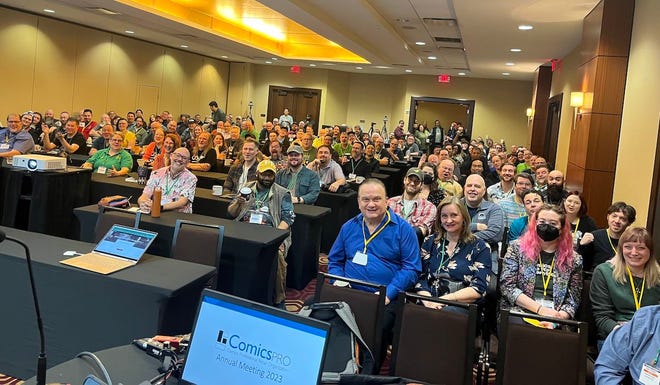 Wow… it is just SO great to be back together again, to see so many familiar faces, and to meet some people I've only ever met virtually. It's been disorienting and disconnecting for us to be apart for so long. Sometimes it makes us forget that we're all in this together.
This last year especially felt like a weird one, and that's saying a lot considering the two years before it were pretty damn weird. But, this one felt extra weird because it felt like it was supposed to be easier, sales seemed to be up, but there was so much more work required to get everything done, and so many more moving parts to connect. As an industry it didn't feel like anything really moved forward in a significant way. I certainly look back on this year and think… what on earth did we do? The thing is, we didn't really solve any big problems this year, but we did move all the problems forward at least a little bit.
We took your concerns to publishers and distributors when they were raised and tried to get answers when answers were available.
We had regular meetings with [Penguin Random House] to work on improving the functionality you have been asking for and to illuminate your packaging concerns.
We were in regular contact with Diamond, to make sure your concerns around shipping, software, and other issues were heard.
We talked with Lunar throughout the year, addressing retailer concerns, and attended the Day with Lunar at C2E2 as an exhibitor to spread the word to more retailers about what we do.
We hosted a webinar with Universal so they could answer your questions about their distribution plans.
We hosted multiple small group sessions between members and DC to brainstorm marketing and publishing strategies.
We hosted a [Comic Book Legal Defense Fund] workshop on ADA Compliance.
We hosted webinars with IDW to discuss upcoming projects.
We ran the Symposium on Kids YA Comics and Graphic Novels, bringing together retailers, publishers, distributors, creators, and librarians to understand this unique segment of the market.
We ran a webinar on Best Strategies for Ordering Manga.
We ran programming at San Diego Comic-Con as well as our annual panel, "So You Want to be a Comic Retailer?"
We attended the Diamond Retailer Summit in Baltimore, sharing the information presented with the membership.
We worked on further investigating data concerns in an attempt to find ways to be able to come together as an industry and forge a common path forward. This is a big part of what we'll be focusing on in the year to come, with key conversations happening here as a launch for change.
And when I write it all down, well, maybe we really did do a lot.
What I didn't do a lot of this year was coffee chats. I promise I'm going to bring those back in 2023, because I think any face to face connection, even over Zoom is so important to remind us that we're all in this together.
At the moment:
We are in the midst of refining our Facebook community to only include current members, developing a new member package for the upcoming year, and creating a retention strategy for lapsed members. We really want to work on increasing membership this year. To that end, if you know a store that could benefit from joining us, we have postcards at the registration desk that you can take to give to them.
We are working on a by-laws edit to bring our by-laws up to date and current practice.
And we are prioritizing finding solutions for data problems.
And of course, we are in ongoing conversations with each of our industry partners, about issues, big and small. In fact, some of those ongoing conversations are going to result in announcements at this very event that are the direct result of the advocacy work we have done this year on your behalf.
Last year, I was incredibly honored to present the keynote speech. At the time, I thought, perhaps naively, that it might have had a more positive impact on how people were treating each other in the industry. Today, I want to reiterate a couple of key points from that keynote.
Everyone working in comics actually wants this industry to work. Otherwise, they'd be out of a job. And honestly, working in this industry is so hard, especially right now, that none of us would be doing it if it wasn't a labour of love. That doesn't just go for retailers, but for publishers and distributors too.
I want to remind you that we all went through a pretty wild ride over the last few years. We ALL went through it. We all saw some things, experienced stresses and lows that we didn't know existed. Everyone in this room is going through something right now that you don't know about. You can choose to add to whatever burden they're carrying or not to. It's really that simple. Treat each other as you'd like to be treated.
I know we as a group have so much we can accomplish when we work together. This meeting is an unprecedented opportunity to continue our conversations with publishers and distributors, to increase our understanding, to brainstorm ideas, and to find solutions, or at least find a path forward toward those solutions.
There are more retailers and more vendors here than at any other meeting in ComicsPRO history. And this is the only time so many players in the comics industry will be together this year, focusing on the business of comics. Honestly, that's all due to Marco's hard work. He has done an absolutely exceptional job putting together this meeting, and that deserves a serious round of applause!
Use your time here to help understand this era of change, to learn from other retailers, to brainstorm solutions for your store's unique problems, to add your voice to the discussions around global problems, and to be inspired for the next step in your store's existence. We all may have different stores, but we share many of the same struggles, and more importantly, we all share a passion to create a strong and robust comics industry.
Thank you all for taking the time to come here this week and add your voice to the conversation and help us accomplish our goals as an organization and an industry. I know it's not easy to leave your stores, but man, is this ever going to be worth it.
---
Popverse covered the current status quo of comic book retailing late last year.