Eat like you're terrified with the Five Nights at Freddy's Cookbook
Jump scares not included.
Running for your life while locked inside an arcade filled with murderous animatronic puppets can really work up an appetite. Fortunately, Scholastic Books, the company that fuelled our childhood reading obsession, has come out with the perfect cookbook for the jump-scare addict in all of us. The Five Nights at Freddy's Cookbook is here just in time to cater your watch party of the new live-action film when it drops on Peacock later this week.
A cookbook based on a video game series might seem odd but it isn't as random as some other gaming tie-in merchandise that we've seen. Many of the games take place in Freddy Fazbear's Pizza, so there is a certain amount of logic to letting fans recreate the menu of that fictional establishment. Considering that Chuck E. Cheese is practically trying to recreate the events of the games on their premises, a Five Nights at Freddy's Cookbook sounds positively tame by comparison.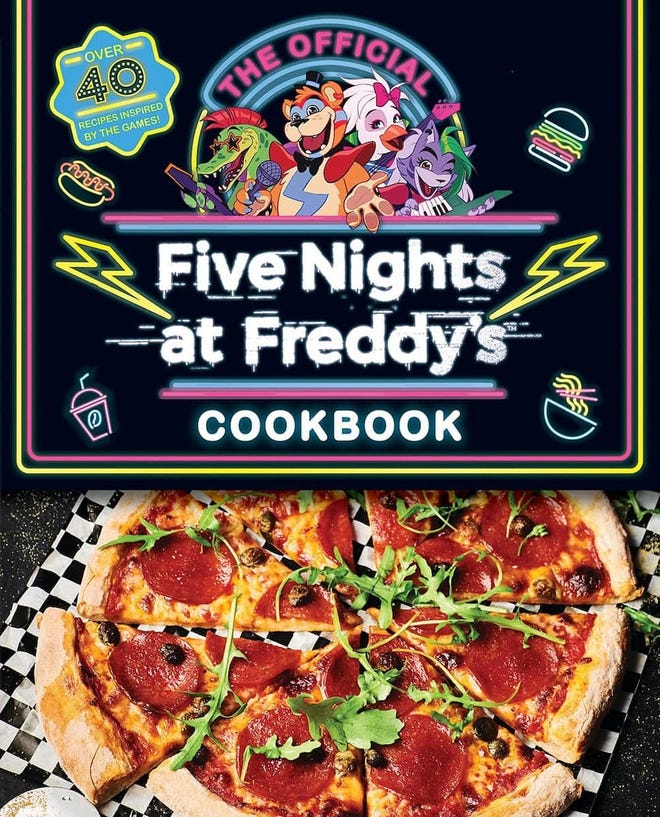 The book features over 40 recipes that are inspired by the American diner cuisine we could all imagine being served at Freddy Fazbear's Pizza when it wasn't mostly known for haunting our nightmares. The food seems to be divided into sections themed around the animatronic killers in the game, including:
Freddy Fazbear's Pizza
Bonnie's Burgers & Subs
Chica's Chicken Choices
Foxy's Pork Plates
Glamrock Freddy's Faves & Classic Dishes
Glamrock Chica's Breakfast Best
Roxanne Wolf's Sweet Things
Montgomery Gator's Beverages
The Five Nights at Freddy's Cookbook has been in the works since 2020, when series creator Scott Cawthorn spotted the idea on the series' subreddit and followed up with an email to Scholastic. More than three years later and now we all can eat like a night security guard at the world's most terrifying pizzeria.
---
The Five Nights at Freddy's phenomenon is lasting longer than five nights. Get up to speed, with how to stream the movie, details on the characters and lore, getting to know the FNAF animatronics, how it fits in the canon of the games, talks of sequels, how Chuck E. Cheese is responding, and even a guide to how to play all the FNAF games.
'
Can't get enough? We have have recommendations for five movies to watch after Five Nights at Freddy's.