Five Nights at Freddy's streaming on Peacock one day early: When and how to watch it
Freddy Fazbear & co. might scare audiences earlier than anticipated.
In a surprise move, Universal and Blumhouse have slightly changed the Five Nights at Freddy's streaming plans, and are now planning to release the movie adaptation one day earlier than originally announced on Peacock, NBCUniversal's streaming platform.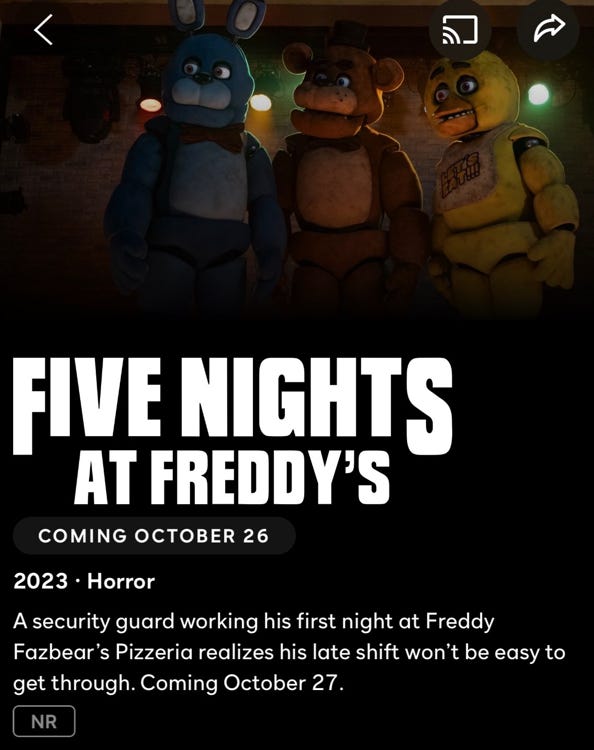 The unexpected news weren't officially announced; Peacock users simply noticed the change on the platform (see the image to the right). It's not the first time a major wide release gets a last-minute release date change like this one, but this one's a risky bet if we take into account the "piracy element" and all the talk surrounding the adaptation. By the time the movie hits theaters in the States on October 27, many fans worldwide will have already seen it one way or another.
Mind you, the decision to embrace day-and-date for a $25-million horror flick with the potential to dominate the box office until The Marvels arrives on November 10 has been heavily criticized by those defending a more traditional, "theatrical first" distribution model, but Universal clearly wants to bolster its streaming numbers as well.
When is the Five Nights at Freddy's release date for theaters?
Veteran FNAF fans and moviegoers will have to wait for October 27 to get a spooky theatrical experience (unless they're attending Thursday night's previews on the 26th).
When is the Five Nights at Freddy's release date on Peacock?
Viewers in the US can start watching Blumhouse and Universal's new scary movie on Peacock starting at 8 p.m. ET on October 26. You can sign up in advance if you haven't already and add it to your watchlist though. Also: Insomnia Cookie's Freddy Fazbear's Cookie Pizza might be the perfect sugary treat for a late-night watch.
---
While you wait for Five Nights at Freddy's, there are plenty of exciting movies coming soon to cinemas as well as streaming, and you can find them all in
our up-to-date guide
.