Five Nights at Freddy's timeline: The horror games' in-universe chronology and history explained
Five Nights at Freddy's is packed with fan-favorite lore. Here's how the story plays out chronologically
The enormously successful horror game franchise Five Nights at Freddy's hits the silver screen with a live-action adaptation this year, bringing the tale of haunted animatronics stalking pizzerias to cinematic audiences. With eight games currently set within the franchise's established canon, there is plenty of lore to draw from, with the overarching narrative filled in by clues and ancillary material found in the games themselves. The story spans over 40 years, with different characters scrambling to survive the relentless animatronics as they awaken each next to claim fresh victims foolish enough to be locked inside the pizzeria with them.
With the games told largely out of chronological order and details about the story easy to miss amidst the survival horror stakes, here's how the Five Nights at Freddy's timeline unfolds across each of the games in the series.
1983: The Bite of '83 (Five Nights at Freddy's 4/Freddy Fazbear's Pizzeria Simulator)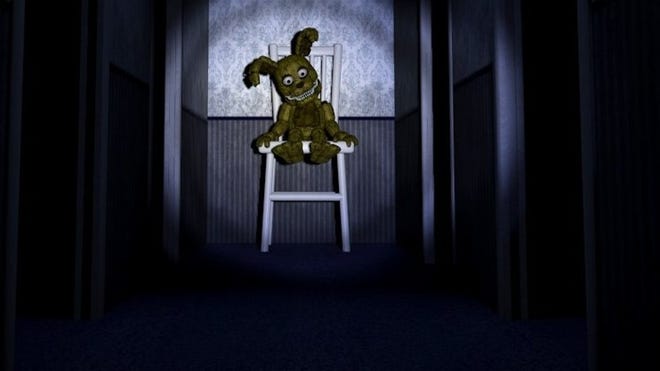 Entrepreneur and inventor William Afton and his business partner Henry Emily open up a pizzeria and entertainment center called Freddy Fazbear's Pizzeria. Freddy himself is an animatronic of a large bear who heads an in-house band of other animatronics to play for customers. One day, Afton's son Mike accidentally kills his little brother Evan with a cruel prank gone wrong when one of the animatronics crushes Evan's head in its gaping maw. Evan's deathbed visions form the story of Five Nights at Freddy's 4, with animated scenes filling the narrative.
The incident became known in the news as the Bite of '83, creating a notorious reputation surrounding the pizzeria. Afton, who designed and built the animatronics himself, went mad with grief over the loss of his son and became a twisted child serial killer. Afton's first victim was Henry's young daughter Charlotte, as revealed in interstitial animated sequences in Freddy Fazbear's Pizzeria Simulator.
1985: The haunting of Circus Baby's Entertainment & Rental (Five Nights at Freddy's: Sister Location)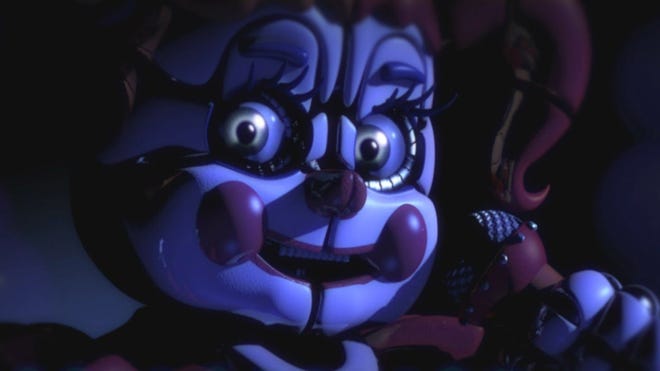 In 1985, Afton embarks on an all-out killing spree, murdering five children that year, luring them to him while wearing a purple Spring Bonnie costume. The choice in disguise earns Afton the nickname "Purple Man," as he grows bolder and more prolific with his crimes. Afton stuffs his victims' corpses in spare animatronics at the pizzeria, with customers later complaining about the strange odor emitting from them.
Afton expanded his business interests in 1985, opening up a second pizzeria location in the game Five Nights at Freddy's: Sister Location called Circus Baby's Pizza World. Embracing his murderous hobby, Afton designs and programs the Pizza World's animatronics specifically to down and murder anyone inside after-hours. Afton's daughter Elizabeth ignores her father's warnings about the animatronics and becomes the latest victim. She is followed shortly thereafter by her brother Mike, who is lured by the animatronics to the pizzeria and similarly murdered.
1987: The Bite of '87 (Five Nights at Freddy's 2)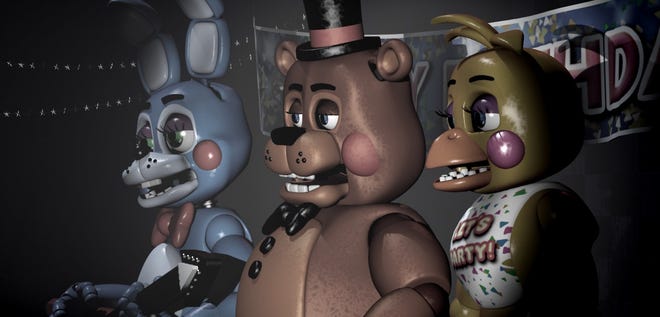 After losing his remaining children to his own creations, Afton closes Pizza World and sells the Freddy Fazbear license to a company that opens up its own pizzeria with the haunted animatronics. Afton now focuses entirely on his lethal habit, claiming five more victims in 1987 while hunting around the new pizzeria and stuffing them in different animatronics. This, in turn, leads to more animatronics being possessed by the restless spirits of Afton's victims who roam the halls of the pizzeria at night in search of their own prey.
This paranormal activity extends to regular business hours by the events of Five Nights at Freddy's 2, with a child's birthday on the premises turning into a nightmarish scene. During the party, a child is bitten by the cursed animatronic Foxy, with the media referring to the incident as the Bite of '87. Though the child fortunately survives the gruesome injury, the accident forces the pizzeria to undergo a temporary closure.
1993: The closure of Freddy Fazbear's Pizzeria (Five Nights at Freddy's)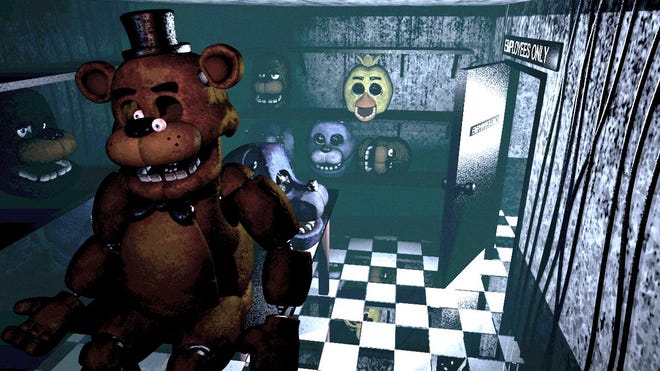 After an extensive renovation and reduction in animatronics, Freddy Fazbear's Pizzeria reopened in an effort to overcome its troubled history. The original Five Nights at Freddy's game is set in 1993, with a new night security guard named Mike Schmidt replacing one who was brutally killed by a Golden Freddy animatronic before him. Using taped messages from his late predecessor, Mike manages to survive for a full week evading the animatronics, but is eventually fired.
Unable to move beyond its infamous reputation and with guards killed by the animatronics after-hours, Freddy Fazbear's Pizzeria eventually closes for good. The animatronics fall into a state of disrepair but are still haunted by the spirits of Afton's victims. Afton himself resurfaces and sneaks into the pizzeria to recover some of his victims' remains, but is stuffed into a yellow Spring Bonnie animatronic and killed.
2023: The return of Springtrap (Five Nights at Freddy's 3/Freddy Fazbear's Pizzeria Simulator)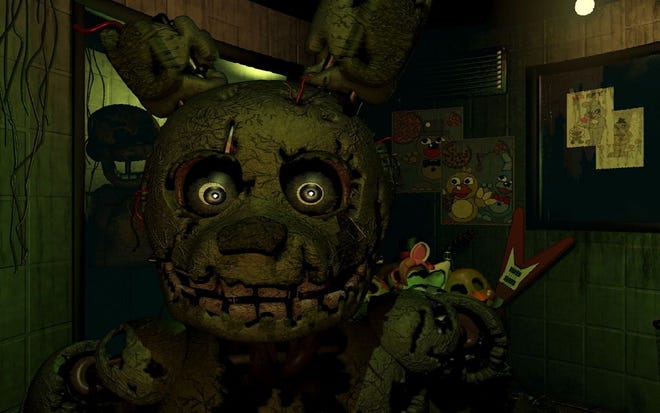 30 years after the closure of Freddy Fazbear's Pizzeria, the location and its animatronics are converted into the horror attraction Fazbear's Fright in Five Nights at Freddy's 3. The spirit of Afton possesses the Spring Bonnie animatronic, now bearing the nickname "Springtrap," and wanders through the pizzeria at night. After Springtrap tries to kill a new security guard, the pizzeria burns to the ground, though Springtrap manages to escape the blaze.
Despite these setbacks, Fazbear Entertainment expands into a full nationwide franchise of pizzerias and family fun centers. Freddy Fazbear's Pizzeria Simulator follows a prospective franchisee who learns the ropes of running a pizzeria in line with Fazbear Entertainment's corporate guidelines. While doing so, the player character is menaced by Springtrap and Circus Baby, along with several other familiar foes.
2023: A scares turn digital (Five Nights at Freddy's: Help Wanted)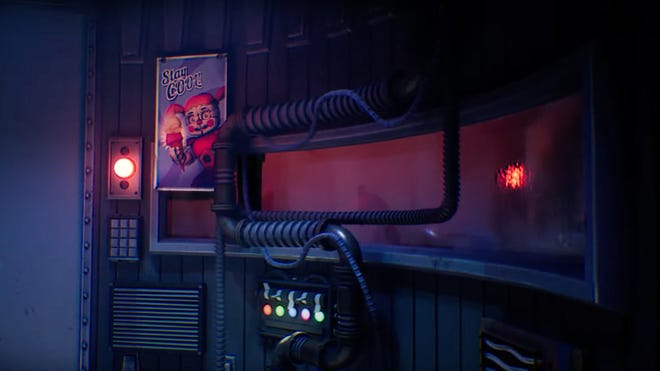 No longer just franchising pizzerias, Fazbear Entertainment decides to expand into the video game industry and hires a contractor to digitally capture the brand's history. Taking place in Five Nights at Freddy's: Help Wanted, the developer crafts virtual reality environments based on each of the previous games in the series. Even within the bounds of cyberspace, however, the haunted animatronics are just as deadly as the developer quickly finds out.
Help Wanted takes place some time shortly after the events of Five Nights at Freddy's 3 and the destruction of Fazbear's Fright and the expansive push from Fazbear Entertainment in Freddy Fazbear's Pizzeria Simulator. A direct sequel to Help Wanted has since been announced, aptly titled Five Nights at Freddy's: Help Wanted 2, set for release in 2023. There is no current indicator of much later Help Wanted 2 takes place after the events of its predecessor.
2024: Nightmare in Freddy Fazbear's Mega Pizzaplex (Five Nights at Freddy's: Security Breach)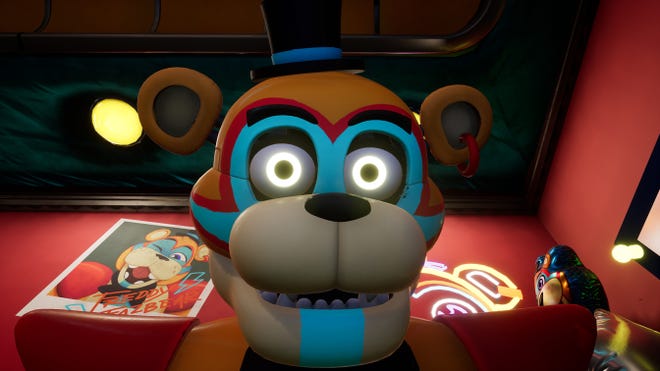 No longer relying on smaller pizzerias, Fazbear Entertainment escalates its on-site operations to an ambitious full-scale location with Freddy Fazbear's Mega Pizzaplex. Introduced in Five Nights at Freddy's: Security Breach, the Pizzaplex is attached to the mall and is a multi-level installation boasting a small army of animatronics and a variety of attractions. Set after the events of Help Wanted, with the wreckage of the past pizzeria explored, the game follows a child named Gregory who is trapped in the Pizzaplex one harrowing night.
The DLC epilogue to Security Breach takes place later, with Gregory's friend Cassie investigating the Pizzaplex after receiving a phone call from Gregory asking for her help. Cassie has her own horror-fueled night trying to survive inside the entertainment center, confronting the animatronics herself. Gregory barely survives his ordeal, with Cassie's fate left more ambiguous after Cassie's car crashes.
---
The Five Nights at Freddy's phenomenon is lasting longer than five nights. Get up to speed, with how to stream the movie, details on the characters and lore, getting to know the FNAF animatronics, how it fits in the canon of the games, talks of sequels, how Chuck E. Cheese is responding, and even a guide to how to play all the FNAF games.
'
Can't get enough? We have have recommendations for five movies to watch after Five Nights at Freddy's.