Image Comics ditches Diamond for Lunar to get its comics into comic shops after a 25+ year relationship
Starting this September, Lunar will be the exclusive distributor of Image's single issues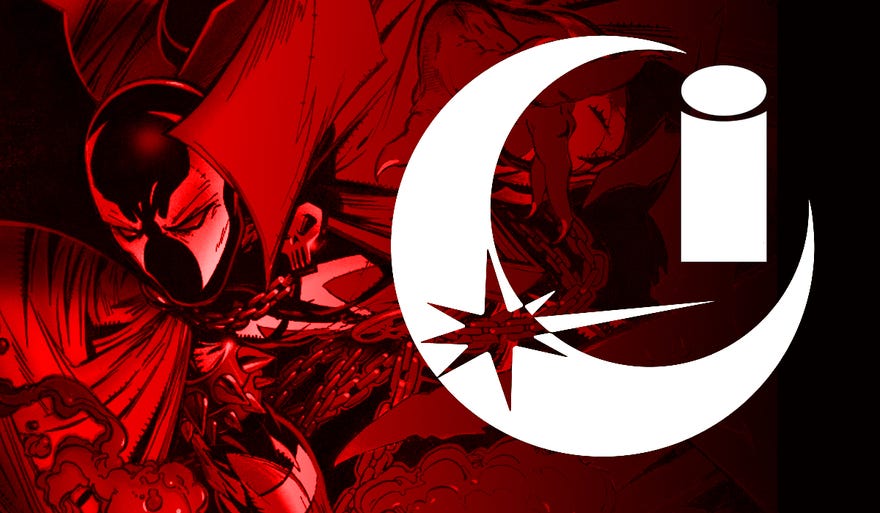 In a move sure to cause surprise throughout the comic book industry, Image Comics — the third largest single-issue comic book publisher in the North American market, after Marvel and DC — has announced that it has signed a worldwide exclusive distribution deal for comic store distribution with Lunar Distribution, to take effect this fall.
What does this mean for Image Comics customers?
The new deal — which specifically covers distribution to the comic store 'direct market,' as opposed to digital, bookstores, and other outlets — means that, for the first time in the publisher's existence, single issues will not be carried directly by Diamond Comic Distributors, which has been Image's exclusive distribution partner since April 1995. Instead, Lunar, which has been DC's primary distribution partner to North American comic book stores since 2021, will take over all duties relating to the ordering and shipping of single issues and collected editions to comic stores inside the United States as well as internationally. The changeover will happen effective with Image's September releases, which will open for retailer orders on June 14.
"We are thrilled to announce our exclusive worldwide distribution deal with Image Comics," says Lunar co-owner Christina Merkler in a statement accompanying the news. "We are constantly seeking innovative ways to expand our reach and bring exceptional content to our retail accounts around the world. This partnership will allow us to further expand our offerings and provide unparalleled access to the most exciting and sought-after titles in the industry. We look forward to working closely with Image and continuing to provide top-notch service to our Direct Market accounts."
This is just the latest in a line of changes in comic store distribution in the past few years, beginning with DC's move away from Diamond towards two newly created distributors in April 2020 — one of which was Lunar, which has since become DC's main North American distributor. (DC also distributes worldwide through Universal Distribution, an agreement that was announced back in September last year.)
Following DC's lead, Marvel was the next big publisher to split with Diamond after decades of exclusivity, with the company signing an exclusive worldwide deal with Penguin Random House Publisher Services in March 2021. IDW Publishing and Dark Horse followed Marvel, with the latter announcing a deal last year that takes effect June 1, 2023. News of Image's new exclusive deal with Lunar means that Diamond Comic Distribution will have lost all five of the so-called 'Big 5' publishers in the American comic book industry in the space of just three years.
"First and foremost we want to thank Steve Geppi, Chuck Parker, and everyone at Diamond for their ongoing service and all that they've done for Image over the years. For over three decades, they have been at our side, supporting our books from the moment we founded our company back in 1992," adds Todd McFarlane, Image founder and president, in a statement provided by the publisher. "Every Image comic published, since our inception in '92, has been distributed to thousands of retail outlets by Diamond, and they have played a very important role in our company's evolution."
So has Image Comics cut ties with Diamond entirely?
There's an interesting quote from Image Comics publisher/co-owner Eric Stephenson in today's announcement: "This is a big change, but we will still be working with Diamond in other capacities and look forward to maintaining those relationships with the Diamond team for years to come."
Given that the headline is that Image has signed an exclusive deal with Lunar Distribution, it's fair to ask just how the publisher is going to continue to work with Diamond… and the answer lies in bookstores. Despite the new deal with Lunar, Image Comics will continue to partner with Diamond Book Distributors for the bookstore market moving forward, the publisher has confirmed to Popverse. What that means is, essentially, that any product that is offered to bookstores — collected editions, omnibuses, box sets and the like — will still be available through DBS, which is owned by Geppi Family Enterprises, the owner of Diamond Comic Distributors.
Yes, it's a little confusing. The takeaway for fans should be this: Image Comics single issues will be distributed to comic stores only through Lunar Distribution, although Diamond will act as a wholesaler, reselling stock purchased from Lunar. Image collected editions will be available through Lunar and Diamond, assuming that the retailer in question has an account with Diamond Book Distributors, which many do. Why is the choice of distributor important in the latter? To the customer, the answer might be that it isn't — these books are released with recommended retail prices, after all — but to retailers, the choice of distributor can impact potential discounts and shipping costs, and make a big effect on their bottom line.
What does Diamond have to say about the new arrangement?
Diamond founder and owner Steve Geppi released a statement in response to today's announcement, which reads, "Over the past 30 years, Diamond's collaboration with Image has been a source of inspiration and motivation. We have cherished the opportunity to work closely with such a remarkable group, sharing goals, dreams, and overcoming challenges together. While their announcement today marks a new chapter in our partnership, I am delighted that Diamond will continue to play a vital role as a key source for Image Comics to the Direct Market.
"I would like to express my gratitude to Image for the trust and support they placed in us throughout our partnership. Our team has worked diligently to provide exceptional products, service, and exceed expectations.
"As always, we remain passionate about what we do and dedicated to delivering excellence for the Direct Market and our partners. Our resolve to provide innovative solutions and exceptional service remains stronger than ever."
What is Lunar Distribution?
Lunar might be a relatively new distributor, but it has institutional experience stretching back further than Lunar's 2020 origins thanks to its sibling company DCBS. That company — founded and owned by Lunar's Christina Merkler and Cameron Merkler — has been selling comics since 1999, has its own history with Image Comics; the two partnered for Image's subscription service Image Direct from 2016 through the service's closure in 2019.
Popverse spoke to DCBS and Lunar co-founder and co-owner Christina Merkler earlier this year, in which she spoke about multiple topics, including how Lunar has benefited from her experience at DCBS across the years — although, as she made a point to emphasize, the two companies are intentionally kept separate to avoid complaints from retailers about favoritism.
In that interview, Merkler said that her ambition for Lunar is, simply, "being the best. It's not being the biggest necessarily. Because there's a difference between being number one and being the biggest. We want to be number one. We want, when someone says, 'Who's the best distributor you get your comics from?' We want it to be Lunar. Hands down."
With the addition of Image to its ranks — meaning that Lunar now has exclusive distribution of two of the three largest comic book publishers in the U.S. market — the company has taken one step closer to achieving that goal.
---
Read up on what's been going on in comic book distribution in the past three years.