Everything we know about Jujutsu Kaisen season 2: Release date, trailer and more
The popular Shonen Jump anime is making a return in 2023.
Jujutsu Kaisen is one of the most popular anime of recent years. The dark fantasy Shonen Jump show burst onto the scenes back in 2020 and quickly cemented MAPPA as one of the biggest anime studios right now.
And two years after the first season ended,Yuji, Satoro, and co are making a return with Jujutsu Kaisen season 2. The new season of Juju is one of the most hotly anticipated animes of 2023, but as recent history shows, season 2 runs can be where anime shows live or die (we're looking at you, The Promised Neverland).
But with so much great source material from the manga set to be adapted we're not worried about JJ suffering a similar fate. If you can't wait for Jujutsu Kaisen season 2 we've rounded up everything you need to know, including the confirmed release date, expected episode count and details on the latest trailer.
What is the Jujutsu Kaisen season 2 release date?
It has been confirmed that the Jujutsu Kaisen season 2 release date is Thursday, July 6, 2023 in Japan. It was announced towards the end of last year that Jujutsu Kaisen season 2 would debut in July 2023. Then, in March this year the exact release date was confirmed when a new trailer was released.
The release date for Jujutsu Kaisen season 2 outside of Japan has not been confirmed. However, given Crunchyroll airs season 1 and the movie, and reported on the Japanese release date, one could anticipate Crunchyroll aims to have season 2 up quickly for us outside of Japan.
What is the most recent trailer for Jujutsu Kaisen season 2?
A few teaser trailers have been released for Jujutsu Kaisen season 2, with the most recent one dropping towards the end of March 2023. This trailer debuted at the AnimeJapan expo and you can watch it below.
What is Jujutsu Kaisen season 2 about?
Trailers so far have revealed that Jujutsu Kaisen season 2 will reveal more about Satoru Gojo's backstory. Specifically, the Kaigyoku/Gyokusetsu Arc (which is also known as Gojo's Past Arc) will be adapted in Juju season 2.
This arc takes place in 2006 when Gojo is in his second year at Tokyo Jujutsu High.
Jujutsu Kaisen season 2 will also adapt the Shibuya Incident Arc. This epic arc, which takes place shortly after the ending of season 1, revolves around a plan to seal away Goto and is currently the longest arc in the Jujutsu Kaisen manga.
How many episodes is Jujutsu Kaisen season 2?
It has been confirmed that Jujutsu Kaisen season 2 will be two cours, and that it will run continuously for half a year without breaks.
This news was revealed on the official Jujutsu Kaisen website (via Anime News Network).
While an episode count hasn't been confirmed, the fact Juju season 2 will run for half a year suggests we could have a similar episode count to season 1 - 24 episodes.
Where can I watch Jujutsu Kaisen season 2?
It hasn't been confirmed where season 2 of Jujutsu Kaisen will air outside of Japan. But it seems likely that Crunchyroll will once again be the home of Juju. Crunchyroll streamed the first season of Jujutsu Kaisen and also has the Jujutsu Kaisen 0 movie in its library.
The first three episodes of Jujutsu Kaisen can be watched entirely for free, but supported with ads, on Crunchyroll. Simply head to the Jujutsu Kaisen Crunchyroll page and choose the episode you want to watch for free.
To watch the remainder of Juju and see the movie you'll have to sign up to a Crunchyroll Premium subscription which is priced from $7.99 a month. You'll need this membership tier to watch simulcast shows and access other popular series like Chainsaw Man, Demon Slayer season 3 and the final season of Attack on Titan.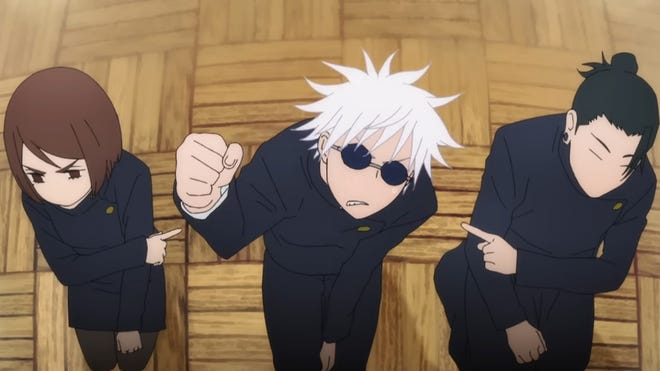 ---
Want to know more about the hottest animes launching in 2023? Checkout our page on everything we know about the final episode of Attack on Titan. We've also got handy guides on the Demon Slayer watch order, Naruto anime watch order and Attack on Titan watch order to help you get started with some of the most popular and iconic shows around.
And if you're subscribed to Crunchyroll, here's our recommended 10 best anime movies and TV shows to stream now on Crunchyroll.