Watch the full Leigh Bardugo and Dani Pendergast panel from at NYCC 2022 for free!
Demon in the Wood takes the stage at the Javits Center as author Leigh Bardugo and Dani Pendergast take fan questions.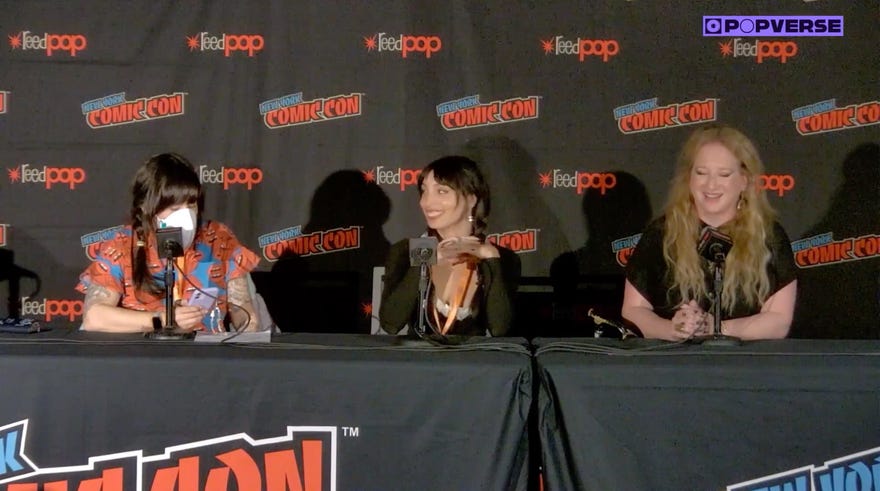 The Grishaverse is ever-expanding, from book to Netflix series and now to graphic novel. Demon in the Wood comes from Grishaverse creator Leigh Bardugo and illustrator Dani Pendergast, who were at NYCC '22 to talk with moderator Mariko Tamaki, give fans a sneak peek, and answer some questions.
Popverse is releasing this full panel video from last year's New York Comic Con to lead up into this year's New York Comic Con. In fact, we'll be releasing a previously-behind-the-paywall panel for free EACH week, and we can't wait for you to watch them and get excited about NYCC 2023! Popverse and NYCC are providing these free for everyone to watch, with the studios hosting the panels only blacking out the screenings, trailers, and new footage - as they intend for it to only be seen by those in attendance in the panel room (though at this point, you should be able to find most of those trailers online).
After the panel is finished, you can prepare to watch even more streamed panels at this year's New York Comic Con - by becoming a Popverse member at the 'Fan' level (or higher), or by buying a NYCC digital ticket. The NYCC digital ticket gives you access to all of the filmed panels from New York Comic Con 2023, as well as the recent Emerald City Comic Con and C2E2, as well as access to long-form interviews and original reporting from the Popverse editorial team. The Popverse monthly membership lands you that privilege any month you want to sign up, and the annual membership does that for the entire year, and would include live video panels from the upcoming MCM London Comic Con, as well as next year's Emerald City Comic Con and C2E2.
Watch the Demon in the Wood panel with Leigh Bardugo and Dani Pendergast filmed at New York Comic Con 2022:
If you've enjoyed this coverage, please give Popverse a shoutout by tagging us @popversesays on Twitter, Instagram, or Facebook, or linking to us at www.thepopverse.com.
Having trouble viewing this video? Read our streaming/VOD FAQ to find the answers you need.
---
Get fully immersed in NYCC with Popverse's wall-to-wall coverage of the event. From filmed panels to backstage interviews, on-the-floor coverage, news, cosplay galleries, and more - we're tracking it all in Popverse's New York Comic Con 2022 round-up.